Day One
Day Two
Go Time
Post Script
Supernatural Day 3 Gallery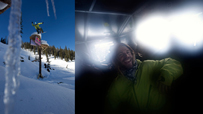 WIDTH="203" HEIGHT="114" BORDER="0" ALT="">
Images from the final day of Red Bull Supernatural. Gallery

Every activity has rare moments when the people who do it best turn it into something so beautiful that it becomes poetry. If you are lucky enough to be there when it happens, it is not something you will ever forget. The Red Bull Supernatural is not an event that will translate well into words. You have to see it for yourself. Even if you just have a passing interest in snowboarding -- perhaps you wandered over here from the football section of ESPN or clicked on this link randomly from a friend's Facebook page, it doesn't matter -- take out your phone and set an alert for this:
At 1 p.m. ET March 31, the Red Bull Supernatural will air on NBC. The event was filmed and produced by Curt Morgan and the Brain Farm crew -- the same people who brought you "The Art of Flight" and "That's It, That's All." It is not hot smoke I'm blowing when I say that, not only have you never seen a contest like this, you've never seen one shot like this before, either. Do not miss it.
For a full description of the course venue, check out the preview outlined by the man who created it, Travis Rice, here. If you don't know what a 40-degree pitch run looks like, it's basically a slope that's so steep that if you have a fear of heights, just looking over the edge of it will give you a slight sense of vertigo. There are so many features -- launch ramps, log rides, powder pillows -- built into the top section of the Supernatural course that even with 18 riders taking two to three runs each, not all of them got hit. Due to the steep pitch, some of the features sent people flying 50 feet down the run -- I swear Lucas Debari went at least 100 feet off of one particularly large ramp -- and all of the hits had the riders carrying so much speed that features in the second section got missed entirely.
If you can picture that, picture yourself sitting below, in the sunshine, watching a group of snowboarders who are so good, and so creative that they can look at a run like that and, instead of vomiting and going home, like, perhaps you and I would do, they can figure out a completely unique way to ride down it. The contest itself becomes secondary to the entire experience. Who cares, really, who wins an event like this, when every single person in it is so much fun to watch?
But it was a contest, and though there were some people who finished last, there were no losers. But there were some definite winners. Despite the fact that he didn't want to win here, Travis Rice put down two runs that were so solid and beyond reproach that he, completely uncontroversially, came out on top. But we'll get back to him after we talk about the other highlights, like second- and third-place winners Gigi Rüf and Nicolas Müller.
This is what a second-place run at the Supernatural looks like. The play-by-play here provided by Rice: "Gigi's run was so fresh. He came in, aired to double pillow tap, stomped it -- bolts -- took two turns, set up into this massive tricky suspended pillow platform and was able to front three nose tap a pillow that was like 10-15 feet down. Then he went another 20 feet off that, stomped, followed by a massive Gigi method off the middle triangle. I can't even remember what he did after that. It doesn't matter. His run was nuts."
"Take X Games and move it to a real mountain," explained Müller, when asked to describe the thing he thought made this contest so different. "Then add the element of Craig Kelly. [Kelly helped open Baldface, where the contest was run.] He defined riding down a mountain the natural way. That's what it came to today. It's not so much about tricks, it's about: "Let's see how you ride into those tricks and out of them, and what you do in between.'"
It was an absolute pleasure to watch every single one of the 18 riders in this contest make their way down the course today. But the way Rüf and Müller ride is so unique. They find transitions in the strangest places, and hit them so light and playfully -- it's like watching a kitten ballet. It's absurd and amazing, all at the same time.
The fact that this style of riding that is normally only seen by snowboarders who watch snowboard movies will be broadcast to the larger world of people who only think good snowboarding is when someone can get 20 feet out of a halfpipe is a pretty special thing.
You know what else was pretty special? Watching Mark McMorris and Sage Kotsenburg take a break from icy big air and slopestyle contests to come ride in an event they had no chance of winning, but had so much fun in anyway. McMorris tomahawked almost every landing on his first run, but came back and landed it the second time around. It was like standing at the bottom with a crowd full of proud big brothers cheering his improvement in just one run.
Getting last-minute wild-card entries into this event was "the best thing that could have happened to them," Müller said. "They could go to the Air & Style, and wake up tomorrow and it's Groundhog Day. Instead they came here, and it changed their lives."
As for Rice winning his own event, he had this to say: "We were all able to spend a lot of time studying the course, and I was there to divulge any and all information that I had to help people pick their lines. If anyone had a question about a tranny or a tree, I answered it. The plan was never to win, damn it. But things clicked for me. It just happened."
Said Müller: "No one can say he didn't deserve it. It's not like a big air contest where if you show up with the trick no one has, you're going to win. It's two minutes, top to bottom -- prove it. And he did. He really did."
Red Bull Supernatural results