Red Bull: "New Year. No Limits"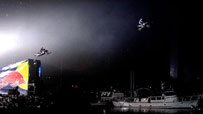 WIDTH="203" HEIGHT="114" BORDER="0" ALT="">
Levi LaVallee and Robbie Maddison's New Year's jump in photos. Gallery

Levi LaVallee broke his own world record for distance jumped on a snowmobile by launching 412 feet at the "2011 Red Bull: New Year. No Limits" event on Saturday night. The previous record was 361 feet.
LaVallee jumped alongside Robbie Maddison, who unofficially broke the world record for distance jumped on a motorcycle during practice for Saturday night's event. Maddison said he jumped 392 feet during practice but during the live event, he came up just short of the 391-foot record, landing at 378 feet, 9 inches.
"I was just excited to make it to the other side in one piece. I'm exploding with energy right now," LaVallee said. "When I saw the 410 marker go by, I knew it was going to be an amazing jump."
Maddison was in good spirits despite not breaking the record during the live event.
"I would have liked to have gone further, but I am just happy to have landed safely on the other side," Maddison said. "There was a lot of pressure and to be able to live to do this again feels great. I'm at a point where I need to make changes to my bike and I'm going to have to find a gnarlier gap to jump over."
The jump took place just after 9 p.m. at San Diego's Embarcadero Marina Park.
Foggy weather caused some concern prior to the jumps, especially for Maddison's motorcycle in-run. Due to the fog, course workers laid tarps on the ramp so he could get enough traction to accelerate to the necessary speeds, upwards of 100 miles an hour. After the jump, Maddison said he didn't think the weather affected the jump at all.
LaVallee rode on a 450-pound-plus modified snowmobile equipped to handle the snow-less ramp.
In December 2010, LaVallee set the 361-foot record while training for the "2010 New Year. No Limits" event. Just after that, LaVallee was seriously injured in a training jump and the New Year's Eve event was canceled.
"To me, it was an open book," LaVallee said when asked why he returned in 2011. "It was something I had to overcome, otherwise it was going to haunt me for the rest of my life. To be here today and land an over 400-foot jump, you can't make it any better. I can finally close this chapter of my life that started over a year ago. "
Megan Michelson is a general editor with ESPN Action Sports.