In pumping four- to six-foot surf at Nicaragua's Playa Colorado Team Hawaii has captured the 2012 ISA World Masters Championships title. With over 150 surfers representing 26 different countires, the Hawaiians came into the event with the most established, recognizable team, anchored by 2000 world champion Sunny Garcia.
Gallery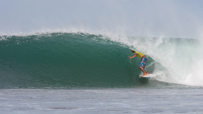 WIDTH="203" HEIGHT="114" BORDER="0" ALT="">
Highlights from the 2012 ISA World Masters Championships. Gallery

With the United States leading the ratings at the start of the final day, the gold was theirs for the taking, but after Dean Randazzo, Hans Hagen and Alisa Cairnes failed to advance out of their early morning repercharge heat the door was left wide open for Hawaii.
Surfing in both the Grand Masters and Masters finals, Garcia and Kaipo Jaquias, captured gold and silver, respectively, in the Grand Masters. Former world tour surfer Rochelle Ballard took gold in the Women's Masters division, and Mike Latronic finished third in the Kahunas to round out a very successful event for the Hawaiian team.
"We didn't come here to see how we did, we came here to win," told Garcia. "As the finals came around we felt we were sitting in a very good position, but it's not over until it's over. This means a lot for Hawaii, and we're all so proud to be representing our island and all of the surfers there."
"Sunny's been training so hard, he's been running every morning," told Hawaiian team member Glenn Pang. "His surfing's been spot on since day one."
Hawaii's gold medal performance today keeps the momentum going for the island surfers, who took the gold at the ISA World Junior Champions in Panama in June, while native Hawaiian Ezekial Lau is coming off of a first place finish in the Open Men's division at the 2012 NSSA Nationals, and John John Florence continues to make strides towards running away with Rookie of the Year honors on the ASP World Tour.
"There are so many amazing surfers here, and this is such a huge accomplishment for Hawaii," said team captain Mike Latronic. "We came together as a team, and it may have been kind of thrown together at the last minute, everybody rose to the occasion and it's such an honor to bring another gold medal home to Hawaii."
In the final of the Masters division Venezuela's Magnum Martinez upset Garcia and Jaquias to win the third-ever ISA gold medal for his country.
"I've been focusing so hard on this, I'm speechless right now," said Martinez, breaking down in tears. "It means so much for me, but to represent my country and to be able to bring gold home for them, I can't tell you how I'm feeling right now."
In the team competition the United States took the silver medal. "We were sitting pretty good going into the last day," told American Ricky Schaffer. "Allen Sarlo really stepped up in the Kahuna division and surfed incredibly. This whole experience has been amazing, and to see the global reach of surfing, it's very inspiring. The future of surfing around the world looks so promising."
At the closing ceremony ISA president Fernando Aguerre announced plans to expand the ISA's offerings, including two World Bodyboarding championships, one in Venezuala later this year and another in 2013, the World StandUp Paddle and Paddleboard championships in Peru February of 2013, the World Masters Surfing Championships in Ecuador, ISA World Longboard Championships in northern Peru, ISA World , ISA World Junior Championships.
"Not only has this been a very successful event in terms of surf and all of the great performances and quality waves, but to see the ISA continue to expand and to sign some new events, we couldn't have asked for more," said Aguerre.
Considered by the Nicaraguan Minister of Tourism to be the biggest event in the country's history, by surfers, organizers, and the people of Nicaragua, the ISA World Masters has been deemed a resounding success.
The exposure that we're getting from all the visitors of, we expect that it will have a boost in tourism, and especially surfers. We put a lot of work into selecting the right becah for this, and we are extremely happy with the results and we are extremely grateful to be hosting this and to have the opportunity to." Peltier Barahona, representative of Intur, Nicaragua's board of tourism.
Women's Masters Final Results
Gold: Rochelle Ballard (HAW), 8.90
Silver: Sandra English (AUS), 8.17
Bronze: Sonia 'Pucha' Garcia (PAN), 5.00
Copper: Lucila Gil (ARG), 3.83
Men's Grand Kahunas Final Results
Gold: Javier Huarcaya (PER), 14.67
Silver: Allen Sarlo (USA), 11.30
Bronze: Rod Baldwin (AUS), 10.10
Copper: Craig Schieber (CRI), 8.43
Men's Grand Masters Final Results
Gold: Sunny Garcia (HAW), 17.66
Silver: Kaipo Jaquias (HAW), 17.33
Bronze: Juan Ashton (PUR), 11.06
Copper: Mark Cameron (AUS), 7.10
Men's Kahunas Final Results
Gold: James Hogan (USA), 15.56
Silver: Ricky Schaffer (USA), 13.50
Bronze: Mike Latronic (HAW), 11.10
Copper: Cardoso Junior (BRA), 8.24
Men's Masters Final Results
Gold: Magnum Martinez (VEN), 16.66
Silver: Sunny Garcia (HAW), 14.10
Bronze: Kaipo Jaquias (HAW), 10.87
Copper: Armando Daltro (BRA), 9.50
Final Team Standings
Gold: Hawaii 10,540
Silver: USA 9,771
Bronze: Australia 7,540
Copper: Brazil 7,306
5. Venezuela 7,303
6. Peru 7,060
7. Puerto Rico 6,753
8. Japan 6,476
9. Argentina 6,366
10. Costa Rica 5,996
11. France 5,850
12. Ecuador 4,988
13. Panama 4,916
14. Guatemala 4,630
15. Mexico 4,359
16. El Salvador 3,950
17. Dominican Republic 2,801
18. Chile 2,250
19. Italy 1,980
20. Tahiti 1,750
21. Nicaragua 1,070
22. Jamaica 1,050
23. Uruguay 720
23. Switzerland 720
25. Germany 660
26. Ireland 413