Leap of Faith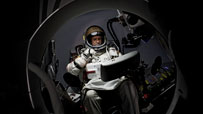 WIDTH="203" HEIGHT="114" BORDER="0" ALT="">
What happens when a man freefalls from 24 miles above the earth? Gallery

Austrian skydiver Felix Baumgartner completed a record-breaking freefall from space Sunday morning near Roswell, N.M.
He reached speeds of more than 830 mph during the 128,100-foot fall to earth. The recorded speeds are still being confirmed, but if accurate, Baumgartner has become the first man to break the speed of sound in freefall.
He also broke the record for both the highest jump and the fastest jump in a freefall, and, on the ascent, he broke the record for the highest manned balloon flight.
"The whole world is watching," Baumgartner said before he leaped. "I wish you could see what I could see."
The mission, called Red Bull Stratos and sponsored by the energy drink company, was aborted last Tuesday after the jump's weather experts determined the winds were too high. He needed perfectly windless conditions and clear skies in order to do the jump safely.
On Sunday, an inflated balloon lifted 43-year-old Baumgartner over 24 miles high into the air in a small space capsule, a process that took more than two-and-a-half hours. From there, he jumped out of the capsule in a high-tech, pressurized space suit without supplemental oxygen and fell to earth in a jump that lasted more than five minutes.
On the descent, Baumgartner said his visor fogged up, but otherwise, the jump went smoothly. He pulled his parachute after 4 minutes, 22 seconds. "The exit was perfect but then I started spinning slowly," Baumgartner said afterward. "I thought I'd just spin a few times and that would be that, but then I started to speed up. It was really brutal at times. I thought for a few seconds that I'd lose consciousness."
"Today was a big day for science, as the Red Bull Stratos team collected new data that can help the safety of future space travelers," said news broadcaster Robert Hager, who was narrating the live feed.
On Oct. 14, 1947, Chuck Yeager became the first man to break the sound barrier in a rocket-powered airplane. The current record before Baumgartner was set in 1960 by Joe Kittinger, a U.S. Air Force Captain. Kittinger jumped from a gondola nearly 20 miles high and reached speeds of 614 mph.
Kittinger was Baumgartner's mentor and adviser in the training for his record-breaking jump and he was on hand Sunday morning giving Baumgartner verbal instructions throughout the jump from the operation's mission control.
"Start the cameras. And our guardian angel will take care of you," Kittinger said right before Baumgartner pushed off.
Baumgartner has been training for this jump for five years, including a practice jump in July from 18.5 miles above earth.
"I want to break the speed of sound, no matter what it takes," Baumgartner said beforehand.
The jump was telecast live on the Internet and was watched by more than 8 million people around the world.