Todos Santos Gallery
onClick="window.open('http://www.espn.com/action/surfing/gallery?id=4957120','Popup','width=990,height=720,scrollbars=no,noresize'); return false;">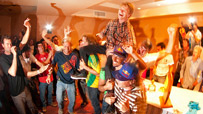 WIDTH="203" HEIGHT="114" BORDER="0" ALT="">Todos Santos
A photographic recap of the Todos action. onClick="window.open('http://www.espn.com/action/surfing/gallery?id=4957120','Popup','width=990,height=720,scrollbars=no,noresize'); return false;">Gallery ».
In a stacked final that included Shane Dorian, Grant "Twiggy" Baker, Carlos Burle, Ramon Navarro and Grant Washburn, it was Mark Healey who rose to the top and took home the top prize -- a Costco-sized bottle of Patron, a ton of bragging rights and his first international big-wave victory. Often a bridesmaid but never a bride, Healey was long overdue to win something like this. His calculated but aggressive backhand approach has been blowing minds in heavy rights across the globe for more than a decade now, but this was the first time he was able to channel that skill and put it all together in a final.
In absolute elation and still a little out of sorts from the celebratory fiesta, Healey commented: "I'm fired up! It would have been nice to win some money, but to be honest, it feels like I just won $100,000. We've got a movement going on and the caliber of surfing in the event was as high as any other event, every heat was like a final. Guys are hungry and going to the end of the world to chase these waves. It feels good to win."
Last year Healey won the XXL Tube of the Year Award, and now he has the Todos trophy to add to his mantle. For the tiny freckle-faced haole who grew up battling for respect and waves on the North Shore, Healey's always earned everything he's achieved. As a stand out at Pipe, a regular outer reef charger and a world-class diver, the only thing missing from the résumé was a title. He can now check that off his bucket list.
But giving credit where credit's due, Gary Linden and his crew deserve a huge amount of praise for finally bringing an event back to Todos -- without the support of a primary sponsor, no less. It's been 10 years since "Killers" hosted a contest and it's about time. The event was about as grassroots as a professional event could be, but you wouldn't have known it from the high level of judging, organization and efficiency with which the contest was produced. Running a big wave event 10 miles out to sea on a tiny island in Northern Baja is no easy task. Greg Long also deserves special recognition for putting in a few nickels of his own to finance a portion of the contest's production costs. Without his investment and the countless hours of production by the "staff," the event would not have happened. After the success of this contest, hopefully it's only a matter of time before we are back here again with jerseys.
"After 10 years of trying to get a sponsor to renew the event, we finally had a commitment in August but when it came down to the start of the waiting period, they pulled the plug," explained Linden, a legendary shaper, event director and father to this contest. "Faced with not having the event after six months of work, we made a decision to continue on our own without prize money. Greg said he would donate his Eddie bonus, inspiring us all to go the extra mile to make the dream come true. Knowing it was an El Nino winter, we had to take advantage of the opportunity. A big-wave world tour without Todos does not seem legit."
Throughout the day, the level of big-wave surfing was incredible. In second place, Shane Dorian put on a style clinic and surfed Todos with such a relaxed approach that it almost looked effortless. Good to see he didn't waste any time getting back on the horse after his heavy wipeout at Mavs two weeks back. During the awards, Shane commented, "There will never be another event like this, guys surfing for nothing else other than the love of it."
Gabriel "Peru" Villaran won the "Wave Of The Day" award, but he was thrilled just be in the event, let alone walk away with the best ride of the day. With a celebration to match the day's biggest sets, the victory party went on well into the night.
There's only a month left in the North Pacific swell cycle and it's safe to say this was one of the best winters on record: Numerous big-wave events were seen, epic rides were had in all conditions and the paddle barrier was pushed to new heights. As the long days of summer near, it's a bit sad to think the party's almost over. Here's hoping the ocean has one more swell in her to give us all a proper send off.