On Tuesday, a spokesperson for the Stanford Medical Center confirmed that big wave surfer Jacob Trette's condition had been upgraded to fair after being listed as critical since Saturday. Trette has emerged from a medically induced coma, his vital signs are stable, and it is anticipated that he will recover.
On Saturday, Trette, who is from Orange County, was sucked over the falls on a 20-foot set at Maverick's, a big wave haven 25 miles south of San Francisco. It was Trette's second time surfing Maverick's, his first being Friday when he was one of few surfers out. The swell Saturday was 12-to-15 feet, with rare sets in the 20-foot range.
Maverick's Wipeout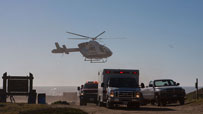 WIDTH="203" HEIGHT="114" BORDER="0" ALT="">
A frame-by-frame breakdown of Jacob Trette's near-fatal wipeout on January 22. Gallery

"All day long, the pack was out of position, being lulled into the wrong spot because it wasn't that big," said Frank Quirarte, the Water Operations Director of The Jay At Maverick's Big Wave Invitational, a veteran at the famed big wave break and an eyewitness of the wipeout. "I mentioned to [photographer] Don Montgomery that they were all in the wrong spot and if a real wave came through they were going to get caught. [Trette] tried to punch through but he got sucked back over the falls. He took a two-wave hold-down and came back up to take two more on the head."
The final two waves pushed Trette under water through the near-shore rocks. Australian photographer Russell Ord was on a jet ski towing surfer Alex Bottello, who had been taken out by the set as well. Ord found Trette face up in the water and jumped off the ski to load Trette's body onto their rescue sled. Botello then held Trette's body on the sled as Ord beached the jet ski in the bay. The NOAA has a ban on jet skis in the Monterey Bay Marine Sanctuary, but the fact that Ord was there may have saved Trette's life.
On the beach, Ord and Bottello received help from an EMT and surfer named Jeff Mustille, along with several others. As they attempted to revive Trette, local fire fighters reached the beach and assisted, helping to retrieve a pulse and stabilize him as more rescue units rolled in. A Life Flight took Trette from the beach to the Stanford Medical Center, 25 miles east.
On Monday, Quirarte posted the following update on Trette's condition to Facebook: "As of last evening Jacob was moving his arms and legs and his pupils are dilating. They're lowering his body temp so he doesn't use as much oxygen and keeping him heavily sedated. He has an anoxic brain injury do to lack of oxygen to the brain. Too early to tell how much damage has been done if any. Sending our prayers to him and his family."
The Stanford Medical Center has not responded to ESPN's request for information, but according to both the Orange County Register and the San Francisco Chronicle, Trette is still in critical condition.