As the Roxy Pro Biarritz kicks off on Monday in France, Honolulu's Carissa Moore is tangled in a fierce battle with Aussie Sally Fitzgibbons for the 2011 ASP women's world title. Currently ranked No. 1 and 2, respectively, the women faced off for the third time this year in a dramatic final at the Billabong Pro Rio in May. Moore, whose relaxed approach to competition served her well all year except the two times she's faced Fitzgibbons, finally beat her rival head to head by a razor-thin margin: 14.87 to 13.80.
Roxy Pro France preview gallery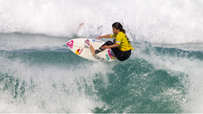 WIDTH="203" HEIGHT="114" BORDER="0" ALT="">
Check out the top eight ladies of the 2011 ASP World Tour. Gallery

ASP World Tour manager Renato Hickel says if "Carissa wins [France], it's over. She clinches the title there." He continues with other possible scenarios:
"If Carissa takes second or third place, Sally will need to win in order to stay in the race; if Sally takes third or less, Carissa claims the title. If Carissa takes fifth, then Sally will still need a second or better," he explains. "If Carissa gets a ninth, then we'll go to the U.S. Open. She cannot clinch the title [at Biarritz] with a ninth."
Though Fitzgibbons won two of the first five events, at Bells and Taranaki, and trails Moore by a mere 5,350 points, it is impossible for her to clinch the title next week in France. Even if she wins the Roxy Pro and Moore takes 13th, "with another win in the U.S. Open, Carissa will win the title," Hickel says. "It's looking good for Carissa, but by the same token, it's far from over."
After four consecutive years as world champ, Australia's Stephanie Gilmore was eliminated from the title race in Rio, in which she was defeated by Fitzgibbons in the semifinal. "Sally's in the zone right now," Gilmore said afterward. Gilmore currently ranks fourth, just behind Tyler Wright, but neither is in a position to challenge for the title. In other news, Australia's Chelsea Hedges and Brazil's Jacqueline Silva are out on injuries; Felicity Palmateer and Claire Bevilacqua (both Australian) have taken their places.
The Roxy Pro runs from July 11-17, and the webcast can be seen here.