A couple of years back, Andy Irons was on a quick, three-day sprint to Baja, warming up before the World Tour contest at Trestles. He brought only one board, a pair of trunks, and a backpack -- living, as they say, free and easy. As he got out of the water after his first session, he was greeted by a group of local kids on the beach. One of them asked Andy if he could have Andy's board, or his sunglasses, or anything. Andy explained that it was the only board he had on him and he needed it for the rest of the trip, but he'd give the kid his T-shirt. The kid's face lit up as Andy happily gave him the shirt off his back.
Andy Irons Retrospective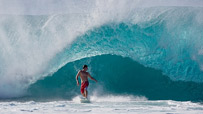 WIDTH="203" HEIGHT="114" BORDER="0" ALT="">
A photographic reminder of why Irons will always be considered among surfing's greatest talents. Gallery

Irons, who died Tuesday, was a lot of things to a lot of people -- friend, brother, husband, competitor, rival, idol -- but one thing that was universal about him was his generosity. Once Andy became a fixture on the World Tour, en route to becoming three-time world champion, he would return home to Kauai, roll down to the beach park at Pine Trees and unload boxes of shoes and clothes to the local kids. This eventually morphed into the Irons Brothers Pine Trees Classic, a charity event for all the surf-stoked gremlins on the island. For the better part of 10 years it grew, eventually becoming a fixture on the island's calendar.
Andy was the quintessential story of a local boy who made good. Unlike today, in which 12-year-olds are scouted and promptly signed to big-money contracts, he and brother Bruce grew up in the relative obscurity of the Hawaiian outer islands. The family didn't have much money, but they did have a rich surfing tradition, and his father, uncles and cousins instilled a surfing ethos in him from early on. By 16 he was winning various amateur contests and starting to get noticed. With the attention came a sponsorship and his first taste of what was to come.
When he stepped off Kauai and onto the global surf stage, he hit the ground running. In 1998 he qualified for the ASP World Tour. He struggled at first, falling off the tour and requalifying before hitting his stride in 2002. That year was his first of three consecutive world titles, a three-year reign as dominant as any surfing has ever seen.
Since the World Tour's inception in 1976, there have been 17 men's world champions crowned. Obviously they've all influenced the sport in their own unique way. Andy was well endowed with both style and talent, but that wasn't what separated him from the pack. Rather, it was his competitive fire that made him so lethal. Simply put, nobody hated losing more than Andy.
In 2002, just as Andy was about to begin his three years atop the rankings, then-six-time world champion Kelly Slater emerged from semi-retirement. Slater had walked away from the tour in 1999, having already achieved six world titles. But in 2002 he opted to get back in the game and see what he had left. He couldn't have picked a better time, at least from the perspective of the world's surf fans.
Slater, still coping with the passing of his father, was never in position to vie for the title in '02, but by '03 it was on. Assumptions that a focused Slater would easily earn title No. 7 were derailed by an on-fire Irons, who had other ideas. The rivalry born that year went on to take its place among the greatest in sport: think Ali versus Frazier, Magic versus Bird, Federer versus Nadal.
Andy held Slater off until '05 before ceding the crown for two consecutive years to his rival. But even though Slater had the title wrapped up by Hawaii in '06, the combatants nevertheless found themselves facing off in the Pipeline Masters final. Held in throbbing 10-foot surf, the two battled for 35 minutes as both Rob Machado and Cory Lopez -- the other two competitors in the four-man heat -- faded into the background. Needing a huge score with the clock ticking down, Andy took off on a deep backdoor bomb and disappeared for what seemed like an eternity before emerging to earn a perfect 10 and the win. It was arguably the greatest heat in competitive surfing history.
"He knows that I'm not going away quietly and I'm in no way disappearing," Andy said afterward. "I'm still here and I still want to fight back."
Andy took a leave from the tour in '09 to, in his words, "get back to surfing for fun." But he returned to the tour this year, and while he struggled early, his win at the Billabong Pro Tahiti in August proved that he was, in fact, still here. He was still fighting back.
The circumstances surrounding Andy's death are, at this time, yet to be determined. He was in Puerto Rico for the Rip Curl Search, but missed Rounds 1 and 2 of competition. Citing illness, he was en route back to Kauai, where his wife Lyndie is seven months pregnant.
"I can't wait to be a dad," he said during the Hurley Pro in September. "I just can't wait to push my kid into their first wave. It's a whole new chapter in life, and we're just so excited."
No one who knew Andy could ever put into words what his passing means for the tight-knit community of professional surfers, for surfing fans worldwide or for the island of Kauai. But no one feels this loss more than the family he leaves behind, and the unborn child that has lost the chance to learn about surfing from one of the greatest the sport has ever known.