"The vibe has been fantastic here in Teahupoo," Andy Irons announced to the assembled crowd on the media boat.
It wasn't directed to anyone in particular, just a basic statement. Irons had just gotten off the back of a jet ski. He was still draped in the Hawaiian flag and was buzzing with adrenaline after his first comeback win.
Billabong Pro Tahiti Finals Gallery
onClick="window.open('http://www.espn.com/action/surfing/gallery?id=5530918','Popup','width=990,height=720,scrollbars=no,noresize'); return false;">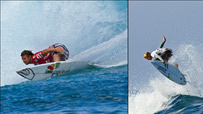 WIDTH="203" HEIGHT="114" BORDER="0" ALT="">
It was a long, emotional week at "the end of the road," and the final day delivered. onClick="window.open('http://www.espn.com/action/surfing/gallery?id=5530918','Popup','width=990,height=720,scrollbars=no,noresize'); return false;"> Gallery

With so many mediocre finishes this season, after taking a year off and dealing with highly publicized questions of his motivation to surf competitively, this win may rank right up there with beating Kelly Slater at the Pipe Masters. Most of the surfing world had largely written him off.
When asked later what he meant by the "vibe" he just laughed and said, "I've been staying with Occy all the time -- what better vibe do you need?"
Mark Occhilupo was technically in Tahiti for the webcast, and perpetually gives off the vibe of a surf-stoked grommet. That vibe obviously rubbed off on Irons.
"Everything just fell into place today," Irons explained. "Once I had go past Mick [Fanning] and Kelly everything felt right. They were all tight heats and I'm just so happy to get this win. It's Billabong's 10th year [sponsoring the Teahupoo event] and my 20th [event] win, it was all coming together."
On the other hand, C.J. Hobgood -- who used his extensive experience on this wave to take down Jeremy Flores, Tiago Pires and Dane Reynolds -- was a bit more philosophical about his second-place finish. He is a former winner, but noted his repetitive bridesmaid status.
"I've been second three times here," he said after the presentation. "On the first wave in the final, I was a foot away from coming out. That was going to be at least a nine-pointer and it just squeezed shut. I thought I was coming out. I was just easing off the speed and it just clipped me in the head. It was tough out there today, man. You couldn't make a game plan, you just had to keep reading the ocean and adjusting your strategy. I'm just stoked we had a goofy footer in the final. We haven't had many lefts this year and this was our chance."
Trying to read the ocean today was like trying to read "War and Peace" -- upside down. The driving rain began about 4 a.m., and while it did back off up at times it didn't really clear until around mid-morning.
The first heat was at 6:30 a.m. Conditions were miserable for the assembled workers and media boats and wasn't much better in the lineup. The rain was coming in on the southeast trade winds, so the wave faces were clean but overall the conditions were miserable for everyone.
Over the years, I've watched Kelly Slater win nine World Titles and while I'm not saying I'm an expert observer of his various moods, this morning he was as focused and as tight as I have seen him in a very long time. Adrian "Ace" Buchan and Adam Melling were victims of that focus. He had a wry smile on his face when Jordy Smith lost to Manoa Drollet, earlier this week, and the look was back when Irons took out Mick Fanning. He was even smiling when he lost to Irons because he had moved to just one heat behind Jordy Smith, who is still in the No. 1 spot by a mere 250 points.
Slater scored the day's only 10-point ride in the quarterfinal against Buchan with a free-falling drop in the lip that would have crushed any mortal. Miraculously, he managed to snap under it and into the barrel, emerging with the closest thing to a claim from him that we've seen in a while.
It's been a few years since this event has lived up to its massive potential, with conditions being small (for these guys, anyway) and variable. But with Irons once again a champion, maybe he and Occy's vibes will bring things back for next year's Billabong Pro.
BILLABONG PRO TAHITI FINAL RESULTS:
1 -- Andy Irons (HAW) 14.67
2 -- C.J. Hobgood (USA) 8.33
BILLABONG PRO TAHITI SEMIFINAL RESULTS:
SF 1: C.J. Hobgood (USA) 15.00 def. Jeremy Flores (FRA) 12.93
SF 2: Andy Irons (HAW) 13.57 def. Kelly Slater (USA) 10.26
BILLABONG PRO TAHITI QUARTERFINAL RESULTS:
QF 1: C.J. Hobgood (USA) 14.53 def. Tiago Pires (PRT) 6.23
QF 2: Jeremy Flores (FRA) 11.80 def. Fredrick Patacchia (HAW) 11.33
QF 3: Kelly Slater (USA) 18.67 def. Adrian Buchan (AUS) 12.77
QF 4: Andy Irons (HAW) 16.44 def. Patrick Gudauskas (USA) 11.00
BILLABONG PRO TAHITI ROUND 4 RESULTS:
Heat 1: C.J. Hobgood (USA) 13.50 def. Dane Reynolds (USA) 9.67
Heat 2: Tiago Pires (PRT) 14.83 def. Adriano de Souza (BRA) 12.83
Heat 3: Fredrick Patacchia (HAW) 10.00 def. Owen Wright (AUS) 1.10
Heat 4: Jeremy Flores (FRA) 10.00 def. Manoa Drollet (PYF) 5.37
Heat 5: Kelly Slater (USA) 17.70 def. Adam Melling (AUS) 8.43
Heat 6: Adrian Buchan (AUS) 16.67 def. Michel Bourez (PYF) 8.83
Heat 7: Andy Irons (HAW) 14.17 def. Mick Fanning (AUS) 14.07
Heat 8: Patrick Gudauskas (USA) 17.00 def. Damien Hobgood (USA) 13.66
CURRENT ASP WORLD TITLE RACE TOP 5 (After Billabong Pro Tahiti)
1 -- Jordy Smith (ZAF) 30,250 pts
2 -- Kelly Slater (USA) 30,000 pts
3 -- Taj Burrow (AUS) 25,250 pts
4 -- Dane Reynolds (USA) 23,750 pts
5 -- Adriano de Souza (BRA) 23,250 pts