We met at Auntie Pastas, a locally owned Italian place on the outskirts of town, a couple of blocks from Kapiolani Park. We'd talked on the phone the day before, and Chris had agreed to bring his 13-year-old daughter down to the restaurant for an interview. Like the good dad that he is, he was guarded. He still is.
Carissa Moore Gallery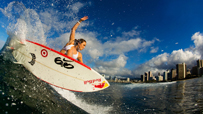 WIDTH="203" HEIGHT="114" BORDER="0" ALT="">
From South Shore keiki to world champ, Carissa Moore has come a long way. Gallery

It was the winter of 2004-05, and Carissa Moore, Chris' daughter, had just beaten some of surfing's most notable women in solid 5-foot Haleiwa conditions. All of a sudden, daddy's little girl was somebody. Six years later, Carissa has proved her father to be prophetic. After a commanding performance over the course of the 2011 ASP Women's World Tour, with three wins in six tries (and three second-place finishes), Moore was crowned world champion on the beaches of France during the Roxy Pro Biarritz.
"With Carissa, it's not an issue of if, just when," best friend Coco Ho said two years ago when Moore was starting to get a little flak for not going full-bore on the tour.
But as the cliche goes, she was just taking it one heat at a time. Moore always has wanted to do it at her own pace, and contrary to what some say, her father always has been a big proponent of that. Success in the junior ranks came easier than a 360 in the soup. NSSA titles piled up, 11 in total. She quickly outgrew her competition, so she started competing against the boys. She wailed on John Florence and his buddies.
In 2008 she upset seven-time world champ Layne Beachley to win the Reef Hawaiian Pro, thus elevating her as the youngest surfer to win a Vans Triple Crown event. She showed up on the cover of Surfer magazine in '09, the first female to grace the front of the publication in more than a decade. By '10 she qualified for the ASP World Tour -- albeit still determined to get her high school diploma (from Punahou School, no less, the same institution that produced one Barack Obama). She'd win two tour events in '10, finish third in the world and be named rookie of the year. Come 2011, she's won three out of six events, placing a disappointing second in the other three.
And now she's the first woman from Hawaii to win a world title since Margo Oberg in 1981 and the first American woman since Lisa Andersen's four-title run ended in 1997.
She also is responsible for rewriting the financials in women's surfing. In 2008 she signed healthy contracts with Nike 6.0, Red Bull, Target and Oakley. The package is rumored to be worth somewhere in the neighborhood of three-quarters of a million dollars, big money by surfing's standards, huge money by women's surfing standards. Of course, that's not factoring in the world title bonus.
The scary thing is, she's just getting started. "People have no idea how good she's going to be," Chris deadpanned across the table at Auntie Pastas. That was six years ago, and one gets the feeling the same holds true today.
"I just got my own place," Moore said in an interview last month, not really all that interested to talk about surfing or the world title race. She's still a teenager, a young woman with many interests. "So that's been exciting," she continued, sounding like she'd make you a peanut butter and jelly sandwich if you dropped by. "I've been decorating and learning to cook. I got really domestic during the break."
She also harbors ambitions of someday becoming a teacher. "I like working with kids," she said.
But for now, surfing's the game. Her other interests will have to serve as distractions until her destiny is fulfilled. It's impossible to say how many world titles she'll pile up when it's all said and done. She's getting started early, still in her teens, which is reminiscent of how Kelly Slater started his run. The comparisons are uncanny: the early dominance, the record-breaking contracts, the intense media hype. When people finally got around to asking who the next Slater would be, who knew it'd be somebody donning a bikini?