Preview
Day 1
Day 2
Day 3
Day 4
Day 5
In a series of blistering performances today at the Rip Curl Pro Search in Puerto Rico Kelly Slater claimed both his tenth ASP World Title and his forty fifth world tour victory. Needless to say, he's the most dominant surfer the sport has ever seen.
Rip Curl Pro Search Final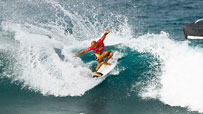 WIDTH="203" HEIGHT="114" BORDER="0" ALT="">
Slater claimed his tenth title, and then went on to win the 2010 Rip Curl Search. Gallery

"I'm just really relieved right now," said Slater immediately after clinching the title. "It's not one maneuver or one wave, it's a year long thing. I'm so tired of worrying about my boards, my food and everything. This comes as such a relief."
And with all the Slater madness swirling around the contest site it was easy to lose sight of the fact that there were other surfers in the contest. For starters there was the Dane Reynolds/Taj Burrow Quarterfinal. Yesterday, Reynolds ended the day with a frontside tail blow that had ASP judge Jeff Klugel remarking, "If I could have given him an eleven I would have." Later in the evening Reynolds would tell Channel Islands Surfboards' Travis Lee that it was the best turn he'd ever done in his life -- not in a contest, not on tour -- in his life.
So when the two paddled out for their Quarterfinal today in the clean four-foot surf everybody was more than ready for a high-flying dogfight. Unfortunately it was pretty much over before it began. Burrow opened up with a thick, deep tube and was rewarded immediately with perfect 10s across the board. Reynolds' doesn't exactly have a reputation as being the comeback kid, and Burrow coasted into the Semis.
Up next was the Quarter the world was waiting for: Kelly Slater versus Adriano De Souza. In Round 4 yesterday the two had mixed it up a little bit, and De Souza lost the heat after getting a little too aggressive and being hit with a paddling interference. The two even had some words in the competitor's area afterwards.
Slater came out swinging, chalking up a 9.0 and a 9.87 before De Souza had even caught a wave. Game over. Slater had won his tenth world title. Had Slater failed to advance through the quarterfinal, Jordy Smith could have kept the title race alive by winning the event.
"This is the closest world tour event we've ever had to where I grew up, and there are a lot of familiar faces and old friends here. It's been 25 years since I first came here, and it's nice to have so much support around me for this," Slater continued.
In the ensuing heat Jordy Smith, who'd just seen his world title hopes dashed, faced Tahiti's Michel Bourez. And whether it was due to the wind being taken out of his sails or just sheer luck, Smith couldn't post the scores needed and the man known as "The Spartan," advanced to the first semifinal of his career. "Just to be part of this race, to be part of history, it's been an amazing year. I'm honored," said Smith when he got out of the water. "Of course it's a little disappointing, but what are you going to do? Kelly's the best and this was he showed that again today."
After that Bede Durbidge lived up to his reputation as the most dominant dark horse in the business, dismantling Mick Fanning with his powerful, full-rail arcs and top turns.
The Semifinal was set: Slater vs. Burrow and Bourez vs. Durbidge. Hard to imagine how Slater was able to regain his focus, especially given how sharp Burrow was surfing, but then you don't win ten world titles by losing concentration. And as the conditions deteriorated Durbidge's consistency carried him over Bourez.
And while neither one would cop to it, there is a bit of a rivalry between Slater and Durbidge. They've met in two finals (both at Lower Trestles) and each have come away with a win. But Slater wasn't about to give any ground this time. Halfway through the heat he'd posted a perfect 10 and an 8.77. For as well as Durbidge had been surfing, the momentum was clearly on Slater's side. He would not be denied, and he wasn't.
"How good is Kelly? Put it this way, the ASP has been giving out world titles for 30 years and Kelly has 10. He has a third of all world titles while everybody else is happy just to get one or two over the course of their career," told 2009 world champ Mick Fanning.
So what's next for Slater? "I'm going to take a little time to relax and enjoy all this," he said. Of course, if there's something else to win that could very easily change.