We all have our heroes in surfing. But sometimes surfing in general needs to put its best foot forward to the rest of the world.
That's where a guy like Shaun Tomson comes in handy. Not only is Tomson a World Champion, environmentalist, an author ("The Surfer's Code"), a business school graduate, a father, a documentarian ("Bustin' Down the Door"), a gentleman, a creator of smartphone applications, tube riding pioneer and a motivational speaker, but he's now designed a surfboard that might be a game changer for a growing demographic.
Shuan Tomson Gallery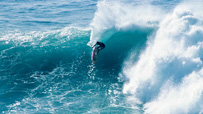 WIDTH="203" HEIGHT="114" BORDER="0" ALT="">
Shaun Tomson is an author, filmmaker, teacher, role model, environmentalist, and speaker. But check out his early resume. Gallery

Most recently, Tomson was the keynote speaker at the Santa Barbara County Board of Supervisors Inauguration Ceremony and was in Washington D.C., presenting at the Smithsonian Institute last week. I was fortunate enough to speak with Tomson again recently, and we discussed his inspirations, his new board with Channel Islands and the recent addition to his family.
ESPN: Let's start with this most recent visit to the Smithsonian. What were you doing there?
Shaun Tomson: Well, I was presenting to a group of children and their parents on the creatures that I write rhymes about for my new App called "Surf Creatures" -- creatures from A to Z, anemones to Zambezis.
Zambezis?
Yes, they're a very dangerous shark in South Africa. They grow to about 8 feet. You find them wherever there's a stream or a river. They like freshwater as well.
And how did the presentation go?
Ahh ... it was great. It went very well. The kids were very enthusiastic. They seemed to really like it. It was just a wonderful experience to be in DC, talking to children about surfing and stuff.
You did the Surfboards app in the past. What was the inspiration behind the children's application?
Basically, I have an 18-month old. And he was the ultimate inspiration, because I'm just so involved with him. I just love the whole way that new technology is rethinking the way that we read and learn. I thought it would be a cool way to encourage reading while keeping entertained and educated at the same time. And I think the best thing is that although I do the voiceover, it requires four different people to put their own voices on there. So, Mom or Dad, if they're going away on a trip can record their voice for their child. I know when I was a child. I was read to by my parents. So, I love that concept. I call the whole technology "story talk" after the whole Hawaiian concept of "talking story."
That brings me to the next question. What's it like being 55 years old a new father? [Tomson and his wife Carla sadly lost their 15-year-old son Mathew in 2006, but recently adopted a baby boy.]
[Giddy laugh] It's fantastic. I feel the same way as when I had my first son, Mathew when I was 35.
There's got to be some late nights and early mornings?
Well, dawn patrol is sort of in my blood. So, I don't mind early mornings, but he does sleep through the night. You know, when you're older, you're much more relaxed about things. After losing our first boy, every second with Luke is precious. We appreciate it so much.
I watched the video of your presentation at the Santa Barbara County Board of Supervisors Inauguration Ceremony. You told a tale of your own personal circle of life. How did that come about, and why did you choose to speak about something so personal?
The County Clerk said that they were having their inauguration and they were just going through tough times. They have a very big staff -- nearly 4,000 people and they're facing these big deficits. They just wanted something inspiring. I figured I'd tell the story of something that I had to endure, a story of hardship and tragedy, where I've been able to still maintain a spirit of optimism. I thought maybe it would help some of those people who were going through some tough times. Sure, it was hard for me to talk about it, but I think they really appreciated it. I've been getting emails thanking me.
You're really enjoying this career spur as a speaker?
Yes, I give a lot of speeches to corporations. I've spoke with Richard Branson and Malcolm Gladwell, author of "The Tipping Point," about motivation, leadership, and entrepreneurship. I've spoken at Disney and Google, and its very rewarding. I also just finished a writing a television pilot.
Now, you're on the list of invitees for this ASP World Masters Championships (July 25-31, 2011, Sao Paulo, Brazil) event. But you've mentioned some concerns about that actually happening.
Well, I'd love to go. I'd love to compete. But it's been sort of a tough run for the sponsors of the Masters event. I think the people that run surfing are so focused on the 12 to 24 year old demographic and we're a long way past that (laughs.)
Yeah, but Occy just had a wildcard into the Burleigh Breaka Pro at age 44. When they run the Clash of the Icons, people go crazy for that. From an action sports perspective, it seems like the only sport that has that kind of longevity.
Yeah, I also think that we've passionate about what we do. It's no problem for me to have a four or five hour session. I think that even into your 40s and 50s, you can still surf at an extremely high level. Maybe you're not busting air reverses, but you can still put it on a rail and ride the tube as deep as anyone else. You can still lay down some really good lines into your 50s. The demographic has changed and a lot of people have stayed with surfing. In the 70s and even into the 80s, it was thought of as a teenager sport, and I think that the people who have grown up in the shortboard era have stayed interested. Anecdotally, I would say the majority of people who are watching surf events on the web are over 25. And I think in some ways, the surf industry just doesn't take that seriously at all.
Well, I am really interested to talk to you about your new board.
It's called the Warp, targeting the 40-plus demographic. I haven't had a picture in Surfing or Surfer for, I don't know, maybe 20 years. And it's in the top six selling Channel Island boards out of the gate. And it just shows you that there's a market out there for something geared to surfers who aren't 22 years old. I want to do this well because it's something I believe in and because its something I like to ride. My boards are different than anything than anything else that they make over there at Channel Islands.
There's a crew out there that also wants a board that's going to help them paddle over the edge, a board that's going to get up and plane more quickly -- a board that's dedicated to sort of, more carving surfing. And it turns out, it's pretty popular. I think what's happened is that surfers are staying younger longer. They're staying progressive longer. Whenever I go surfing, I try to improve my surfing and I think a lot of guys are like that. You're competing against yourself. Most sporting endeavors, you're just kind of out there. And you're having a pretty good time, but not pushing yourself. When I kick out of a wave, I'm exhausted. I've put everything I have into riding that wave. I'm pushing my own limits at 55.
You've been known not only as a role model, but a bit of a moral compass. You've kept tabs on the media and the establishment when you think they're going in the wrong direction. How are we doing today, as far as the media and the general surf world?
You know, I've never been one to pass judgment on anything out there. But I think surfing is going in a really great direction. What I think is so exciting is that surfing's not just going down one track. There are so many splinter groups of surfing, whether it's big wave guys riding these teeny little boards and getting towed in, or paddling into cloudbreaks, slabs, riding stubbies, or fishes, or hulls, or aliais, or SUP's. Whatever it is, there are just a lot of ways to get stoked on surfing right now. The more stoked people are out there in the line-up, I think, the better.
One of the best things I've seen is that power is back in a big way. You see Dane and Jordy, who are these big, strong guys power surfing. That's the key to great surfing. The best maneuvers are not air-reverses, but power gouges -- old school style.