Through the years, hurricanes have always held a special place in East Coast surfers' hearts. But it's quite possible that the rest of the surfing world has never been so collectively focused on a storm as it was on Katia, simply because the ASP World Tour happened to be here for it.
Hurricane Katia Gallery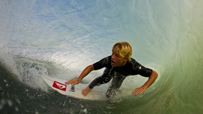 WIDTH="203" HEIGHT="114" BORDER="0" ALT="">
From Mass. to Fla., Katia delivered. Gallery

They picked a good one to focus on.
Katia was such an event, it almost seemed like the monster that Teahupoo, the South Shore of Hawaii, and Southern California, somehow crossed the continental United States and arrived in New York. Of course, what really happened was a nearly perfect hurricane swell scenario. Katia built slowy, moved slowly, and eventually reached Category Four status in the exact right spot to light up the East Coast before taking that wonderful back bend toward the North Atlantic, which extended the life of the swell while sparing lives and property.
Last week, in the midst of the sunshine, firing surf, and the population of a small city on the beach, Kelly Slater explained what his input for the Quik Pro had been. He wanted to make it a mobile East Coast event -- to have permits for Sebastian Inlet, the Outer Banks of North Carolina, beaches in Monmouth County, New Jersey, and then Long Beach, New York. Slater knows that each of these spots can fire in September.
Eventually, Quik just picked New York. And as you know, the gamble paid off to historic proportions. But all the regions, many which were soaked by Irene, got stoked by Katia.