Kelly Slater's 11th World Title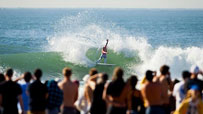 WIDTH="203" HEIGHT="114" BORDER="0" ALT="">
After a calculation error, Slater reclaims his record 11th World Title. Here's a look back. Gallery

Kelly Slater has been crowned the 2011 ASP World Champion ... again.
On Sunday, surfing under cloudy San Francisco skies, in an unruly five-foot Ocean Beach lineup, Slater advanced out of round four, moving into the quarterfinals of the Rip Curl Pro Search. The heat win over young Brazilians Gabriel Medina, 17, and Miguel Pupo, 19, gave Slater, 39, enough ratings points to clinch the title.
"I'm stoked. I was upset about it at first, but I also thought it was really funny," said Slater after officially winning about the miscalculation. "No hard feelings with ASP. Mistakes do happen. We all make mistakes. It's just the way it happens."
Initially anointed the 2011 world champ on Nov. 2, two days later the ASP, the governing body of the sport, was forced to reevaluate its math and soon came to realize that there was an error in their computations and that Slater still had to win one more heat to secure the title. Ironically, it was Slater who brought the mistake to the attention of ASP World Tour director Renato Hickel.
"I'm going against two kids that could literally be my kids, and those kids throw gnarly turns. I was actually hoping it would be offshore and barreling instead of onshore," said Slater, who was good-natured and smiling after coming out of the water. "I texted my mom and said it was funny that I didn't really have any emotion about it when I won, so maybe deep down I knew. But this is my profession, so it's a little on me to know the situation."
To determine their official rankings, all of the results are imputed into a spreadsheet where a formula computes the final standings. "I've watched Renato plug numbers into the spreadsheet and mess around with different scenarios," says ESPN Surfing contributor Peter "Joli" Wilson. "The computer does all the math, so it would seem that something may be slightly off with their formula. But you have to think, what other results and ratings might be skewed?"
As far as how the news of Slater's title retraction broke, it epitomized the way news travels in this day and age.
At 3:30 p.m. on Nov. 2, Slater supposedly won the title.
Meanwhile, at 8:42 p.m. that night "Mark" innocently posted the following comment on a Surfline.com story: "It's fantastic without a doubt. Though I'm not sure how he could be crowned just yet. In the unlikely Kelly finished 9th in SF, then 13th or 25th at Pipe and Owen wins both, they would both have 3 firsts, 2 seconds, 2 fifths, a 9th and a 13th to count. Wouldn't that be dead even? Not like it will happen but what gives?"
Thirty-six hours later, that comment set off a chain reaction. According to a San Francisco Chronicle report, the day after "winning" the title, Slater was catching up on all the coverage and filtering through the Surfline article. He read Mark's comment and it struck a chord.
Upon winning on Sunday Slater noted, "Thanks Mark, you ruined my life for two days."
Slater then reached out to his manager, Terry Hardy, who contacted the ASP. Stomachs undoubtedly sank among the association's rank and file.
At approximately 10:30 a.m. Slater tweeted, "Can you read this comment from Mark? The calculator at @aspworldtour must be broken. I'm not the world champ yet! http://pic.twitter.com/hEQXnz8K"
Shortly after a follow-up tweet from Slater read, "I'm not joking. I have not won the world title yet. I still have to win another heat! Give those shirts and hats back!"
At 11:13 a.m. the ASP then released a statement of its own, in essence retracting Slater's title. The opening line read, "Due to a calculation error within its rankings system, the 2011 ASP World Title has yet to be officially decided and that Kelly Slater (USA), 39, was prematurely awarded his 11th ASP World Title on Tuesday."
Oddly enough, this is not the first time Slater has spotted fuzzy math. At the 2002 Quiksilver Big Wave Invitational at Waimea Bay contest director George Downing was all set to award Australian Tony Ray with the first-place trophy when Slater went back and took a look at the heat sheets. He came to find that the numbers actually stacked up in his favor. Nearly 10 years later and it's his name that is etched on the trophy, not Ray's.
Slater admits to constantly "having numbers floating around in his heat," and when he initially clinched the 2011 title last week he pointed out that he won his eleventh title in 2011 on 11/2 and was born on 2/11. He even noted the mystical connection in his victory speech that was broadcast live to the world on the contest's webcast.
"Maybe it was Andy [Irons] messing with me, so maybe there's something cosmic going on," Slater said with a smile.