Preview
Day 1
Day 2
Day 3
Day 4
Old Men And The Sea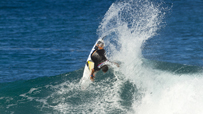 WIDTH="203" HEIGHT="114" BORDER="0" ALT="">
Youth will go head-to-head with experience at the Quiksilver Gold Coast Pro. Gallery

As you may well know, Kelly Slater turned 40 last week. Now, we don't have to go rehashing his career again, or pondering what kind of fin system he's going to bemuse us with when he paddles out for the Quiksilver Pro Gold Coast. But the 40 thing? Yeah, we've gotta talk about that.
40 years old. He's not the oldest guy on tour. That would be Taylor Knox, who hit the 4-0 mark last May. And clearly, he's not the youngest. That's Kolohe Andino, who just recently qualified for the big leagues last December. But the year Brother Andino was born, Slater won his second world title and the Pipe Masters, where Kolohe's dad was in the semis.
Slater won this event in 2008 and 2011. He has experimented with short boards here that fit right in the pocket of smaller days at Snapper. The question is, can he do it at 40?
"Kelly is kind of a freak, but he surfed so much as a kid and was a student of the game from a young age. He's really into his diet and what he puts in his body, which is maybe just as important as the other stuff. He's kind of a binge trainer," said Knox with a laugh. "We talk about different foods and diets, for sure."
Whether or not it has to do with eating his veggies, Slater is not the first athlete to defy age. The first name that comes to mind, particularly for Americans, is Brett Favre. Favre played field general to eight division championships and two Super Bowls. As a 40-year-old Minnesota Viking in 2009, he had his best completion percentage ever and passed for more than 4,000 yards. The Vikings went 10-6 and won the NFC North.
Then there was U.S. swimmer Dara Torres, who picked up two silver medals at the 2008 Olympics. Czech women's tennis world champ Martina Navratilova, who had a record 167 career titles over 30 years, took her last Grand Slam title at age 49.
Who can forget that George Foreman came back from a 10-year retirement to knock out Micheal Moorer at 45? Hank Aaron was 42 when he belted his last homer, and there's been a host of knuckleballers hanging around Major League Baseball long enough to qualify for AARP benefits. Californians will remind you that Kareem Abdul-Jabbar led the Lakers to the NBA championships in '88 as a 40-year-old. Hockey legend Gordie Howe was still on the ice at age 52!
Australians are probably more aware of Trevor Hendy, a famed Ironman who is still in phenomenal shape at age 43. Slater has been known to pal around with him in Oz.
Slater probably knows which golfers stayed dangerous well past 40, but can you compare that to the physical requirements of winning Teahupoo? MMA warrior Randy Couture was still punishing opponents at 47.
Board sports can be rough on the body. Tony Hawk, an exception, just put out a video part at age 43. Snowboarders get a few good years in the pipe or slopestyle competitions before they either bag it or enter boardercross. But, realistically, surfing allows for much longer careers.
Our sport has had some timeless athletes, as well. Tom Curren was a factor in the 2006 X Games at 42. Mark Occhilupo is 45 and won a few Prime heats last year. Lisa Anderson, 42, is going to take a crack at the Roxy Pro trials.
"I've really had a different approach over the last six years," said Knox. "Paul Hiniker [a surfing personal trainer] has shown me a ton of new dynamic exercises that have kept me and my body moving freely. It helps to have someone training me that surfs a lot and understands what movements the body has to go through. A lot of the stuff has to do with a swiss ball and using your own body weight." (They have a video called "Surf Exercises" dedicated to illustrating this.)
So, who might be able to take the Gold Coast Pro from the old champ this year? Historically speaking, that would be Joel Parkinson, who finished No. 2 last year, or Taj Burrow, who finished No. 4. Each of them has also won this event twice in the past. They are 30 and 33, respectively, and with the length of careers longer than ever these days, their ages make them merely middle schoolers. The same goes for 30-year-old two-time world champ Mick Fanning. To put things in perspective, Tom Carroll retired at age 32.
"Fanning and Parkinson have really put in a lot time in the last couple of years into their training and seem really hungry -- especially Parko because he still hasn't won one yet," added Knox. "Mick is pretty fired up this year, as well. He's going to be dangerous, for sure."
Of course, everyone would like to see Ventura's savant kid, Dane Reynolds, who recently dropped off the tour, take this one as a wild card. Exciting? Yes. But he never had any contest sense when he was competing regularly, so it's unlikely.
A couple of very good bets would be 2011 No. 3 and No. 9, Owen Wright and Julian Wilson. Wright just turned 22 and Wilson is 23. They have a good bit of experience now, and youth. Wilson just won the Breaka Burleigh Pro and they've both had Slater's number in the past. Then there's Brazil's 18-year-old Gabriel Medina, who won two contests in half a season last year as, basically, an embryo.
Slater could easily go out on top -- retire now as the best there ever was. But he could just as easily stick around and dominate for another year. Either way, the Gold Coast's first Bleach Festival has been getting the whole region fired up for the big 2012 kickoff. The Quik Pro runs from Feb. 25 to March 7. But once the scores start dropping, age will just be another number.