Preview
Day 1
Day 2
Day 3
Day 4
"I have the gnarliest heat of the round," copped Australian Mitch Crews this afternoon before paddling out for a warmup session at Lowers. "I've got Dane Reynolds, Kai Otton and Filipe Toledo, it couldn't be anymore stacked."
Gallery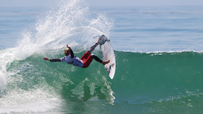 WIDTH="203" HEIGHT="114" BORDER="0" ALT="">
Looking ahead to a big week of action at the Nike Lowers Pro. Gallery

Crews continued to explain how he'd wrenched his shoulder the day prior while trying to rotate through an air and was worried about possibly not being able to surf. Judging by his warmup session, it's working alright. The kid throws down some man turns.
But more importantly, Dane Reynolds will be donning a singlet at the Nike Lowers Pro for the first time since the Quiksilver Pro Australia and only the second time this year. Fresh off a stint in Indo, the surf world anxiously awaits his return to the competitive stage ... whether he likes it or not. Because lets be frank, pro surfing is a lot more interesting (and fun to watch) with Reynolds around. Enigmatic and somewhat reclusive as of late, we could have reached out to him this afternoon after Kolohe Andino posted his contact information on Instagram, but we figured for the moment it's probably best to let his surfing do the talking ... and we didn't want to scare him away.
There's another crowd favorite that will be returning to competition this week: Mark Occhilupo. That's right, just when you thought Occy was retired, the 40-something legend is back. When asked why surf Lowers now he answered, "I did well in West Oz, and figured I might as well see what happens. I have to be in Rio next week for the Billabong Pro, so it was kind of on my way anyway. And I'd also like to try and get my seed up so I can get into the Triple Crown in Hawaii."
It's fair to say he won't be doing any air reverses, but like Reynolds, it's great to have him back.
But hardly the only story lines of the event, Kolohe Andino comes into Lowers looking and needing a good result. His rookie debut on the ASP World Tour has been less than stellar. And while there have been moments of brilliance from the 18-year-old, his results haven't been what he'd hoped. But now he returns to Lowers, where his career was born, where he feels most comfortable, and where he's quite capable of dispatching any and all comers.
One such comer would be John Florence. In an article in the latest issue of Surfing magazine it was noted that there's a bit of a rivalry brewing between Florence and Andino, which makes things all the more interesting. The two grew up the most highly touted grommets in surfing, and now as they've come of age the pressure to perform on an international level has increased. So far Florence owns Andino. In the last few months he's won both the Vans Triple Crown title and the Drug Aware Pro in Australia, while Andino's struggled to make a heat. There's a lot riding on these two at Lowers, and should Florence get the best of Andino, the rivalry could be elevated that much higher.
And then there's the issue of all the Brazilians. Last year six of the final eight surfers were from Brazil, and there were 22 of them in the event when it began. This year there are 15 of them. That doesn't mean they can't all charge through round after round, but the talent pool is definitely a little more diluted. In fact, there are a dozen Europeans in the event, which has to be some kind of record and stands as a testament to how far along Old World surfing really has come.
The forecast looks great all week with a number of south swells lined up, so there should be no shortage of waves on offer. The contest runs from May 1-5, so hold on, it's going to be a wild ride.