Preview
Day 1
Day 2
Day 3
Day 4
Day 5
Final
The Volcom Fiji Pro finished with Kelly Slater flying past the flotilla of spectator boats in a Fijian longboat packed with Tavarua's Chief Druka and a host of the island staff. Tina Turner's "Simply the Best" was blaring from a PA and there were screams, laughter and cheering as the boat sped around the lineup.
Gallery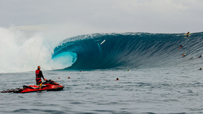 WIDTH="203" HEIGHT="114" BORDER="0" ALT="">
Highlights from the 2012 Volcom Fiji Pro. Gallery

"I really don't think I could have surfed much better to be honest," said Slater, who had just won the 49th ASP World Tour event of his career, posting two of the five perfect 10s in the event and two of the top five heat scores.
Even from the day's onset Slater had that air about him. The sun had barely risen over the mountains, a golden glow lit up the white water, and Slater announced his arrival in the lineup by stepping off the back of a jet ski straight onto a wave and jamming a few warmup turns. Mick Fanning who was sitting in a boat in the channel waiting for his semifinal against Gabriel Medina muttered to no one in particular, "Ohhh, he's on point today."
Two quarterfinal heats, two semis and a final later, Slater said virtually the same thing at his post win media scrum. "I felt today I really came into form."
Slater surfed three heats today, leaving Julian Wilson needing a combination of two waves to win their quarterfinal matchup. Then he locked in a 10 and a 9.5 against CJ Hobgood in the semis. But saving perhaps the best for last, he only needed to ride two waves in the final to defeat Medina.
To be fair, there was a long lull during the final but it didn't seem to bother Slater. "No it didn't bother me," he said laughing. "If I was sitting on one wave I would have been stressing, but with Gabby paddling way the heck up the point, if I wasn't going to better my 8.3 then why catch another wave?"
Slater sat with priority on a heat score of 18.16 points and needed to do little chasing. "He was getting desperate," explained Slater. "He was paddling all over the place trying to make something happen, and even trying to force me onto a wave. If he'd started a wave with a barrel and a big air then he would have forced me onto a wave where I would have had to use my priority, and that was probably the smartest thing for him to do, but if you'd watched the conditions all morning there were no waves coming through that had connected from way up the reef."
Medina had defeated Fanning in the first semi to make his first final since he won the Rip Curl Search in San Francisco last year. "I've come up against Mick three times now and he'd beaten me twice before, so it was nice to finally win one," he said. "I broke two boards in two waves in the semi, and then my father had to race back to Namotu to get some more boards. It didn't really bother me, but I couldn't find the right waves in the final against Kelly. I've had a very good week of waves and I'm happy to finally have my first good result for this year."
While Medina was stoked to finally get some rating points to his credit, CJ Hobgood was just thankful for making it so far in the event and coming from behind to win his quarterfinal against Adriano de Souza.
"It's a very special feeling when you come from behind to win a heat," said Hobgood. "I was telling Kelly it doesn't matter whether it's the first round or the quarters or whatever heat you do it in. It's an amazing feeling when you can snatch a win when you're pretty much out of contention, get that winning wave which seemed almost impossible to get. That's why you compete ... Even in the semi against Kelly, he had 19.5 points, almost the perfect 20 points, but I still had the belief that I could pull it off ... there wouldn't be many places in the world that I would think that, but here at Cloudbreak I always thought that I had a chance."
So now what? Fanning leads the world title race and Slater's in second alongside Joel Parkinson. There is nearly a two-month break on the tour until the Billabong Pro Tahiti -- another left-hand reef break. Fanning's happy with the lead because, as he explained, "Even though I'm number one on the ratings I won't be getting the wildcards because of my seeding points from last year [both current and the previous points are used for the seeding positions] and at Teahupoo you don't want to be getting the wildcard in your heat."
In his speech at the awards presentation, Volcom founder Richard 'Wooly' Walcott thanked everyone involved and the surfers from around the globe saying, "It's a dream come true to see this event finally come together the way it did. It was a very emotional process to put this contest on and I'm just stoked to see the outcome ... it was a wild ride at times but the outcome is beyond my dreams."
VOLCOM FIJI PRO FINAL RESULTS:
1. Kelly Slater (USA) 18.16
2. Gabriel Medina (BRA) 10.87
VOLCOM FIJI PRO SEMIFINAL RESULTS:
SF 1: Gabriel Medina (BRA) 13.93 def. Mick Fanning (AUS) 6.57
SF 2: Kelly Slater (USA) 19.50 def. C.J. Hobgood (USA) 13.50
VOLCOM FIJI PRO REMAINING QUARTERFINAL RESULTS:
QF 3: Kelly Slater (USA) 18.57 def. Julian Wilson (AUS) 7.76
QF 4: C.J. Hobgood (USA) 16.14 def. Adriano de Souza (BRA) 15.76
CURRENT ASP WORLD CHAMPIONSHIP TOUR TOP 5 (After Volcom Fiji Pro):
1. Mick Fanning (AUS) 24,750 pts
2. Kelly Slater (USA) 23,700 pts
3. Joel Parkinson (AUS) 23,700 pts
4. Adriano de Souza (BRA) 22,400 pts
5. Taj Burrow (AUS) 20,950 pts