Oh how we've had some desperate days here in California this summer. May, June, July were all plagued by gray, looming fog funk, an ever-present, south cheddar wind, stupid cold water, and worst of all, absolutely no swell. After two months it was hard to get excited about two-foot dribble. But then, like a divine miracle, the clouds parted, hurricane and proper Southern Hemi swells lined up, and once again chaos was restored to the Lowers lineup.
Gallery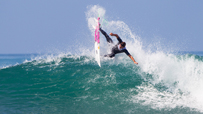 WIDTH="203" HEIGHT="114" BORDER="0" ALT="">
Highlights from a week in Orange County. Gallery

With the U.S. Open over and a week and a half lag before the start of the Billabong Pro Tahiti, some serious talent stayed in town for a few surf sessions. And while that didn't help the crowd, it certainly made for some interesting viewing. How could watching some of the world's best surfers cut loose on one of the world's most high performance waves be a bad thing? Well, it's kind of a bad thing if you live in San Clemente, because it makes it all that much harder to get a wave. But what the heck, it was going to be crowded anyway.
The accompanying video highlights are from a week of action down at the cobblestone point. Julian Wilson, the Gudang brothers, the beautiful Sage Erickson and all their friends and competitors were on hand, so sit back and kill some time with ESPN Surfing.