Preview
Day 1
Day 2
Day 3
Final
More than any other, the question this week going into the Hurley Pro is whether Kelly Slater's dominance at Lowers can put him back in contention for a 12th world title.
He's owned the Lowers title for the past two years, and won the contest a total of five times since 2005. Nowhere else has he so utterly and completely dominated. And now, sitting fourth in the rankings behind Mick Fanning and Joel Parkinson, who are both dead set on seeing this title race through to the end, and John Florence, who still somehow seems innocently wet behind the ears to be in the midst of such a cutthroat endeavor, Slater looks to the cobblestone point to once again put him back on top.
2012 Hurley Pro Preview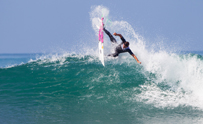 WIDTH="203" HEIGHT="114" BORDER="0" ALT="">
The world title race heats up as the top 34 head into Southern California. Gallery

In 1991, Slater had his coming-out party at Lowers, winning the Body Glove Surfbout, and now, 21 years later at 40 years old, with a hungry pack of baby wolves on his winged heels, he's the mark. Florence, Julian Wilson, Gabriel Medina -- all of them possess the requisite bag of tricks to oust Slater, but even combined they don't have the experience. How's this for a statistic: Medina hadn't even started surfing when Slater won his '05 title, and wasn't even born when a bushy-headed Kelly mumbled, "It's the morning of the final."
So while progressive surfing will be the theme at the Hurley Pro -- it always is -- and high fliers such as Florence, Wilson and Medina will grab headlines, Slater's the story. And he'll be aided by the forecast, which looks downright promising for the second half of next week:
"Long period south swell (175-190) forerunners will gradually build in through the afternoon on Tuesday the 18th," reports Surfline.com, "with a peak in swell on Wednesday the 19th and easing swell on Thursday the 20th. Fun size leftovers would then take over by Friday. Chest-shoulder-head high surf will show later Tuesday afternoon through Friday morning at Lower Trestles, with larger sets running a foot-plus overhead and even a little bigger on the peak days Wednesday and into Thursday morning (also best consistency Wednesday and into early Thursday)."
With big tidal swings throughout the week, the surf will change as it ebbs in and out. That's where experience comes into play. Knowing what sets are going to hit the point in just the right way is key as judges are not just looking for a one-and-done explosive ride, linkage and flow, and the ability to showcase a multitude of turns on one wave is how the points really start adding up. Besides Slater's voluminous knowledge, coming back from a severely sprained ankle and foot is young Kolohe Andino. In a worst-case scenario, doctors had him out through the Quiksilver Pro in France, but his camp reports that he's been surfing on it and it's been feeling good.
Andino made his name at Lowers, so it's only fitting he save it there, too. Coming off an injury, looking for a result or two, he needs the Hurley Pro to give him some momentum going into the back half of the year. Coming back this early could be a mistake and he could risk reinjuring it, but if he doesn't, he's then looking at the possibility of falling back onto the qualifying tour.
"Dusty Payne, Jadson Andre, Raoni Monteiro and Kolohe Andino, it's going to be a tough year to get an injury wild card," pointed out ASP surfer's rep Kieren Perrow when questioned about the subject in Tahiti.
And then there are Wilson's motivations. He was humbled in the first round of the Nike Lowers Pro in May, a loss that still burns deep within. One gets the feeling it was one of those moments that athletes pull from when they need that extra hit of inspiration. Winning the U.S. Open served as some redemption, and a result at Teahupoo was nice, but he might just be the man to steal the show from everybody this week. He's been running through a series of Matt Biolas-shaped Mayhems (as have most of the top 34), and he's honing in on a board or two that are working really well for him. So with his equipment dialed in and his head in the right place, he's somebody who could eventually be paired against Slater in the final, and wouldn't that be interesting?
All the players are in town, they've been running practice laps at Lowers all week, and with waves on the way, contest director Pat O'Connell and everybody else is looking forward to an epic week of surfing down at Lowers … maybe even, dare we say, historic.
HURLEY PRO AT TRESTLES ROUND 1 MATCHUPS:
Heat 1: Adriano de Souza (BRA), Brett Simpson (USA), Jadson Andre (BRA)
Heat 2: Taj Burrow (AUS), Alejo Muniz (BRA), Patrick Gudauskas (USA)
Heat 3: Kelly Slater (USA), Tiago Pires (PRT), Taylor Knox (USA)
Heat 4: John John Florence (HAW), Kai Otton (AUS), Dusty Payne (HAW)
Heat 5: Joel Parkinson (AUS), Bede Durbidge (AUS), Evan Geiselman (USA)
Heat 6: Mick Fanning (AUS), Fredrick Patacchia (HAW), Conner Coffin (USA)
Heat 7: Owen Wright (AUS), Miguel Pupo (BRA), Yadin Nicol (AUS)
Heat 8: Josh Kerr (AUS), Damien Hobgood (USA), Matt Wilkinson (AUS)
Heat 9: Jeremy Flores (FRA), Michel Bourez (PYF), Kolohe Andino (USA)
Heat 10: Julian Wilson (AUS), Adrian Buchan (AUS), Adam Melling (AUS)
Heat 11: Jordy Smith (ZAF), Heitor Alves (BRA), Travis Logie (ZAF)
Heat 12: C.J. Hobgood (USA), Gabriel Medina (BRA), Kieren Perrow (AUS)