Preview
Day 1
Day 2
Day 3
Final
Dominant. That's the only way to describe Kelly Slater at Lower Trestles in San Clemente, Calif. Winning his 50th ASP World Tour event, Slater took note of the historic moment.
"I got my first win as a professional here, and now to win number 50, it's something special," said Slater, whose first win came in 1991.
2012 Hurley Pro Highlights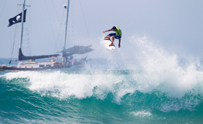 WIDTH="203" HEIGHT="114" BORDER="0" ALT="">
Slater wins the 2012 Hurley Pro at Lower Trestles. Gallery

"To get to number 50 was a big deal for him; it means a lot," said Channel Islands Surfboards' Travis Lee. Helping chair Slater up the beach, Lee added, "He really found his form in the final; he just went into that mode."
But the road to the 2012 Hurley Pro title wasn't easy. On the final day Thursday, Slater fought his way through four heats, battling back from a debatable interference call Wednesday. To top the podium, he had to face No. 1-ranked Mick Fanning in the semifinals and No. 2 Joel Parkinson, who was the in-form surfer all week, in the final.
"I never really felt like I got in gear," Slater said after the win. "So I didn't feel like there was a lot of pressure going into the final; I felt like I was either going to win or get smoked. Joel was surfing so good all week, he was either going to run away with it or he wasn't."
Riding a 5-foot, 9-inch Fred Rubble quad from Channel Islands for the final two heats, Slater finally found his rhythm and a board to match at the end of the day, an unfortunate fact for Fanning and Parkinson. Parkinson was left with bloodied knuckles after taking his frustration out on a wall in the competitors' area.
"It's frustrating, for sure, but it's still a result and the title race has really tightened up," Parkinson said. "It's going to be a great end to the year."
Although Parkinson's frustration was restrained, it was no secret what he was up against. Slater's victory Thursday marks his third win in a row at the Hurley Pro, he's made seven of the past eight finals and he's now fewer than 6,000 points from winning his record 12th world title. The world title race heats up as Fanning, Parkinson, Slater and the rest of the world tour turn their attention toward the European leg.
"This heat with Parko, it was my year, my season was kind of riding on it," Slater said. "If he'd won, I would have been further behind and probably pretty much out of it. The rest of the year should be pretty entertaining."
HURLEY PRO AT TRESTLES FINAL RESULTS:
1. Kelly Slater (USA) 16.50
2. Joel Parkinson (AUS) 14.00
HURLEY PRO AT TRESTLES SEMIFINALS RESULTS:
SF 1: Kelly Slater (USA) 17.27 def. Mick Fanning (AUS) 9.34
SF 2: Joel Parkinson (AUS) 18.26 def. Adriano de Souza (BRA) 13.43
HURLEY PRO AT TRESTLES QUARTERFINALS RESULTS:
QF 1: Mick Fanning (AUS) 17.60 def. Taj Burrow (AUS) 16.50
QF 2: Kelly Slater (USA) 15.17 def. Adrian Buchan (AUS) 11.93
QF 3: Joel Parkinson (AUS) 17.16 def. Jordy Smith (ZAF) 17.04
QF 4: Adriano de Souza (BRA) 12.60 def. John John Florence (HAW) 11.60
HURLEY PRO AT TRESTLES ROUND 5 RESULTS:
Heat 1: Mick Fanning (AUS) 12.90 def. Julian Wilson (AUS) 12.76
Heat 2: Kelly Slater (USA) 15.94 def. Jeremy Flores (FRA) 15.44
Heat 3: Jordy Smith (ZAF) 15.93 def. Josh Kerr (AUS) 9.57
Heat 4: Adriano de Souza (BRA) 18.30 def. Gabriel Medina (BRA) 9.57
CURRENT ASP WCT TOP 5 (After Hurley Pro at Trestles):
1. Mick Fanning (AUS) 41,250 pts
2. Joel Parkinson (AUS)
3. Kelly Slater (USA)
4. John John Florence (HAW)
5. Adriano de Souza (BRA)