Preview
Day 1
Day 2
Day 3
Day 4
Julian Wilson had never won a world championship tour event until Friday, when he took out the Rip Curl Pro Portugal over Brazilian young gun Gabriel Medina.
Rip Curl Pro Portugal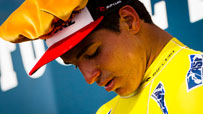 WIDTH="203" HEIGHT="114" BORDER="0" ALT="">
Julian Wilson and Gabriel Medina fight to the finish. Gallery

You would have thought that trying to win your first elite tour victory after nearly two years in the top 34 would be enough motivation for Wilson, but he claimed that just driving into the car park at Supertubes in Peniche gave him extra incentive.
"Each day I rocked up here, they have our photos up for our car parks, lined up according to our rank, and from the very first day I just wanted to be able to park closer to the top and that was kind of my driving force to get a better car park," Wilson, who moved from 12th to sixth on the ratings, said jokingly.
Meeting in the final of last year's Quiksilver Pro in Hossegor, France, made Friday's final also a potent shot of motivation.
"That one hurt last year," Wilson said. "He beat me on the buzzer last time, so to even it out is a very good feeling."
Last year, Wilson led for most of the final, only to see Medina snatch his maiden tour victory in the last few minutes. The roles were reversed Friday, with Wilson riding the winning wave in the last 10 seconds.
And true to any good buzzer-beater, it took several minutes to figure out exactly what happened. Both surfers were on the beach, standing among the crowd and waiting for the judges to read out Wilson's last wave score. He'd broken one board during the final, rode all of the allotted 15 waves allowed in a heat, wiped out numerous times, yet believed he had scored enough points to win on his final wave.
Yards away was the Medina camp, surrounded by screaming Portuguese fans and a massive media scrum, all of whom thought he had won.
"All I was thinking about going for that last wave was that the barrel was opening up in front of me and I just got really excited and pushed through," Wilson said. "I'd had a couple of barrels today that knocked me off and I'd been a bit lazy and that one, I knew if I could just stay on my board, I knew I was on my way to getting the score. I'm over the moon to win my first event. The wave just came to me, and I was working on the theory of, 'Never give up!' "
Wilson needed a score of 7.55 points to take the lead from Medina. He earned an 8.43.
The small Australian contingent went wild, while the Brazilian camp was devastated. Medina was shattered and couldn't believe he had lost. He was leaving the beach as the awards ceremony got under way and had to be persuaded by his sponsors and family to make an appearance on the dais. He finally appeared, giving his runner-up speech with tears running down his face.
The day ended with Wilson celebrating his first tour win and his name added onto the Rip Curl Pro Portugal's perpetual trophy. The top 34 surfers are getting ready to head to the next event, in Santa Cruz, Calif., where the battle for this year's world title will continue.
Joel Parkinson, the current world No. 1, has inched ahead of his three main rivals -- Kelly Slater, Mick Fanning and John John Florence -- but is far from comfortable.
"It would have been nice to get a little bit further ahead," Parko said. "If someone had said to me coming into Trestles that I'd have a second and two thirds by the time I left Europe, then I would have taken it, being happy with that kind of result. So I figure I'm leaving Europe in a good position and the next contest is at Santa Cruz ... and I hate a right hand point break."
RIP CURL PRO PORTUGAL FINAL RESULTS:
1. Julian Wilson (AUS) 16.26
2. Gabriel Medina (BRA) 15.37
RIP CURL PRO PORTUGAL SEMIFINAL RESULTS:
SF 1: Gabriel Medina (BRA) 13.80 def. Joel Parkinson (AUS) 5.27
SF 2: Julian Wilson (AUS) 19.27 vs. Adriano de Souza (BRA) 5.90
RIP CURL PRO PORTUGAL QUARTERFINAL RESULTS:
QF 1: Gabriel Medina (BRA) 15.60 def. Josh Kerr (AUS) 10.67
QF 2: Joel Parkinson (AUS) 15.07 def. John John Florence (HAW) 11.23
QF 3: Julian Wilson (AUS) 15.13 def. Owen Wright (AUS) 14.34
QF 4: Adriano de Souza (BRA) 15.57 def. Jeremy Flores (FRA) 9.80
RIP CURL PRO PORTUGAL REMAINING ROUND 5 RESULT:
Heat 4: Jeremy Flores (FRA) 7.34 def. Raoni Monteiro (BRA) 3.34
ASP WCT TOP 5 (After Rip Curl Pro Portugal):
1. Joel Parkinson (AUS) 52,700 pts
2. Kelly Slater (USA) 47,200 pts
3. Mick Fanning (AUS) 47,000 pts
4. John John Florence (HAW) 44,350 pts
5. Adriano de Souza (BRA) 37,650 pts