Preview
Day 1
Day 2
Day 3
Final
The O'Neill Cold Water Classic will get underway tomorrow, NorCal gray and all. It's the second to last event of the year, and you've had your head in a sand dune if you don't know how tight the title race is. Here's the ASP's three-point breakdown of what's at stake:
O'Neill Cold Water Classic Preview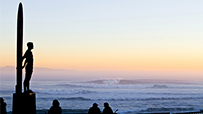 WIDTH="203" HEIGHT="114" BORDER="0" ALT="">
ASP world title race comes to Surf City of the north. Gallery


1. Joel Parkinson must win the event*.
2. Kelly Slater must place Equal 13th or lower.
3. Mick Fanning must place Equal 9th or lower.
*If Parkinson wins the O'Neill Cold Water Classic, but Slater and/or Fanning finish 9th (or higher) and 5th (or higher) respectively, the ASP World Title Race will head to Hawaii and both John John Florence and Adriano de Souza will be out of contention.
If any one of the those three scenarios fails to eventuate, the 2012 ASP World Title will be decided at the final event of the year at Pipeline.
Coming off of the European leg there's no shortage of subplots as well. There was the controversial finish at the Rip Curl Pro in Portugal in which Julian Wilson dropped a debatable eight-point ride in the dying seconds. Gabriel Medina subsequently fell apart in tears after the score was announced and practically refused to stand on the podium. Brazilians were out on the social media channels in force afterwards, protesting a perceived biased.
"Why does JW deserve to be threatned & called a fake champ? He didn't judge the heat?! Therefore its not his problem, its an issue with the judges that you have... And as for those saying JW should have given the trophy to Gabriel-did you see Adriano give the heat to Owen last year in Brazil? No, he carried on acting like a spastic like he just won a world title and convinced that a floater would beat two BIG punts," read one comment on a post Wilson's Facebook page ... a post thanking fans for their support. Most other comments don't bear repeating.
France brought a win by a rolling Kelly Slater, who was fresh of another Lower Trestles victory. More importantly, the nature of the tour took a dramatic turn as the ASP announced a new partnership with a company called ZoSea, headed up in part by Slater's manager Terry Hardy.
"It's an important time for surfing," said ASP surfer representative Kieren Perrow, as reported by ESPN's Jamie Tiereny on Oct. 6. "The supporters of the sport have sacrificed a lot of time and energy into professional surfing, and it has brought us to our current position where we're attractive to a larger market with the ability to take surfing to a whole new level. Everyone, from the surfers to the fans to the events to the sport, will benefit and it's an exciting time for the ASP."
And so while every surf fan's eyeballs should be glued to a title race that's been grinding through all kinds of gears this year, there are distractions. Slater's off chasing epic storm surf somewhere in Florida, and with the announced 2014 restructuring looming, a feeling of a lame duck finish seems to be blanketing the race like a thick layer of NorCal fog.
The Trials are underway today. A berth into the main event would definitely bolster local up-and-comer Nat Young's chances of qualifying for the big dance next year, especially going into the final leg in Hawaii. Jason "Ratboy" Collins already has a wildcard into the event a la his sponsor, O'Neill. And as far as swell goes, Surfline.com reports, "At this point we're looking at two swell events during the waiting period:
1. WNW swell for Thursday the 1st in the head high to slightly overhead range on the sets/better tides, as long as the storm continues to behave as forecast in the next day. Those waves drop off 30-40% on Friday and then drop further into and through most of the weekend.
2. A potentially slightly larger WNW to NW swell for Sunday late afternoon through Tuesday. Again, this is pending storm development over the next a few days but looks promising for more fun to possibly medium size surf and very contestable conditions.
3. Long range charts and models indicate fading and smaller surf will prevail from the 7th-10th, with a shot at a small pulse of WNW swell for the final day of the waiting period.