Test Your Medal finalists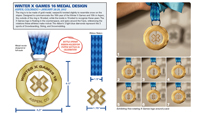 WIDTH="203" HEIGHT="114" BORDER="0" ALT="">
Hodnicki's design beat out these 15 other finalists. Launch Gallery

ESPN's inaugural "Test Your Medal" Winter X medal design contest is now complete, and online voters have chosen Joe Hodnicki's design as the winner. Hodnicki created a medal design with a snowboard, skis, and a snowmobile combined into an X shape. This is the medal that Winter X 2012 champions will be wearing around their necks when Winter X returns to Aspen, Colo., from Jan. 26-29.
Hodnicki will receive his own set of Winter X Games medals and recognition as this year's medal designer on the Winter X telecast. Steve Winiarz's mitten-shaped medal took second and Dan Marino's gold ring took third. The top three designers will take home Winter X Games prize packs with official X Games merchandise.
Of the 16 finalists chosen by X Games staff, the designs included a stack of pancakes, mittens, a deck of cards, an aspen tree and more.
"The athletes and the fans are what make the X Games, so this year we decided to put the opportunity to design the Winter X Games Aspen medals, by way of an online submission contest, in the hands of the fans," said Shawn Seward, X Games director of sports and competition. "To further the spirit of letting the fans drive the process, the winning medal design was chosen by the fans. It's been fun to watch all the designs come in -- from kid's hand drawn designs, to polished renderings, to the straight up kooky."
Check out this gallery to see all 16 of the design finalists.