The gray-and-blue No. 18 Subaru STI pulls into the rally pits at the L.A. Coliseum after taking its first practice lap Thursday afternoon. Its left taillight is hanging by a wire, its left quarter panel is mangled and the rear left tire is half its former self. "The alignment's messed up, too," says driver Jimmy Keeney, the 2009 Rally America Super Production class champ who lined up at X for the first time last year. "I hope it's not a strut. Those cost a few thousand a piece. When I hit something, dollar signs start adding up in my head. That's all I can think about until I get back to fix it."
X16 day two ZOOM gallery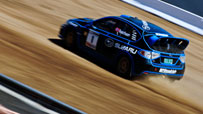 WIDTH="203" HEIGHT="114" BORDER="0" ALT="">
For a more visual recap, check out the X16 day two ZOOM. Gallery

With that, Vicki Keeney grabs a spare tire, one of only four spares team Keeney has to last them through Saturday, and begins rolling it toward the car, where Jim Keeney is loosening lug nuts. "That's my crew. My parents and a couple friends who came along," says Keeney, who takes off his gloves and begins inspecting the car and preparing to switch hats from driver to mechanic. "And unlike the other guys, my crew isn't paid. Mom and Dad are volunteers. They actually pay for 90 percent of what we do, and last year, we spent $10,000 out of pocket to race at X."
Next to Keeney is Team Duplessis, a 15-man-and-girlfriend volunteer operation powering the ride of 22-year-old X Games rookie Chris Duplessis. "We got the invite at the end of June and started working on sponsors immediately," says girlfriend Sarah Trask. "Nothing was coming through, so we emptied our bank accounts to pay for the car rental and my parents lent us $3,000 to pay for gas and travel. If not for them, we wouldn't be here. It's crazy, but it's X Games. It's the Olympics of extreme sports and it's a huge opportunity. Next year, we hope to be able to pay Mom and Dad back and actually pay our crew."
Such is the story of the privateer teams here in Los Angeles. They are a far cry from the million-dollar operations of their star counterparts like Travis Pastrana, Ken Block and Tanner Foust. Keeney owns a sign shop in Colorado Springs, Colo., and works with his dad at a body shop to help fund his racing. Chris works full-time at the Team O'Neil Rally School in Dalton, N.H. "We're self-employed, so every day we're gone, we're losing money," Keeney says. "This is costing us money. A few thousand on hotel rooms for the week, fuel for the truck to get the car and everyone out here and any damage I do to the car, which I own. It adds up."
A few slots down from Keeney, but worlds away, BMX icon Dave Mirra backs his Subaru into its spot and is met by a team of waiting mechanics. "We have 35 people on our crew for the three drivers," says Greg Hamilton, the lead mechanic on Mirra's car. "We have a Japanese engineer, an English engineer and a few mechanics from the UK. But most of us are from Vermont, where the team is based." The price tag for all those folks makes up about one-third the nearly $500,000 cost of showing up on race day. "The other two-thirds are the car and travel," he says. Mirra's ride alone costs upwards of $200,000, which is not even the most expensive car in the lot. His team also trucked in 100 spare tires at $300 a pop (that's $30,000 for those not wanting to do the math) and enough spare parts to ensure a minor wreck won't keep him off the start line for either of his two races Saturday afternoon. "We brought one spare car for the team," he says of the three-driver Subaru squad. "But if two guys crash their car, they might have to arm wrestle to see who gets it."
Crashes, of course, are the unknown costs of racing rally. "I crashed the car into a cliff last year at a Rally America race in Pennsylvania," says FMX star Brian Deegan, who is competing in both rally events here at X. "I rented the car, so I paid for damages. That cost about $50,000. Last year at X Games, I stuffed the car into a jump and smashed up the front. That was another $10-20 grand. It's a costly deal. I have sponsors, but sometimes I have to pay out of pocket. It's a lot more expensive than racing dirt bikes." And this year, it requires a lot more strategy. "Because there are two events and I only have one car, I'm going to be more cautious," Deegan says. "Not so much that it hinders how I drive, but I have to be careful not to wreck."
That's something every driver has in common, the need to balance racing hard enough to cross the finish line first but cautiously enough to make it to the start. But not having to worry about the final price tag of racing here at X is a luxury that makes that balancing act a little less stressful. "It's hard to keep going if you look at the dollars and cents," says three-time X Games medalist Tanner Foust. "Racing is expensive. That's the No. 1 deterrent for people chasing the dream of being a race car driver. That's why, when it comes to racing and sushi, I never look at the bill." Someday, Keeney and Duplessis hope to have that same luxury.