Today, ESPN announced the dates for Winter X Games 15. More than 200 of the best action sports athletes will compete in Skiing, Snowboarding and Snowmobiling in Aspen for the premier Winter X event. This will be the 10th consecutive year that Winter X Games has been held in Aspen, Colo.
Winter X 15 will be held from Jan. 27 - 30, 2011 in Aspen, Colo. Winter X Europe will be held March 16 - 18, 2011 in Tignes, France.
Winter X Retrospective
onClick="window.open('http://www.espn.com/action/photos/gallery/_/id/6012772/winter-x-games-retrospective','Popup','width=990,height=750,scrollbars=no,noresize'); return false;">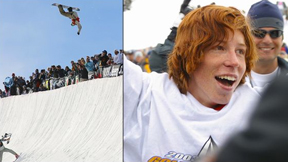 WIDTH="203" HEIGHT="114" BORDER="0" ALT="">Check out photos from the last 14 years of the Winter X Games.

More than 125 athletes will compete from all over the globe in Snowboard and Skiing in France for the second year of Winter X Games Europe.
For the third straight year, the Winter X Games was ESPN's highest-rated and most-viewed, and more than 43 million viewers tuned in to watch on ESPN and ESPN2. The ESPN telecasts posted a 1.2 household rating, representing an average of 1,147,000 households. In addition, both ESPN and ESPN2 recorded their highest-rated and most-viewed individual Winter X telecasts (1.3 on ESPN and a 0.8 on ESPN2). Winter X Games 14 also set a new attendance record in Aspen at Buttermilk Mountain with a total of 84,100 spectators over four days, beating the previous Aspen best of 76,150 set in 2007 -- an increase of nine percent.
Winter X Games Europe was the first Winter X Games outside of the United States. Together with CANAL + Networks (CANAL +, CANAL + SPORT, Sport +) and ESPN International, Winter X Games Europe was broadcast live in eight countries, including France, and distributed to 166 countries and territories, including Latin America, Middle East, Pacific Rim, sub-Saharan Africa, Brazil, Israel, Caribbean, North America and Europe. The three-day event attracted 66,200 spectators for the inaugural event.