In the week since Sarah Burke's death, there have been tears. And tributes. Purple ribbons. Red stickers. And more tears. But Thursday night, as her friends and fellow athletes gather in Aspen for the start of the Winter X Games, a celebration begins. For those who knew her best and those who simply knew her by name, Winter X is a four-day opportunity to do exactly as the stickers adorning so many helmets, snowboards and skis here in Aspen instruct: "Celebrate Sarah."
But how do you celebrate the life of a woman whose absence weighs so heavily on hearts this week? Well, for starters, you smile.
"Sarah really liked to smile," skier Sean Pettit said as he accepted his award for Best Male Performance at the Powder magazine awards held Wednesday night at the Hotel Jerome in downtown Aspen, Colo. "So I want to see a smile from everybody." As prompted, the hundreds of people in the room raised huge smiles below tear-filled eyes. A few minutes earlier, they'd paused for "a moment of noise" in Sarah's honor.
Remembering Sarah Burke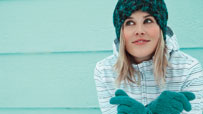 This week in Aspen, the athletes of Winter X Games are celebrating the life of freeskiing pioneer Sarah Burke. Gallery

And that smile might turn into a laugh. Sarah really liked to laugh. And although she had a heart the size of Whistler Mountain, she wasn't always laughing with you.
To that point, there's something she would want you to see: Click off of this story for a moment, open another Internet browser and type scarah.com into your browser. Now watch as she jumps from behind an apartment door to scare her coach, Marc McDonell, as he steps into a stairwell. Or pops out of a hat display at Target after spotting her friend and fellow skier Joe Schuster, innocently shopping in the store.
It's not a sophisticated site, and she'd been working on it for only a few months. But it's funny. An ominous-looking graphic at the top of the page welcomes visitors with the words, "Be afraid of Sarah …" And if Sarah had had her way, the site would have been huge. Forget Ken Block's Gymkhana series or those "What Single Girls Say" videos. Scarah.com would have been the biggest thing on the Web. "I hope we can figure out a way to keep it going," superpipe snowboarder Steve Fisher said. "I think she would have liked to see us all posting videos scaring the hell out of one another."
Want to celebrate Sarah Burke? Hide behind a bush in your driveway the next time your best friend comes to pick you up for a movie.
Perhaps you want to glam up for the celebration. Sure, Sarah was tough as nails and had no problem hanging with the boys. But she brought an element of style, glamour and grace to everything she did. "The memory that will make me smile this week is me and Sarah in sequin dresses at the ESPY awards last July," said Kelly Clark, the defending snowboard superpipe gold medalist. "We were both nominated for female action sports athlete of the year, and it was so fun to be on the red carpet with a friend. I'm glad we can celebrate her this week in the place she shined the brightest."
And if someone turns on some tunes: dance. Like, really dance -- in that way you do when you don't think anyone is watching. "I used to call Sarah my stunt dancer," said Kristi Leskinen, a freeskiing pioneer who was one of Sarah's closest friends and by her side in the last week of her life. "We'd get to parties and inevitably someone would pull me onto the dance floor. But I don't like to dance. So I'd say, 'Hold on, I'll get my stunt dancer.' I'd pull Sarah onto the floor and then stand there, just watching her. She was so damn good. I loved going to parties with Sarah, because you knew you were going to get a show."
Especially at a competition. So this week, whether you're a skier, a snowboarder or an elementary school teacher, celebrate Sarah by doing as she would have done this week, and push past whatever limits you set for yourself yesterday.
For many of the athletes here in Aspen, that will be the toughest trick they pull off this week. They will be asked to drop into a halfpipe that is very similar to the one Sarah was riding the day she was injured in Park City. And they will have her on their minds. It will be difficult to stay focused and positive and be all the things Sarah would have wanted them to be.
But then they will dig down deep and do as she would have done. "If she was in pain, she bit her lip," Leskinen said. If she was sad, she would have taken a deep breath, blocked out the emotion and, as her dear friend and Olympic snowboard gold medalist Torah Bright realized, "Sarah would go."
On Thursday night, 39 minutes into the Winter X broadcast (9 p.m. ET, ESPN), there will be a moving tribute in remembrance of Sarah's life. But for the rest of the week, the celebration will continue. It will be subtler, but it will be there. In purple ribbons and red stickers. In dancing and laughing and practical jokes. Oh, and vodka shots.
"If Sarah were here, she would buy a round of vodka shots for everyone," Leskinen says. "She always did. This week, I'm buying them for her."
And then, even though she doesn't like to, she will dance.