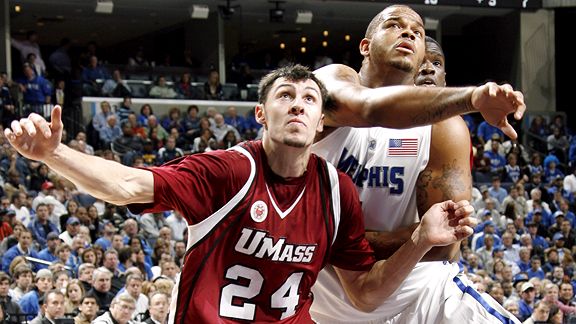 Joe Murphy/Getty Images
Former UMass standout Tony Gaffney has signed with the Celtics.An official announcement isn't expected until Tuesday afternoon, but the Boston Celtics have signed former UMass standout Tony Gaffney.
News of Gaffney's signing was first reported by ABC40 in Springfield.
A 6-foot-8 forward, Gaffney went undrafted out of UMass, but played for the Los Angeles Lakers' summer league team last year and earned an invite to training camp, where he was a final cut. Gaffney latched on with Hapoel Gilboa Galil Elyon in Israel before suffering a broken foot that forced him to return stateside to rehab.
Gaffney, who played his high school ball locally at Somerset, spent his freshman season at Boston University before transferring to UMass, where he earned Atlantic 10 Defensive Player of the Year as a senior.
Gaffney adds depth to a frontcourt that was thin on bodies given that Kevin Garnett sat out Saturday in Milwaukee, while Brian Scalabrine is not with the team on this trip (and is not expected to join them in Chicago Tuesday night). As Boston's playoff future comes into focus, Gaffney could fill minutes should the Celtics decide to rest bodies over their final two regular-season games.
Thin on low-cost players signed for next year, Gaffney could also play himself into possible consideration for the 2010-11 roster based on how he performs in practice and any game action.