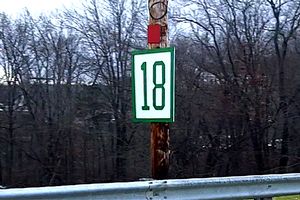 Chris Forsberg/ESPN Boston
After a lengthy hiatus, the "18" sign has returned.WALTHAM, Mass. -- After disappearing for much of the regular season, the green-and-white "18" sign that encourages the Celtics towards an 18th NBA title, has returned to a utility pole along Winter St., about a quarter mile from where the Celtics practice at the Sports Authority Training Center at HealthPoint.
The "18" originally started as a "17" and served as inspiration for the Celtics during the 2008 postseason, where it won the franchise's 17th NBA title. The sign then reemerged as an "18" during last year's playoffs, then came back near the start of the 2009-10 regular season before quickly going into hibernation.
The sign returned a few days ago. It's hitting .500 for its career. Let's see what it brings during these 2010 playoffs.