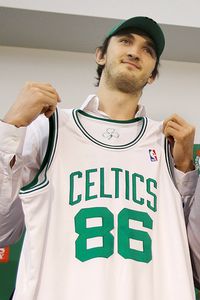 AP Photo/Charles Krupa
Semih Erden displays a No. 86 jersey during his 2008 introduction.Even after Rajon Rondo stepped aside from Team USA, the Celtics were invested in the 2010 FIBA World Championships thanks to Semih Erden's participation with his native Turkey.
Celtics president of basketball operations Danny Ainge said he watched every Turkey game on TV, while also dispatching director of player personnel Ryan McDonough overseas to report back on Erden's exploits. The 6-foot-11 rookie center averaged 9.1 points, 4.6 rebounds, and 1.2 assists per game in nine appearances, while helping the hosts earn silver.
"I really liked what I saw," said Ainge. "I thought Semih played with great energy and confidence."
While Erden wasn't overly dominant on the glass and struggled at the free-throw line, he did show a nice ability to finish around the basket and, maybe most notably, displayed good passing skills when defenses committed double teams.
"Semih's a player," said Ainge. "He plays hard, he plays with energy. He definitely made a handful of nice passes."
Erden gets a brief chance to rest before diving into training camp with the Celtics later this month. Originally listed as No. 50 -- the number he wore at Celtics summer league in Orlando -- Boston's online roster was updated recently to list him as No. 86 -- the same number he held up at his post-draft introduction in 2008.
Erden wouldn't just be the first player in Celtics' history to wear that number, he'd be the first player in the NBA to don those digits. Antoine Walker is the only other Celtics player to wear a shirt in the 80's after his brief stint as Employee No. 88.
Why 86 for Erden? Well, 1986 is his birth year.