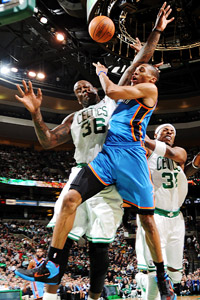 Brian Babineau/NBAE/Getty
Shaquille O'Neal fouls Russell Westbrook going up for a layup.The NBA downgraded a flagrant 1 foul assessed to Shaquille O'Neal on Nov. 19 vs. Oklahoma City to a standard foul, while upholding a flagrant 1 foul registered by Nate Robinson Friday night vs. Toronto.
The NBA reviews all flagrant calls with the ability to upgrade, downgrade or uphold all calls.
O'Neal incurred his second flagrant 1 of the season for a hard foul on the Thunder's Russell Westbrook with 4:30 remaining in Oklahoma City's win at the Garden. O'Neal appeared to simply throw his hands in the air, but the force of impact with the driving Westbrook left referees assigning the harsher call (which resulted in two foul shots and the ball). Westbrook made both free throws, giving the Thunder a six-point cushion, and they held off a Boston charge to prevail, 89-84.
Robinson earned his flagrant 1 for a hard foul on Linas Kleiza in the second quarter of Boston's 110-101 triumph over the Raptors on Friday. Kleiza had an open path to the basket for what should have been an easy dunk, but Robinson scrambled over and clearly clubbed Kleiza to prevent the basket.
O'Neal and Robinson each have one flagrant point this season. Suspensions trigger at five points accrued.
In other flagrant fouls news, a flagrant 1 assessed to Washington's Hilton Armstrong during a visit to Boston on Nov. 17 was upheld.