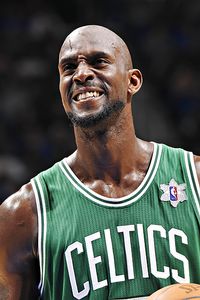 Fernando Medina/Getty
Celtics coach Doc Rivers said Kevin Garnett could be back as early as Monday's game vs. Houston.Our friends over at Red's Army produced a phenomenal find Sunday, uncovering Kevin Garnett's blog for his Chinese sneaker sponsor, ANTA. It's a rare glimpse into the mind of KG and, what's more, it was updated Sunday with some insight on his recovery, with Garnett suggesting he wanted to suit up Saturday and that his return is "close."
From Garnett's blog on the ANTA website:
When I'm not playing, I hate talking hoops, so sorry for not blogging. You know how when you ain't a part of something, it hurts to talk about it. That's how I feel. Know what I mean?

Don't get it messed up, just cause I ain't playing don't mean I'm not working out. I'm working super hard and feeling good.

Didn't get to tell you about the tough game against San Antonio we had on Wed[nesday]. Game was CRAZY. We were up 9 with 57 seconds and we somehow almost blew it. They had the ball down by 2 with 7 seconds left. It was crazy how it happened. [Paul Pierce] got the block to save the win and [Rajon] Rondo had a triple double. Big game by him. He was doing amazing stuff.

Friday we had Toronto and young fella Luke [Harangody] played great. He stepped up and had a double double (17 [points] and 11 rebounds). He's hard working and knows how to play. If he keeps working hard, he'll be good. It was nice to get the starters some rest and let the young guys play. We won by a bunch, so it was nice. After the game, Dr. looked at my leg and we're close. Real close to getting back.

Took the flight to Chicago and got in at 2am, so watch a movie and then shut it down. Chicago is a city I lived in, so always have a special place for Chi-town.

Pregame, I worked out at the arena in the Bull's workout room. Anytime I get to work out around another team, my gas gets going. I was killing the weights and wanted to play. When I was in there, Scal ([Brian] Scalabrine old teammate) came in and got me going even more. Good to see him.

I don't know how to describe the game as the guys energy was low, the ball was "sticking" and not popping around. Guys were not doing their jobs. Frustrating watching and not being able to help.

We played 6 games in 9 days, so the guys need a break. Off day tomorrow for them, but I'll be getting my stuff in. The loss just makes me more motivated to get back and help my guys.

Keep living right and peace out.
Click HERE to read more.
(h/t: Red's Army, @KWAPT)