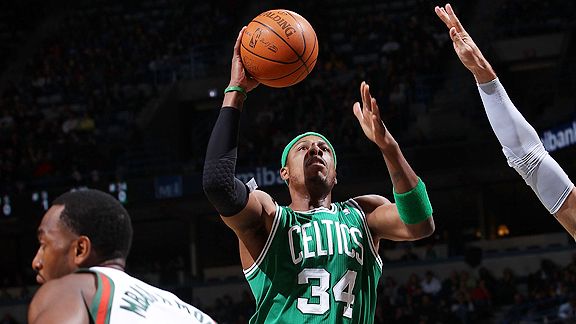 Gary Dineen/Getty Images
Paul Pierce paced Boston past the the Bucks Sunday night in Milwaukee.Rapid reaction after the Boston Celtics defeated the Milwaukee Bucks 89-83 Sunday night at the Bradley Center:
The rundown: Pierce a plus | KG's block | Krstic's offense | Loose balls
--THE TRUTH: PIERCE A MAJOR PLUS ON COURT FOR CELTICS--
Plus/minus can be a vacillating statistic, but the fact of the matter is that it's a decent barometer for a team's success when a player is on the court. And while Paul Pierce's name won't land on any MVP lists, the plus/minus metric alone showcases just how dominating a season Boston's captain is putting together.
Pierce improved to a league-leading plus-511 for the season Sunday after finishing plus-16 while scoring a team-high 23 points in Boston's win over the Bucks. According to ESPN researchers, San Antonio's Manu Ginobili entered Sunday's action in an already distant second place. He finished at minus-14 in the Spurs' loss to the Los Angeles Lakers and is now a whopping 64 points behind Pierce at plus-447.
Through 61 games, Pierce is averaging a plus-8.4 per contest, which suggests he's routinely double digits in the plus in victories. And considering Boston hasn't had many blowouts this season, it makes that mark all the more impressive.
Get geekier with statistics and Pierce's case to be mentioned with the league's most dominant offensive players this season is strengthened. According to ESPN researchers, Pierce ranked third in the NBA in average points per play entering Sunday's game. Out of 44 players with at least 1,000 plays this season, Pierce (1.10 points per play) ranked third behind only Dallas' Dirk Nowitzki (1.14) and Houston's Kevin Martin (1.11). Minnesota's Kevin Love (1.07) and the Lakers' Pau Gasol (1.06) filled out the top five on that list.
But you don't need fancy stats to tell you Pierce is having a turn-back-the-clock season. Your eyes tell the story.
Overcoming the bumps and bruises that nearly forced Pierce to shut it down last season, he's thriving in all aspects of his game, upping his rebounding or assists when necessary. And he's got newfound hop in his step, as evidenced by his array of dunks this season.
Midway through the third quarter, Pierce lost his man with a crossover then slipped between a pair of Milwaukee defenders at the top of the lane before throwing down an emphatic one-handed jam that capped a brief five-point outburst by Pierce and put Boston out front, 59-58. The Celtics didn't trail the rest of the way.
Pierce is averaging a team-best 19.1 points per game and has appeared in all 61 contests this season as Boston has had to navigate patches of the season without Rajon Rondo, Kevin Garnett and a hodgepodge of centers.
And that might be his biggest plus of all.
--KG COMES UP BIG IN FINAL MOMENTS--
Celtics forward Kevin Garnett put up another double-double (14 points, 11 rebounds) in Sunday's win. Ho hum. He actually saved his finest contributions for the final moments, helping Boston secure a gritty road win.
With less than a minute to play and Boston clinging to a two-point lead, Garnett snared the rebound on a Brandon Jennings miss, then drilled an 11-foot baseline jumper to put Boston in front, 86-82. When Luc Richard Mbah a Moute attacked the basket on Milwaukee's ensuing possession, Garnett swatted away a layup attempt, preserving the win.
Garnett misfired on a couple of midrange shots in the fourth quarter (typically his bread and butter) with a chance to put the game away. Unfazed, he finished 6-of-12 from the field with three assists, three steals and that ultra-important blocked shot over 33:12.
--KRSTIC AN OFFENSIVE MACHINE IN FIRST QUARTER--
It's almost like the Celtics are trying to prove that it doesn't matter who plays center, that person is going to thrive with this first unit. That might be true, but center Nenad Krstic is doing his best to show he belongs with the starting unit while Shaquille O'Neal continues to have problems with his ailing right foot.
After Boston spotted Milwaukee a 10-point lead early, the Celtics worked their way back into the game with a steady diet of Krstic. The 7-footer made all six shots he took in the first quarter, scoring 12 of his 17 points (second-best on the team behind Pierce) in that frame.
Krstic finished 7-of-8 from the field while grabbing three boards and blocking a shot over 29:17. In five games with Boston, he is averaging 12.2 points per game. Needless to say, none of Boston's past centers -- not even Kendrick Perkins -- were putting up those sort of offensive numbers on a consistent basis, and Krstic still hasn't been able to showcase his perimeter game, doing much of his damage around the basket off pretty feeds, including Pierce's behind-the-head, no-look feed early on Sunday.
--LOOSE BALLS: ARROYO GETS NO. 45; PAVLOVIC SHOWS RANGE--
* Newly signed Carlos Arroyo will join the team Monday morning in Boston, where he will undergo a physical then go through some informal workouts to get himself acclimated. Arroyo has been assigned jersey No. 45, joining past luminaries such as Raef LaFrentz, Ruben Wolkowyski, Andrew DeClercq and David Thirdkill to don those digits. No player to wear No. 45 has ever played more than two seasons in Boston, and Arroyo, a nice pickup to trim Rondo's minutes before the postseason, is unlikely to end that streak.
* Speaking of Rondo, he played perhaps his most head-shaking game of the season, turning the ball over eight times (Boston gave up the ball 18 times overall, leading to just 11 points, however). Rondo finished 3-of-7 shooting for six points with four rebounds, eight assists and two steals. Avery Bradley logged nearly 10 minutes of action, missing all three shots he took and is still looking rough around the edges. The rookie has great potential, but Arroyo will bring some veteran stability to the position.
* If you had Sasha Pavlovic ahead of Troy Murphy in the "first free agent to hit a 3-pointer" contest, you win. Pavlovic buried a fourth-quarter triple, giving Boston its biggest lead of the night (seven points), but Milwaukee didn't go quietly. Doc Rivers raved about Boston's new No. 77 (move over, Ray Bourque) after the game.
"Phenomenal," Rivers told reporters in Milwaukee. "I told him after the game, 'You just play defense like you played tonight.' I could care less if he makes a shot or misses a shot. If he makes a shot, that's great. Honestly, I told him I could care less about that because, from making the calls, he always gets down on his missed shots, and I told him, 'I could care less. You could take 50 of them and miss them all if you defend like that.' He was phenomenal. He may have been our best defensive player on the floor tonight. He was unbelievable."
* Other newcomer watch: Jeff Green got more crunch-time minutes while connecting on 5-of-8 shots for 11 points over 27 minutes ... Murphy still hasn't registered a field goal in a Boston uniform, missing both shots he attempted over nearly 15 minutes. He did grab four rebounds and added two assists.
* The Celtics dressed only nine players due to injury. Glen Davis (left knee strain) and Von Wafer (right calf strain) are out for the next couple of games. Shaquille O'Neal, who celebrated his 39th birthday Sunday, is out indefinitely with lingering pain in his right foot.