True freshmen aren't supposed to do what Dion Lewis is doing.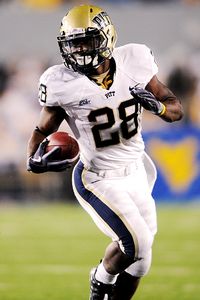 James Lang/US Presswire
Pittsburgh running back Dion Lewis has been a major contributor as a true freshmen.They're supposed to hit a wall at some point in the season, especially those playing running back over the grind of a 12-game season. They're not supposed to get stronger as the year goes along.
But Lewis has proved all year that he's not like most true freshmen. The Pittsburgh tailback has been a consistent force all year long and has been just as good late in the year, if not better.
He has rushed for more than 100 yards in each of his last six games and has gone over 150 yards the last two times out. Pitt just keeps feeding him the ball; he had 26 carries last week at West Virginia, his second-heaviest workload of the year.
Lewis has already broken LeSean McCoy's Big East freshman rushing record and needs just 54 yards this week against Cincinnati to top 1,500 yards on the season. Only 10 players in Big East history have ever done that
"He's been amazingly consistent from Day 1 in his approach to practice, games, meetings, everything he does," Pitt coach Dave Wannstedt said. "He has intangibles that are different from most kids, particularly true freshmen. When he's had success, it hasn't affected him one way or another."
When you talk to Lewis, he doesn't seem all that impressed with his accomplishments, and in fact he's kind of uncomfortable talking about himself.
"I'm just focused on winning the next game," he said. "After the season I'll kind of look back on everything. Right now, I just want to win."
Lewis credits his work with the Pitt strength and conditioning staff this spring -- he enrolled in January -- for helping him get ready for the season. But he was a pretty strong guy when he came to college.
"I take it seriously when in I'm in the weight room," he said. "I feel like it's the first game. I feel good right now."
One of the reasons Lewis has made it through the year without any significant injuries is because he's so hard for defenders to square up against.
"He's got balance and vision, and you can't get a hard hit on him," Cincinnati coach Brian Kelly said. "He's a bigger Jacquizz Rodgers [of Oregon State]."
Lewis will play a huge role in deciding the Big East championship. Pitt's offensive philosophy starts with running the ball. Once Lewis gets going, that sets up the play-action game for Bill Stull to take shots down the field. And the Panthers will want to use Lewis to control the clock and keep Cincinnati's powerful offense grounded.
"It will be big to run the ball and keep them off the field as much as possible," Lewis said. "We have to score when we have the opportunities. We can't afford to make any mistakes in the red zone. We've got to score touchdowns instead of field goals."
True freshmen aren't supposed to have that much of an impact on the conference race, either. But Dion Lewis isn't like most true freshmen.