Sonny Vaccaro is very proud of the fact that he has played a major role -- for instance, by promoting young players and getting shoe companies to sponsor coaches -- in building up NCAA basketball to be the massive business that it is today.
But that doesn't mean he loves everything about it. And in recent years, he has become one of college basketball's harshest critics.
He has special ire for what he calls "David Stern's stupid rule" banning high-schoolers from coming directly to the NBA, which has the effect of strongly encouraging, if not effectively forcing, American players to play in the NCAA.
In no small part to undermine that rule (which he expects will disappear in the next collective bargaining agreement), Vaccaro played an instrumental role in Brandon Jennings' career. Jennings famously skipped college basketball entirely, waiting out the NBA's age limit with a highly paid year in Europe, instead of playing at Arizona where he was academically ineligible.
Now, Jennings has demonstrated that he is a top-shelf NBA rookie, and Vaccaro is thrilled for him.
He's also bitter that Jennings has faced so many obstacles along the way.
Earlier this week, M. Haubs of The Painted Area wrote an exceptional blog post detailing all those who had nothing nice to say about Jennings before the draft, including NBA GMs and others. Vaccaro suggests that Jennings has been punished for rocking the boat. He tells the story of draft night, when he said his stomach was in knots because he was certain the basketball establishment would punish Jennings by drafting him far lower than he deserved.
This is the first in a series of conversations with Vaccaro, about Jennings. Click for the second and third installments:
What's your initial reaction?
If he had gone to Arizona, under the flawed pretense of that university and that situation out there ... if he had gone there, there's no doubt in my mind he might have gone third or fourth in the draft.
Only Scott Skiles and John Hammond had guts enough to do it.
Henry, I saw you that night at the draft. I was a nervous wreck. I was like a child that night, [Vaccaro's wife] Pam and I. I'm not lying to you. It would have been sinful.
On the day of the draft I called around. I did. I'm not trying to make these people lose their jobs, but my belly was crazy. I was having a volcano inside of me. My wife was a nervous wreck. I kept telling her: They're going to punish him. They're going to punish him. That's why, in my mind, I will forever be eternally grateful for what Milwaukee did. They did what they felt was the right thing to do.
There's no question in my mind he's already as good as anybody. I'm not going to say he's better than the other rookies -- the point guard situation in this draft is very good. But to hear the pontificates stand up there and analyzing ... there's no history. If they want to tell me about these great [college] coaches coaching these Hall of Fame guys. How many of those players never make it? What they'll never do is tell you how many of the players from those great programs never make it.
They pick and choose who to lionize. They ordain guys. It's ridiculous. And then no one calls them down on it. And so I call them down and I'm the bastard.
The nice thing is that there's a free market, right? And now there's a way for someone like Brandon Jennings to find his way to the NBA without the NCAA. And while it may be unfair to judge the whole thing on one player, the fact is there is one player in the pipeline now, and so far so good.
He went through all the name-calling and everything. I can remember this ... one of the worst days of my life. Pam and I communicated with Alice. Alice Knox is his mom, she has been unbelievable. I communicated with Brandon five days a week while he was in Italy. No one knows that. 'Cause he'd had some missteps. He'd said some silly things. Which happens with athletes every day.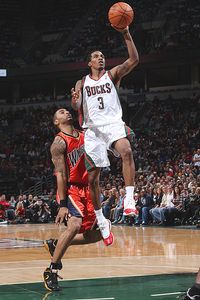 Gary Dineen/NBAE/Getty Images
Jennings hushed his critics after putting up 55 against the Warriors.
But I can never forget, I'll never forget, ever, the day they ran a crawl quoting Brandon Jennings making a statement. He said a lot of things about he was tired, they didn't pay him. It ran all day on ESPN. One year later, almost to the date, and I'll never forget it: "Rookie Brandon Jennings scores 55 points, third-highest total for a rookie in NBA history." It ran all day. One day they killed him, and buried him, and put the dirt on top of him and didn't even put a marker on his grave. The next time they knighted him.
It's ironic how things are, and we're talking about a 19-year-old child while they were doing that.
I don't think Brandon's going to be able to keep doing everything he has done, but we do know one thing, don't we? Whatever the future holds, it looks like he's going to be a pretty damn good player. We do know the kid can play professional basketball. A lot of his success will be dictated by teams, teammates, winning and losing ... you know that. But we do know it had nothing to do with someone teaching him. Brandon Jennings taught himself how to be prepared to be this kid.
What I can't stand is that 90% of these commentators don't have a clue. They don't know who can play. They read the press clippings. I mean just go look at what they've said. They read some article, and you can see how that led to what he said is just like the article. I hear it very night.
Very few people watch Euroleague or European basketball.
I agree with you.
I know three who have watched a lot -- Chad Ford of ESPN, Jonathan Givony of DraftExpress, and M. Haubs of the Painted Area who wrote that article I sent you -- and they were all very high on Brandon Jennings heading into this draft.
Isn't it interesting. You could name all kinds of top writers who had the same opportunities to see Jennings that these guys had. But no one took the time.
To hear some of these general managers say what they said, I mean what the hell did they base it on? They base it on a 19-year-old kid living 10,000 miles from home, going through a rough time. But what they never took into consideration is that he didn't quit. He didn't buckle. He didn't come home. He didn't throw a chair at somebody. He didn't yell.
You know how painful it was for that kid last year? And his mother? Do you know how strong the family had to be?
What did you tell him, when you talked?
Every day I'd tell him we're one day closer. Basically, I always used, "One Day More" out of Les Miserables. I mean, seriously, I got the album. And I'd say god bless you, now go practice. Go practice.
No one knows that when we first got there -- Pam and I went with him for the press conference -- we flew there 13 hours or whatever from L.A. And he went straight to the gym. He is a gym rat. He loves this game. And that's got to be worth something.
Why did Kobe make it and the other guy didn't? Well, I know why. Because I know what Kobe did and what the other guy did before he even got to be making it. I know his drive. I saw Jordan when we traveled Europe -- and what Michael did to prepare for exhibition games! In sports, you have to drive yourself. You drive yourself to success, or you drive yourself to the club after the game. That's the choice. You drive yourself personally, or you drive yourself to a nightclub. The guys that drive themselves personally are usually the ones that make it to the top. ...
Yet a lot of teams passed on him. There are about three or four teams that don't have a chance. But there's a chance to be exciting. There's a chance to be a better basketball team.
That could have been a lot of other teams, Memphis, Oklahoma City, Sacramento, Minnesota, New York, Golden State, Toronto.
I agree it could have been.
It wasn't not picking him that upset me. It was not picking him because they had bias.
When we started this talk, I had in my mind that scouting him was tougher. Maybe people are lazy and were used to an old way of doing things and so didn't investigate him as well. But you say teams punished him. Like they knew he was good but passed to try to prove his European model wrong?
Well just go read that article you sent me. They basically say that in so many words. How do you not even bring him in? OK, so Blake Griffin will be the top pick, but after that, how do you not bring him in to work out?
I think he didn't work out for some of the top teams, but that's not the point. They brought in some kids who were role models as college players. And they can all play. None of these kids are bad. But to not allow this one the chance to show he's better? He was right there on the draft board.
That was the mistake.
The interesting contrast was Ricky Rubio. Wonderful player! The funniest thing was that the media that was against Brandon was for Ricky. And a team that could have picked Brandon picked Rubio. And he didn't come!
Brandon was mystified. We had our people, Americans, vote for their kid, Rubio, against our kid, Brandon. That hurt. Nothing against Rubio. Nothing.
But it's interesting. He made a franchise look like a fool. He made the NBA look like a bigger fool. And we wasted a fortune traveling back and forth, he embarrassed us by not coming. I'm not picking on Minnesota -- they all wanted him. That's the irony.
And Brandon suffered the consequences.
But Brandon didn't create this situation! If he had the same opportunity Ricky did, to come here as an 18-year-old, you wouldn't be writing this story. He was denied that opportunity. He was denied it, Mr. Abbott.
That's my fight.
More Brandon Jennings conversation with Sonny Vaccaro is on TrueHoop in the second and third installments of the series.