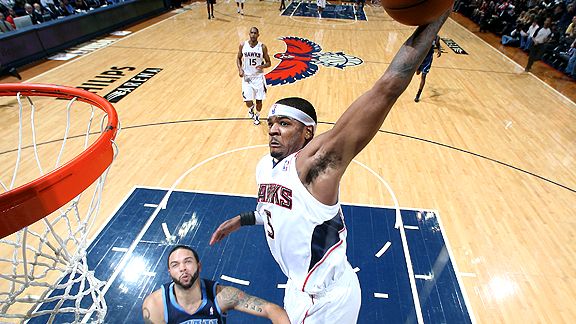 Scott Cunningham/NBAE via Getty Images
Josh Smith has made the Hawks matter, but apparently not to coaches who pick All-Star reserves.
The 2009-2010 Eastern All-Stars
Allen Iverson

Dwyane Wade

LeBron James

Kevin Garnett

Dwight Howard

Chris Bosh

Rajon Rondo

Joe Johnson

Gerald Wallace

Paul Pierce

Derrick Rose

Al Horford
So, who is missing from that list? Let's look at some of the players who will be most chapped to learn that they won't be headed to Dallas to show off on Valentine's Day weekend.
Josh Smith
Quoting John Hollinger's Twitter feed: "Horford and Johnson made the All-Star team and Josh Smith didn't. I guess nobody actually watched the Hawks this year." One theory is that Smith has a reputation as being hard to coach. When coaches do the choosing that can hurt you. There is really no analysis by which Allen Iverson has outplayed Josh Smith this year. If someone can't play because of injury (or if writer Sherman Alexie's poetic plea to Iverson to stand down takes root), Smith is a logical replacement.
David Lee
John Hollinger wrote the other day that, thanks to an improved jumper, Lee's offensive production makes him an easy pick to be an All-Star, even if you acknowledge that he is far from the world's best defender. Worth noting, however, is that of the 14 All-Stars picked by the coaches (seven for each East and West) not one came from a team with a losing record. Maybe this one was over before it started for David Lee.
Antawn Jamison
Jamison has been downright heroic, playing his brains out as the Wizards burst into flames all around him. And yet, fashionable though the pick may be, even if he didn't play for such a bad team, his numbers all on their own make him a borderline All-Star at best. For instance, he has the League's 36th best PER (among qualified players), and in plus/minus, even on his own team Brendan Haywood is much better.
Andre Iguodala
This hasn't been his best season and Iguodala has never been an All-Star in the past. So why worry about this now? Because he's certainly a far better player than the other A.I. on his team, who is starting in this game. (There's a reason Iguodala has an $80 million guaranteed contract, while Iverson had to make good on a minimum deal.)
Ray Allen
Ray has been an All-Star nine out of the last ten years, and while 34-year-old wing players always slow down a little, it's not like he has fallen off a cliff in terms of productivity. It seems like Ray may be a victim of the rise of Rajon Rondo. The Celtics are good, but four All-Stars (Garnett and Pierce are in) is a very tall order.
Andrew Bogut, Joakim Noah, Anderson Varejao
After Dwight Howard, who is the best big man in the East? Hard to say. But this squad was always going to need more than one big. Al Horford won the "next best big man" spot, but it could have easily gone to Bogut, who anchors a good Bucks team, Horford's college teammate Noah, who has been the engine that drives the Bulls, or Varejao, who -- despite a reputation as a low-skill energy player -- is clearly the best big man on what has been the NBA's best team in the first half.
The 2009-2010 Western All-Stars
Steve Nash

Kobe Bryant

Carmelo Anthony

Tim Duncan

Amare Stoudemire

Kevin Durant

Chris Paul

Dirk Nowitzki

Brandon Roy

Zach Randolph

Deron Williams

Pau Gasol
And some of the notable players who are not on that list:
Chauncey Billups
When the rookie team was announced, Ty Lawson was left off. Now the Nuggets endure a couple of more snubs, with perennial All-Star Billups off the list. Somewhere, George Karl's blood is boiling. By many measures, Billups is playing better than last season when Denver's rise to prominence was attributed almost entirely to him.
Chris Kaman
Kevin Arnovitz of ClipperBlog says that Kaman is good, but probably not an All-Star for his play this season: "Kaman has done a admirable job restoring his career and establishing himself as a strong post presence who demands a double-team. He's also an above-average defender. These are achievements, and he's very useful to his team. We should recognize his value -- but not with an All-Star bid. Among centers, Kaman is second in the league in usage, but only 14th in PER. His true shooting percentage is 53.9, low-ish for an All-Star candidate. And his rebounding rate is the lowest of his career since his rookie season. Once a premier shot-blocker, Chris is now only 50th in the league in block rate among guys who play 15 minutes per game. My only beef is that Kaman was beaten out by the wrong Gasol."
Marc Gasol
The Grizzlies have been extremely good of late. Why is that? If you watch the games, it's undeniable that a mammoth part of the story is Marc Gasol, who is huge, strong and agile. He moves well with or without the ball, and sees the floor well for a big man -- often he is the focal point of the offense. (Wednesday night in Detroit, Memphis was down 93-91 in the game's closing minutes, then Gasol scored the game's last eight points for a six-point win.)
Grizzlies' stat guy Aaron Barzilai says that Gasol is a star: "Gasol is actually our team leader in plus/minus. He has a little quieter stats. Different kinds of contributions. But he has also played very, very well." I asked him if enough of the season passed for us to have a big enough sample size to believe plus/minus stats on something like that. His response was: "I think so. The numbers say it's by a pretty wide margin. So, even if the margin isn't as wide as it looks right now, he's definitely a very valuable contributor."
Carlos Boozer
The Jazz have been unbelievably good of late, and Boozer -- a player who disappointed many in Utah by opting in to his contract to keep playing for the Jazz -- has been the eye of the storm.
Nene
According to plus/minus, Nene is a top 10 NBA player. And when you watch the Nuggets play, it's not hard to understand. He's enormous, powerful and quick, which lets him influence plays all over both ends of the court. His scoring is efficient, his defense is tenacious and he rebounds like a maniac. He was excellent last season, and is probably even better now.
Carl Landry
The big problem the Rockets were supposed to have (besides issues with Yao Ming's foot and Tracy McGrady's expectations) was the lack of a star to take over games by scoring in crunch time. Aaron Brooks and Carl Landry have done plenty of that, with Landry -- one of the NBA's best post scorers -- particularly efficient in the fourth quarter. His PER is better than Garnett's or Stoudemire's.
Andrew Bynum
He has a good PER, even though his numbers are surely hampered by all the touches that go to Bryant, Gasol, Odom and Artest. If Pacer Roy Hibbert -- who tried to guard Bynum last night -- had an All-Star vote, it's a good bet he'd vote Bynum.