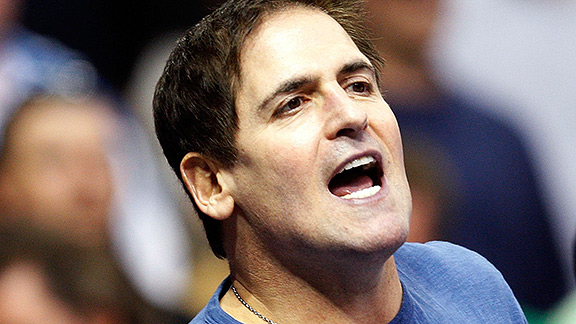 Ronald Martinez, Getty Images Sport
Passionate and deep-pocketed, Mark Cuban is seen as one of the best owners to play for.
As ESPN's Marc Stein has written, perhaps the most important person in a free agent superstar's future is his next owner. Coaches have an average tenure of a few years. Teammates change year in and year out.
But if you're LeBron James, Dwyane Wade, Chris Bosh or another top free agent, whoever owns your next team is going to make hundreds of decisions, year after year, with the potential to affect whether or not you win a title.
Hiring a coach, getting a new point guard, changing the defense ... almost everything on an NBA team is malleable. But when under contract, even the most powerful players in the league have little-to-no influence over ownership. Which means as they shop for new teams, at the top of the list is finding the right owner.
Based on conversations with people familiar with the thinking of top free agents, including team personnel, agents, and insiders, here's a list of owners who are best positioned to appeal to free agent superstars:
1. Jerry Buss -- Los Angeles Lakers
The Laker owner cleans up with championships, business acumen, loyalty to players and a party vibe. While he's seen as something of a bizarro dandy in the context of regular life -- what percentage of people endorse his running around with women a tiny fraction of his age? -- it's hard to imagine how he could improve his appeal to players. It's impossible to doubt his commitment and skill in building a winner (he certainly chose the correct star to keep out of Kobe Bryant and Shaquille O'Neal). And his constant long-term commitment to Magic Johnson speaks volumes about the kind of relationship a superstar can have with this team.
2. Mark Cuban -- Dallas Mavericks
Recent reports of the Maverick organization losing vast quantities of money do little to dim Cuban's star in the minds of players. He has built his brand over a decade, as a loud and loyal owner who will do anything in his power to win, including emptying his relentlessly deep pockets.
Cuban says there is a cardinal rule in being the kind of owner who appeals to free agents: "Never quit on a season to save money ... free agents who place a priority on winning don't want to go to teams where there is a history and significant risk that if things don't go according to plan, the owner would demand a huge salary dump that kills the current and future for the team."
Cuban has gone to great lengths through the years to treat his players with respect. That starts with a famously classy locker room and plane, but continues to meaningful things like helping Avery Johnson transition from player to coach, being the de facto president of the Dirk Nowitzki fan club, and developing meaningful relationships with many of his past and present players.
3. Mikhail Prokhorov -- New Jersey Nets
The NBA has a lot to learn about the new owner of the Nets, which could serve him well.
But the knee-jerk reaction among players is much like the quick reaction from the League: His riches are so vast that he's able to get the benefit of the doubt on almost everything else. It also doesn't hurt that he's 6-8, passionate about the game, and extremely competent in business. With no shortage of toys and gadgets, young women hanging around, and a foreign accent, one NBA insider says Prokhorov will profit from a "James Bond" image he has with players.
4. Micky Arison -- Miami Heat
One NBA source says that if you polled players, most of them would probably tell you -- incorrectly -- that Pat Riley is the Heat's majority owner. So perhaps Arison has failed to make a strong impression. However, I'm assured the biggest names in the game know that Arison is one of the richest men in the world with basketball in his blood. And there's nothing wrong with letting one of the most credible names in the game be your public face. The Heat have already proved their organizational ability to gain the trust of one of the league's biggest free agents in Wade, who is demonstrably concerned about partnering with an owner he'll have a decades-long relationship with.
Micky's son Nicky, a former manager of the Duke basketball team and the Heat's vice president of basketball operations, helps the team's profile in free agency conversations. In addition to being tight with the Duke program, he traveled with Team USA for several summers, including James' first summer on the Olympic team, so all those NBA players who have been Olympians in recent years know who he is.
Meanwhile, look what the Heat have done for Udonis Haslem. The team recently surprised him with a massive birthday party at his house, just as a way of saying it appreciates him and would like the free agent to return. It's the kind of family-building a lot of teams don't do. "Who would want to go anywhere else," Haslem asked the Miami Herald, "with an organization like this."
5. Wyc Grousbeck -- Boston Celtics
Grousbeck lacks Cuban's high profile, but he has demonstrated an ability to build a solid business strategy (the Celtics have an impressive array of corporate sponsors), take risks (pulling the trigger on several big trades and signings) and spend money in the pursuit of a championship. Grousbeck's top endorsement comes from Kevin Garnett, who had this to say shortly after his trade to the Celtics: "Since I've gotten here I already see the difference in how the organization does things, I can't even elaborate on how professional, first class everything's been so far."
6. Leslie Alexander -- Houston Rockets
The Rockets' owner largely keeps out of the public eye, but that doesn't mean he's not a valued feature. When the Rockets have ascertained things that would help their team -- from a team of analysts in the front office, to a new stadium -- Alexander has been aggressive in getting them.
For a business-minded free agent, Alexander also offers Houston's huge, Yao Ming-induced Chinese audiences. One of the most important markets in the world is laser-focused on this team, to the point that many regular-season Rockets games draw more viewers in China than the Super Bowl draws in the United States. If you want to make money as an NBA celebrity, you could do far worse than to partner with Alexander.
7. Jerry Reinsdorf -- Chicago Bulls
He is a very skilled owner, who handles the business of the operation in a savvy way and played a leadership role in building the greatest dynasty of modern basketball. There are certain demerits on his record, however. For one, he is seen as something of a deliberate, and slightly cheap, employer of coaches. The team could have had Mike D'Antoni, for instance, two summers ago, but dithered, lost him, and had to settle for the Vinny Del Negro experiment instead. His front office has had a series of missteps, culminating in an embarrassing physical confrontation between GM and coach this past season. Also, Wade has needled the organization for the poor relations between the team and departed stars. Although Reinsdorf's organization has maintained long-term relationships with some former players -- Pete Myers has essentially been a Bull for life -- it's criticism that stings.
On the other hand, James is advised by William Wesley, and Wesley has had a strong relationship with Reinsdorf for decades.
Here's some irony: A lot of Reinsdorf's credibility, as an owner, comes from the afterglow of Michael Jordan's time in Chicago. Meanwhile, Michael Jordan himself gets no such credibility as an owner in Charlotte.
8. Paul Allen -- Portland Trail Blazers
Allen has long carried the "richest owner in sports" title, which carries no small amount of cachet with players. He has also done some of the most lavish spending of any owner in sports history. In recent years, however, Allen is on the cusp of developing a reputation as a meddler, especially after bailing on Kevin Pritchard in bizarre fashion.
9. Ted Leonsis -- Washington Wizards
The Wizards' new owner is not expected to be as free-spending as some, but he has written the book on how to be happy and successful in work, and his arrival in the NBA coincided with his team's winning the draft lottery and nabbing John Wall. Like Prokhorov, Leonsis is still covered in newness, which can be a benefit if played correctly.
10. Dan Gilbert -- Cleveland Cavaliers
All through the LeBron James era, even as Cleveland has been crushed by the recession, Gilbert has poured money into the team in an effort to build a winner. That commands a certain amount of respect. Not nearly as much respect as if the Cavs had succeeded in winning a title, but respect nonetheless. His leadership skills are in question now, however, as the organization he heads is in some disarray heading into free agency. Ideally, the last few years would have been used to get the pieces in place to keep James. Instead, the team has lots of question marks to go with a questionable roster. If he knows how to pull the right strings to assemble a winner, he has not yet proved it.
Lurking in the wings:
David Geffen -- Los Angeles Clippers
In the analysis of owners who can be trusted to treat their people right, Donald Sterling is off-the-charts bad. Just one small example: He has often balked at paying fired coaches their guaranteed money. Something about that doesn't scream "trust me for a first-class long-term experience." Not to mention, he has had complaints about having a racial agenda in managing his real estate empire.
Geffen, however, is seen as a business genius with deep pockets who has succeeded in nearly every aspect of the entertainment industry. To a player with an interest in a media career -- James, for instance -- Geffen would be not just an attractive owner, but also an attractive business partner for the decades after basketball.
Larry Ellison -- Golden State Warriors
Although it's no secret Oracle's Larry Ellison is on rails to become the next owner of the Warriors, nobody expects Ellison to be approved in time for this summer's free agency. Whenever Ellison is on the scene, he'll be not only one of the richest owners in the NBA, but also one of the most respected strategic thinkers and businessmen.