Drafting for need vs. talent remains one of the more polarizing debates in late spring among basketball fans and insiders. Do you take the best player on the board or opt to fill a positional need? Fortunately for the Toronto Raptors, their desperation for an interior player with defensive chops and the potential to flourish in the low post matched Ed Davis' profile. Nabbing the North Carolina big man with the No. 13 overall pick made a whole lot of sense for the Raptors.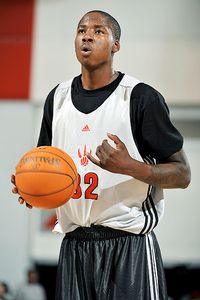 Garrett Ellwood/NBAE/Getty Images
Ed Davis: Back and on track
Things were progressing well enough for Davis during his sophomore season at North Carolina. Although he hadn't put up the gaudiest numbers over the first twelve weeks of the season, Davis was quickly establishing himself as one of the ACC's tougher inside defenders and toughest rebounders. The offensive game still needed some seasoning, but Davis was a highly coordinated big with a soft touch. After New Years, he began to more aggressively stake out his territory on the right block, something that didn't come naturally to him in his freshman season. Then, in February, Davis broke the lunate bone in his left wrist, an injury that kept him out of action until a couple of weeks ago.
"Basically until I got to Toronto for that mini-camp, that was the first time I really played five-on-five since," Davis said. "It was rough at first trying to get back into the feel of things. But I think it's all starting to come back together now."
Davis completed his first stretch of competitive basketball since the injury on Saturday when the Raptors wrapped up their summer league schedule with a win over New Orleans. In scoring 14 points and collecting six rebounds in 18 minutes, Davis continued his consistent, efficient week in Las Vegas. He's far from a finished product -- and still not much of a threat beyond 12 feet -- but there's a level of ease with which Davis operates down low. Take a possession in the second quarter when Davis went to work against fellow first-round draft pick Craig Brackins. Davis got the ball off the left block, then patiently backed Brackins inside before unfurling a quick baseline pivot with his right foot. After spinning off Brackins' frame, Davis gathered the ball, re-established his balance then drew contact as he flicked the ball gently off the glass. Count the basket and the foul.
The balance, agility and soft hands have always been there for Davis, but over the past eight days, he's displaying more assertiveness on the offensive end. Though he's still not a guy with a natural inclination to explode from the elbow like Amare Stoudemire, Davis looks much further along than the kid who finished almost exclusively in the basket area at Chapel Hill. On Saturday, Davis even buried a face-up jumper, a rare sight when he was wearing Carolina blue.
For a Toronto team that finished last in the league in defensive efficiency, though, it's Davis' presence on the opposite side of the ball that offers the most appeal. Davis moves exceptionally well against the pick-and-roll, has exquisite timing as a shot-blocker and can clean the glass. Those are important attributes for a Raptors' front line that was bludgeoned inside last season.
"Those are things I bring to the team," Davis said. "I can help the team every night just by blocking a shot here and there, rebounding the ball and just by being in the right position at the right time."
In the third quarter on Saturday, Davis swatted away Josh Carter's layup attempt, igniting a fast break punctuated by a Dee Brown alley-oop to Ronald Dupree. On the very next possession, Davis was on the receiving end of a transition bucket when he ran the length of the floor and finished down the gut of the lane with the slam.
Not so long ago, Davis was projected as a Top 5 pick for his unique collection of talent. He combines some of the finesse of a skilled big man (those soft hands, smart passes out of the double-team) with the assets usually associated with a more brutish power forward (strong rebounding and shot-blocking). When asked to classify his game, Davis demurred.
"We'll see," Davis said. "Right now, I just need to keep working, try to get stronger, quicker and more explosive."
I'm not sure what else there is for Alonzo Gee to accomplish here. He had another efficient outing, scoring 20 points on 15 true shots, spaced the floor for the Spurs, passed up contested shots along the perimeter, drained those that weren't, and collected six boards.

Michael Roll, a four-year guard out of UCLA, has an unspectacular but complete offensive game. He strokes the ball beautifully from distance, can hold his dribble in traffic, and pass the ball on the move. Unfortunately, he has trouble staying in front of opposing shooting guards -- both off the dribble and in post-up situations -- through no lack of effort.

The last weekend of summer league, when things get really messy, is tailor-made for a ball dominator like Quincy Pondexter, who unleashed a series of nasty incursions into the paint. Pondexter spent the afternoon bursting off side screens or attacking in isolation at the top of the floor, drawing a ton of contact. He finished with 26 points on 7-for-15 shooting from the floor, along with a 12-for-15 day at the stripe.

During a brief stint in the first half, Raptors' rookie center Solomon Alabi drained a right-handed jump hook in the lane over Craig Brackins, a face-up 18-footer, then picked up a loose ball and finished with his left hand in traffic with a little flip.

When you watch Cheikh Samb move around the floor, you get a sense of why he's lingered around the fringes of the NBA and continues to fascinate teams. Samb blocked a slew of Hornets' shots and worked a little magic of his own in the pivot with his little hook shot.

David Thorpe on Al-Farouq Aminu: "I love the draft pick at that spot, he has real value there going forward. He can be a terrific player. I just don't like him as a 3 for a year or two. That position plays into all of his bad habits. Far too much dribbling and settling for jumpers. Far too little offensive rebounding-three total in their last three games. If he was constantly battling around inside, he'd get three a game simply due to his reach, feel, and talent. I like building players from the inside-out, and from a base of confidence. He's shooting less than 25 percent from the field and has one assist to 13 turnovers. That's a scary foundation for such a young player. He'd kill this league as a 4."

John Krolik of Cavs the Blog on Patrick O'Bryant: "O'Bryant has shown a few good signs in Vegas. He's always had an NBA body, and he's showed off a few post moves during his time in Vegas. He's sealed his man off effectively, shown a nice little jump hook, and converted some plays around the rim. He hasn't been dominant, but one expects that at least one team will give the 24-year old 7-footer one more chance to crack their rotation."

John Krolik on Luke Babbitt: "If you leave Luke Babbitt open from three, he'll make you pay. It's a quick, natural release, and he can just ease the ball in from 25 feet. The rest of his scoring game needs work. He got lost in traffic a few times on Saturday, and went 2-for-11 on 2-point attempts."

Zach Harper of Cowbell Kingdom on Omri Casspi: "When Omri Casspi's halfcourt heave went in at the end of the third quarter, he turned to the Maloofs and flashed 3-point hand signals to celebrate. It was the highlight of an 18-point second half for Omri as the Kings came back to beat the Hawks."

Matt Moore of Hardwood Paroxysm on Cartier Martin: "Martin may have made the most impressive case for minutes on the Wizards that he has since being called up from the D-League last season. Cartier had the whole range going today, including a turnaround three that was, to be honest, sick. He's complemented that by being the Wizards' best defender not named John Wall."

Matt Moore on Leo Lyons: "Missouri Tiger Leo Lyons had a rollercoaster of a day. His midrange started falling and he was able to create inside. Lyons' best performance was on defense, especially in pick-and-roll situations, and in drawing fouls. Unfortunately, he ended the day with his arm in a wrap, as Summer League frustrations continue for some, while others get the calls they've been waiting for."

Jeremy Schmidt of Bucksketball on Tiny Gallon: "Gallon's hands measured 10th longest and 4th widest at the Chicago combine. He uses both of those plus-sized paws to grab rebounds each time he attacks the glass and once the ball enters his grasp, it doesn't come out. Gallon was a very good rebounder in college and has demonstrated that skill throughout summer league."

Summer league fan uni watch: A CSKA Moscow Ramunas Siskauskas jersey.