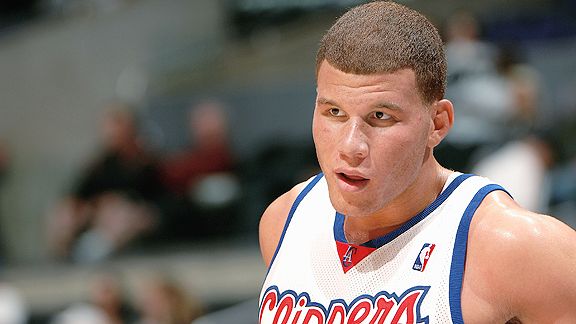 Johnny Vy/NBAE/Getty Images
Nobody is more eager to see Blake Griffin take the floor than Blake Griffin.
ESPN.com's NBA experts were asked which returning or new player they were most eager to see in 2010-11. A plurality of that panel (34 out of 93 voters) said it was most excited to watch Blake Griffin -- more than John Wall (24), Yao Ming (10) or Gilbert Arenas (8). Even in today's guard-driven league and even with everything that's at stake for two veterans like Yao and Arenas, Griffin's combination of speed, power and charisma commands attention.
Griffin hasn't logged a single regular-season minute as an NBA player, but there are things he knows that rookies like John Wall can't possibly understand yet.
Griffin has seen the hype machine up close, that stream of gratification that accompanies a No. 1 overall pick. It's a phenomenon that's both flattering and, at the same time, bizarre. In Griffin's worldview, praise should be reserved for accomplishment, not expectation. Yet before he ever put on a Los Angeles Clippers jersey, Griffin was already regarded as the franchise's savior. When he finally wore that uniform at 2009 summer league in Las Vegas, Griffin fed that machine even more, averaging 19.2 points and 10.8 rebounds in 34.6 minutes per game.
VOTING BREAKDOWN
He's also endured the monotony of the NBA routine that catches many rookies by surprise. The rookie wall is as much a mental effect as it is a physical symptom. For Griffin, it was both. In the Clippers' final preseason game last October, Griffin unleashed a thunderous dunk that fractured his left patella. He immediately began a grueling treatment and rehab regimen that he conformed to faithfully and with precision.
Last winter, Griffin described that process as tunneling his way out of jail. "It's killing me," Griffin said back then. "But it's good that it's killing me."
For Griffin, the physical component of the rehab wasn't the hard part. It was the isolation that accompanied the daily grind. While teammates were practicing and running drills, Griffin was confined to the treatment room or away visiting a specialist. Griffin was still a presence at the Clippers' training facility Playa Vista, but a more peripheral one than he wanted to be. When word came down in January that despite his diligence he'd miss the remainder of the season, Griffin was crushed.
Even though he was in street clothes behind the Clippers' bench last season, Griffin had a front-row seat for the league's daily tedium and, at times, his team's turmoil.
"I couldn't play, but I could watch and I think that's important," Griffin said. "I've seen the game plan and I think that gives me a little bit of an advantage."
Griffin watched the Clippers flirt with success, only to see things veer off course. He was there when former Clippers coach Mike Dunleavy and point guard Baron Davis jawed on the sideline. Griffin studied the measured leadership of the locker room's elder statesman, Marcus Camby, only to witness Camby being shipped off to Portland after the Clippers' season disintegrated. Griffin has fulfilled his rookie hazing abuse. The days of wearing a pink knapsack and schlepping donuts for the vets are over.
All that's left now is the playing.
"I was talking to Coach [Vinny] Del Negro, and the first thing he said was, 'I don't look at you as a rookie. You've gone through this,'" Griffin said. "That's the mindset I have. I'm not going into this like it's my first year. But at the same time, I have to prove to everyone I can play."
That's the challenge ahead for Griffin: He has all the responsibilities and expectations that come with being a veteran, without any of the professional on-court experience. Last season was supposed to be the consummation of his young lifetime of work, but it spiraled into an exercise of managing frustration. This season, Griffin arrives as a mystery guest. Some of those eager to see him play, particularly in Clipper Nación, have visions of Amare Stoudemire with rebounding and defense. Others might be rubberneckers, skeptics who see Sam Bowie and Greg Oden under the cloud of the Clippers' history.
But the person most eager to see Blake Griffin suit up and play NBA basketball?
That would be Blake Griffin.
"There's been so much more fuel added to my fire," Griffin said. "I'm even more excited than last year because things change when something is taken away from you."