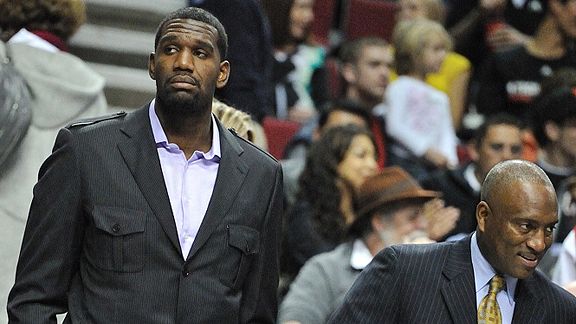 Photo courtesy of Tom Lipman
Starring in street clothes, once again: The 2007 top NBA pick, Blazer Greg Oden.
Greg Oden is everything he has been accused of being. He has missed so many games as to be certifiable as a horrible disappointment. (Is the Kevin Durant vs. Oden debate on hold, or dead?)
At the same time, as promised, in those times he has been on the court, he has produced, as promised, like the best young big man in the game. Even through the awkwardness of getting used to the league -- he has played just a season's worth of games -- he was a top-10 NBA player, according to PER, in his 21 games of last season. He is also one of the best young rebounders in NBA history.
But none of that matters when he's nursing an injury on the bench, as he's doing, once again, for the foreseeable future.
"It's all right," he says of his left knee, which has recovered from a broken kneecap, but is now burdened with "jumper's knee," a kind of tendinitis. "It has its good days and it has its better days. After a workout it gets a little stiff but that happens with everybody. Just a little bit more with me because of the equipment I have in there. Just normal stuff. After I work out, it's pretty sore, but I keep it moving.
"Whenever I feel that it's ready, and that I can go out there and do all the things that I'm capable of doing, that's when I'm going to come back. I'm not going to put a date on it, because that puts a lot of pressure, and usually just hypes up the media, because if I don't come back on that date they make it a big problem, and ask why didn't you come back on this day. I try to stay away from that."
Pressure is not Oden's thing. Not now. He admits, for instance, that he does not have the thickest skin when it comes to criticism.
"In the media, from the little bit that I have read ... there's not a lot of pity. There are some people, usually older people who have been around, or people who really know basketball. Other people in the media are usually like 'well, stop getting injured.' You know, like I can control it. Like I'd go out there and want to get injured. I don't know how to really look at that. I just go on and do what I do and try not to listen to it. Because if you listen to it, it's really discouraging. People out there in the media, people who talk trash -- that stuff hurts."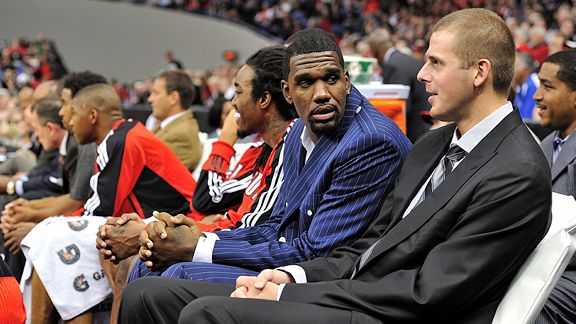 Photo courtesy of
Tom Lipman
Oden and Joel Przybilla -- both starting Blazer centers at one time, both rehabbing left knee injuries.
Oden, who is traveling with the team -- which has been interpreted as a sign he's getting close to returning -- says he is uplifted by his teammates.
"The vibe is good," he says. "Guys are here, working hard. A lot of new guys getting acquainted to the system. Got new coaches too, and we're putting in a new offense and new defense. It's going really good. Guys are working really hard trying to get this stuff down. I'm happy about that."
Although Brandon Roy recently said that he thought Oden was "closer than I think people think he is" to returning, Oden is pleased his teammates are not among those pressuring him to play. "All my teammates are good," he says. "They're all players too. Their main thing is: Don't let nobody rush you back. Get yourself healthy so you can go out there. Don't let people in the media or the coaches or the training staff try to rush you back before you're ready or even able to go out there and play to your best ability, 'cause you don't want to do nothing to hurt yourself even more and then what. So now, before you get another contract, you could get knocked around and maybe have a career ending injury and now I'm stuck with nothing."
Oden is in a contract year, but has no expectation the Blazers will extend his deal before Monday's deadline. Assuming he's right, that means he'll be a restricted free agent next summer, which will be the first real test of his market value. Now, more than ever, he needs to produce. There's a contract on the line.
"I haven't thought about it at all," he says, without a ton of conviction.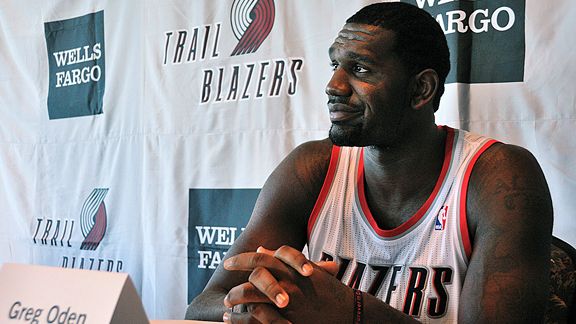 Photo courtesy of
Tom Lipman
Most likely, Oden will be a restricted free agent next summer.
Back in May, Oden was rehabbing what is typically seen as a fairly straightforward injury -- a broken kneecap. But five months into the project, he was still not cleared for on-court activities, and counted walking up and down the stairs as among his more advanced workouts. Just sitting for too long was so painful that he often watched his team's games from the trainer's room.
In an interview at the time, I asked if the Blazers could count on him to return this fall.
"Nobody knows what's going to happen," he said, "but I feel for sure that I'm going to be ready for training camp next season. ... I'm going to have me a really good summer, go see me a whole bunch of different doctors and try to figure out what's going on with my body that makes me keep getting injured."
Of course, there were complications. Now it's tendinitis, in the same knee that had the broken kneecap. He's in street clothes again, same as after the other medical issues that have dogged him since draft day: tonsillectomy, microfracture surgery, ankle injury, foot issue and fractured kneecap.
He was alluding to the idea that there may have been something systemically wrong with him. That the litany of injuries that has benched him for more than two thirds of his career may have shared a common thread beyond bad luck. Getting to the bottom of that seemed like just about the most important thing he could possibly do -- for his career, but more importantly for his life.
Great plan.
Only ... he didn't really do it.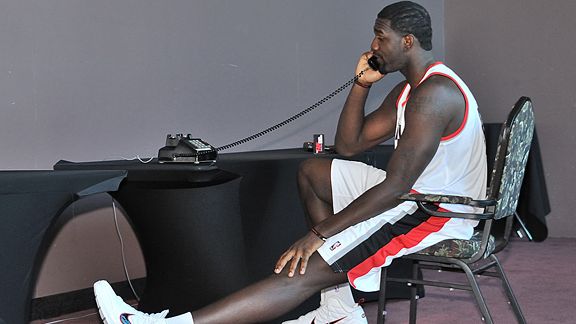 Photo courtesy of
Tom Lipman
Tendinitis in Oden's left knee is the concern now. The microfracture was on the right.
A lot of young people have a certain aimlessness about them. Losing years off a sports career, while mired in inactivity (known to contribute to mental health issues) can't help. Who could be ready to grasp the bull by the horns after all that? Injuries are hard for anyone to handle.
Not to mention, most athletes feed on the adrenaline of regular competition. When that's missing, life can be something of a riddle. It is forgivable, and understandable that Oden comes off as a bit low energy and rudderless.
"I saw a couple of different people," he says, when asked about his pledge to dig deep into the medical community this summer. "I went to my people in Indiana, and then I saw a guy in Vancouver, Canada for a couple days. All of it was really good stuff. Really good rehab stuff to get me back. Then I just came here. Those were really the only two people I've seen."
Rehab? But ... you were worried there might have been something systemically wrong with you?
"That's how it was kind of explained to me. But there was really nothing that came about with that. It was more focused on this injury and some recovery stuff to get back from this specific injury."
So you're not worried about something systemic?
"I'm not worried about that."
It would be a good thing, I can't help but think, if he did worry about that.
He is similarly in the passenger seat when it comes to developing relationships with those who may mentor him through what must be, emotionally, one of the most challenging NBA careers ever.
In May, he said he had no NBA mentors.
He's entering his fourth NBA season. He's teammates with big men who have coped with major injuries -- from Marcus Camby to Joel Przybilla. His agent is a father figure from his childhood. He has met nearly every legendary NBA big man on the planet. He has the money for personal trainers. The team has brought in everyone from Buck Williams (now an assistant coach) to Hersey Hawkins (Portland player development guy) and Dean Cooper (new GM Rich Cho's addition to the player development staff).
And yet asked if there's anyone really showing him the ropes in the NBA, Oden replies: "Uhh ... no. Not really. ... Here, there's not really anybody who has been through the same exact things that I have been through."
It's not that most players his age have this kind of thing figured out. It's not that he's behind. It's just that it seems it would be so unbelievably helpful, and yet he's doing so little about it.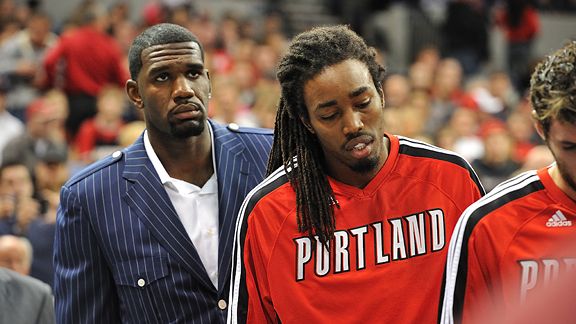 Photo courtesy of
Tom Lipman
Oden made news for giving up alcohol, but says that's not the whole story.
That's not to say that Oden has been without personal development. He has gotten his moods largely in check thanks to professional help. And, he has been lauded for stopping drinking.
Only ... did he?
"They kind of blew that up a little bit bigger than what it is," he says. "I'm not saying that I stopped drinking cold turkey. I have a drink. Occasionally I go out with my teammates. I don't do it as often as I did before. I didn't really go out and drink that much anyways. I just made a little bit more effort. I feel the same. I wasn't out there partying every night and drinking every night. ... This summer I really didn't want to go out. I just wanted to concentrate on getting my knee back."
His daily routine now includes plenty of activity. "Just going in there doing leg stuff. Lower rehab. Dummy, non-contact stuff. Sprint with the guys. Get an individual basketball workout in. ... Coach Buck Williams. I've been working with him a lot.... He's all right. He's doing good. He's very insightful. He knows a lot about the game. He was an undersized big man, but he still knows a lot about how to come at people. I'm learning a lot from him."
With Cooper, shooting has been an emphasis. "I get a lot of shots up with him before practice. I'm not Ray Allen yet," says Oden, "but it's all right."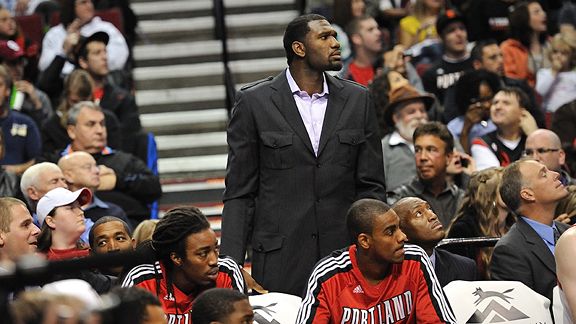 Photo courtesy of
Tom Lipman
Oden refuses to announce a date by which he'll return to the court.
In the meantime, Oden says the main thing he does for fun is watch TV.
"I've been watching 'Two and a Half Men.' That's my number one," he says. "Then 'Gossip Girl,' and '90210.'"
And he recently fell for another show. "I actually started watching 'House.' Never watched before. But I like it."
That's the show about a doctor who is relentless, prickly and aggressive -- everything Oden is not -- in coming up with solutions for those poor souls with the freakiest of complex medical issues.
"My mental state," he says, "is perfectly fine. I know everything I need to do, and I'm concentrating on that. All I worry about is getting knee back to what it used to be. Everything else ... I"m not worried about. I know my knee's going to heal. I know it's going to get back. I just don't know when."