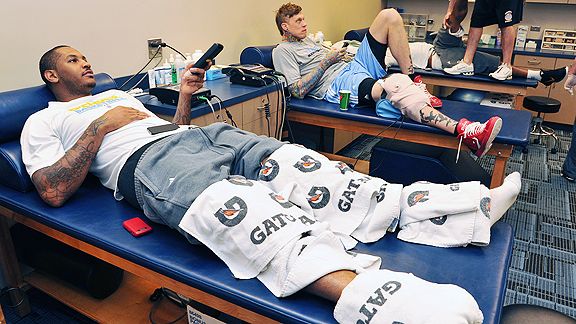 Garrett Ellwood/NBAE/Getty Images
Get comfortable: A Carmelo Anthony trade could take weeks to complete.
After a big round of Carmelo Anthony phone calls, I predict there won't be a completed trade until close to the Feb. 24 trade deadline. Here's why:
The Nuggets have the right to trade Anthony whenever they want. But Denver's front office lacks the right to make Anthony agree to sign a contract extension. That's purely in the player's hands.

Anthony would like the financial security of a multi-year deal before this summer's likely lockout. Presently, he can only get that kind of deal from the Nets or the Nuggets. Sources say Anthony would likely sign an extension with the Nets if that proves to be the best way he can get closer to his East coast roots. But as presently constructed they're nobody's dream destination. Perhaps another option will emerge. Anthony has no reason not to let the process play itself out, on the off-chance another team comes up with a strong offer.

Until Anthony agrees to an extension, the Nets would be crazy to give up a raft of players and picks for what could prove to be a rental.

The Nuggets have a great offer on the table now, but might see some merit in stalling, too. For one thing, it's hard to see what could happen to make the Nets' current offer disappear. Derrick Favors has spent much of the season playing behind Kris Humphries in New Jersey, and unlikely to increase his market value drastically. Then there's some gamesmanship surrounding the Nets' 2011 draft pick. Very high picks like that one, used skillfully, are nearly essential ingredients to winning titles, and they're damned hard to find. As the Nuggets root for that pick to be as high as possible, they root, of course, for the Nets to lose. And every loss matters, as a heated battle is under way for the NBA's worst record. The 10-27 Nets have the NBA's fifth-worst record today, but they're a mere two games out of the 8-29 Cavaliers' first, or last -- depending on your perspective -- place. Of course, the Nuggets can't do anything to make the Nets lose more ... or can they? Giving them an All-Star like Anthony may well cause the Nets to rip off some wins. It sounds a little out there, but one thought is that the longer the Nuggets keep Anthony from the Nets, the better that Nets' pick is likely to be.
Put it all together, and you have the ingredients of a likely deal: Willing participants with the means to get a trade done. But what you don't have is pressure to get something done immediately. As proposed, the deal has four parties with veto power: Anthony, the Nuggets, the Nets and the Pistons. At least two of those parties, sources say, see merit in taking it slow.