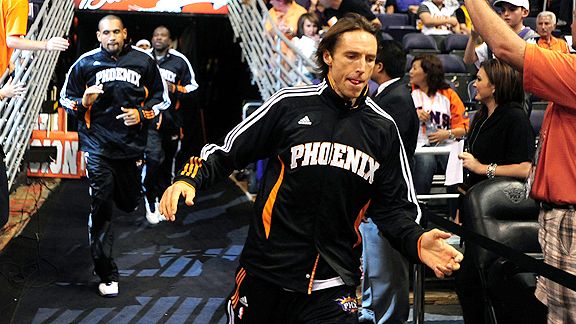 David Sherman/NBAE/Getty Images
The Suns' dreary record will keep Steve Nash from an eighth career All-Star berth.
Editor's note: Updated late Friday to reflect David Stern's choice of Kevin Love as Yao Ming's injury replacement.
The 2010-11 West All-Stars
Starters
Kevin Durant
Carmelo Anthony
Kobe Bryant
Chris Paul
Yao Ming* (injured)
Reserves
Tim Duncan
Pau Gasol
Manu Ginobili
Blake Griffin
Kevin Love*
Dirk Nowitzki
Russell Westbrook
Deron Williams
(* Love replaces injured Yao)
So, who is missing from that list? Let's look at some of the players who will be most chapped to learn they won't be headed to Los Angeles to strut their stuff on Presidents Day weekend.
Kevin Martin
If Yao Ming were healthy and productive, there's a chance the Chinese audience would have voted this guy a starter like it did in the past for Tracy McGrady. To say he scores efficiently is a vast understatement. He shoots 3s as well as any heavy-volume shooter and leads the league in free throws made. And while he has the reputation of a standstill shooter, his game winner last night -- an athletic and-1 over Al Jefferson -- is an integral part of his game, too. Were he more selfish, his scoring totals would make him an obvious pick, but he wouldn't be as helpful to his team.
LaMarcus Aldridge
How amazing is ex-Blazers GM Kevin Pritchard? The team's two best players go down, and a third emerges as a double-double monster and leader of a playoff-caliber team. On sheer production, Aldridge is on the bubble, especially when you factor in how he started the season (and, for that matter, his career). And it sure doesn't help that his team is middling and plays games that start incredibly late for a lot of voters. However, here's what you're missing: All-Star games are about stellar plays, a good hunk of which are lobs. Not sure anybody finishes more lobs than this long, fast leaper. It would have been pretty.
Monta Ellis
Turn off your inner critic for a moment. Speak not of efficiency, nor wins and losses. Take a deep breath. Go to your happy place. Listen to the airy music. And just watch what this guy does: He takes big piles of nothing and turns them into and-1s. He takes your lazy passes and makes them steals and dunks. He takes double-teams and splits them. He takes your slow defender and makes him fall over. He takes your outstretched arms, and, little though he is, shoots over them and hits every time. At least, that's how it goes in the highlight reel. He'd be fun to watch in Los Angeles. (And Commissioner Stern, think how much cheaper the travel would be, sending a guy who lives a tad farther up the coast.)
Steve Nash
The two-time MVP is doing just about everything as well as he ever did. Now the supporting cast and the W-L record are far less impressive. Should that matter? Yes, of course, in some ways. The challenge to every NBA player is to win. On the other hand, if not an All-Star berth, what way is there to honor the otherworldly play of an aging hero doomed by his owner's questionable leadership? Hollinger: "What we're basically saying is that Nash was responsible for having Amare Stoudemire and Shawn Marion on his team, and now it's his fault that they're gone."
David West
In addition to being the featured big man in Chris Paul's multifaceted attack, West is now the starting forward for a title-quality defense. If the Hornets could upgrade their wing players, Paul, West and Okafor would be a force in the West, and West would be an All-Star.
Zach Randolph
Has anyone noticed that Memphis has been turning it on lately? The Grizzlies have long been a popular pick to be terrible, but ever since getting Randolph, he has been putting up huge numbers and they have been better than expected. At the moment, the Grizzlies have a winning record and are on track to make the playoffs. Surely somebody deserves recognition for exceeding expectations like that. You could do worse than to pick the guy averaging a cool 20 points and 13 rebounds per game.
The 2010-11 East All-Stars
Starters
LeBron James
Amare Stoudemire
Dwyane Wade
Derrick Rose
Dwight Howard
Reserves
Ray Allen
Chris Bosh
Kevin Garnett
Al Horford
Joe Johnson
Paul Pierce
Rajon Rondo
Andrew Bogut
One of Andrew Bogut's problems is that he's in the Eastern Conference with Dwight Howard, who is unlikely to ever miss this game, and, now, Al Horford, who is proving to be quite the stud. As an extra annoyance, players like Joakim Noah (whose Bulls are 14 games ahead of the Bucks in the standings) and Brook Lopez also vie for the title of conference's third-best center. Last year when Bogut was on the All-Star bubble, he offered to switch positions. He can play center, but he swears he can also bring the ball up and zing behind-the-back passes. So, maybe that's something to consider next time.
Carlos Boozer
It was 2004 -- a half-century ago in dog years -- that Carlos Boozer offended the NBA by taking the biggest contract he could get. Sometimes it feels like he gets punished anew for that every year. He's a 20 and 10 guy (and the highest-paid player) on a 34-14 Bulls team that is shattering the assumption that the Celtics, Magic and Heat are the East's three candidates to make the Finals.
Joakim Noah
Charles Barkley's favorite NBA player is beautiful to watch, even if you're not captivated by the flowing curls. He has infinite love -- for the game, for winning, for his teammates, for hustle, for the big moments. It's no coincidence he was part of special teams in college and again in the pros. The man plays his heart out, and any league would be wise to reward that. Meanwhile, his team has been as exciting as any in the league this season. The only real drawback to his candidacy: Thanks to injury, he has played just 24 games, and a lot of Chicago's best ball has come with Noah in funky street clothes.