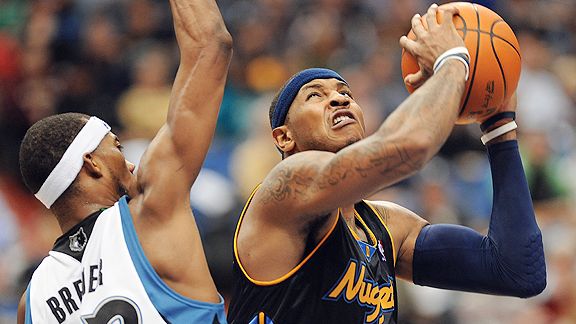 Tom Dahlin/NBAE/Getty Images
The Knicks just cut Corey Brewer, one of the NBA's best defenders.
In a couple of days a lot of NBA bigwigs (and ... smallwigs?) will head to Boston for the MIT Sloan Sports Analytics Conference (site having trouble because of heavy traffic ... they're working on it). A lot of the smartest people in basketball and the broader sports world will gather to discuss massively important things like the future of the sports business. (I think it's sold out, but maybe we'll see you at TrueHoop's unofficial after party.)
And, even though analytics have long been a wholly accepted part of Wall Street, health care, marketing, politics, insurance and many other industries, at this conference -- book it! -- one of the major topics, again, will be: Do sports even need analytics?
It's one of those questions that is important in that it accurately portrays the state of the thinking of countless fans, owners, GMs, coaches and players.
However, it's also a mildly shameful question, because it demonstrates a powerful closed-mindedness on the part of those same people. It's getting to be time to move beyond that. There certainly are arguments to be had about how to value the different pieces of advanced statistical analysis. But there is not really a good argument against working with the best possible information. Simply put, if you know what to do with good analysis, of course it helps.
Case in point: The Knicks -- who are due to get torched by a series of elite perimeter scorers in the months ahead, and just played Anthony Carter long minutes on a hunch he might be able to check Dwyane Wade -- just cut Corey Brewer.
Brewer may well be the league's leading candidate to be the next Bruce Bowen, and is an interesting test case in how statistics can be used effectively to enhance, not replace, the human eye.
Basically, despite playing for a miserable Timberwolves team, he has showed up very well in almost any stat that incorporates defense -- plus/minus, adjusted plus/minus, opponents' productivity, etc. Some of that is probably an artifact of the reality that it's easy to be efficient when you aspire to do little on offense. Brewer doesn't take a lot of bad shots, he can feed the post, and he's incredibly high energy so he cleans up on turnovers and with easy buckets.
Defensive statistics are among the least conclusive statistics in existence, so I'm not arguing to use those statistics to hand out contracts and roster spots. But I am arguing to use them as an early warning system, and to guide the video basketball decision-makers spend their precious time watching.
Smart teams, I'd wager, have been watching Corey Brewer for a long time for this exact reason.
And what they have been seeing is a defensive show. Once you clue in to the guy, it's glaringly obvious that no one on the court is defending like him. He's narrow, long, strong, quick and feisty -- which is a perfect set of attributes to fight over a screen. He has great hands. He goads non-shooters into shooting, and keeps great shooters from making a catch. He talks constantly on defense -- he's not only in the right place, but he knows where everybody else is supposed to be, too.
If we lived in a world where defense was valued as much as offense, YouTube would be filled with highlights of Brewer making things unusually tough for Manu Ginobili, Kevin Durant, Ray Allen, Kobe Bryant, Carmelo Anthony and others.
I can hear what the Knicks are thinking: In Mike D'Antoni's offense, they need to space the floor, they need to give their playing time to shooters. Even here, just looking at his career 31 percent 3-point field goal percentage is not enough. His 384 career 3 attempts include dozens of end-of-quarter heaves. He might lead the league in those. And there's reason to suspect he has the potential to punish defenses that leave him alone: Last year, even with all those Hail Marys, he had a strech of months shooting better than 40 percent from downtown, setting a Minnesota franchise record most consecutive games with a made 3, and prompting John Hollinger to call Brewer perhaps the most improved NBA shooter ever.
The entire time he's also (like his Gator teammates Al Horford and Joakim Noah, with whom he won two national titles, and lost just one tournament game of any kind in three years) relentlessly cheery and supportive of his teammates, racing all over the place to deliver high-fives and to pick up fallen teammates. He has stayed upbeat while being the injured and forgotten benchwarmer on a terrible team. In other words, there's no reason to suspect he'd be a threat to any team's chemistry.
There are NBA teams that have really embraced advanced statistical analysis. The list is long, and is headed by the likes of Houston, Dallas, Boston, Cleveland, San Antonio and Oklahoma City. If the Knicks were among them, I can't imagine they'd have let Brewer go. And now that he's free to sign with a team really values him, I'll make two predictions: Brewer will sign with a team that is sophisticated in its use of stats, and over the next couple of years, he will make that team better.
If all that comes true, that's why statistical analysis matters -- because we do a miserable job of using the naked eye to assess the value of non-scorers, and it hurts teams all the time.