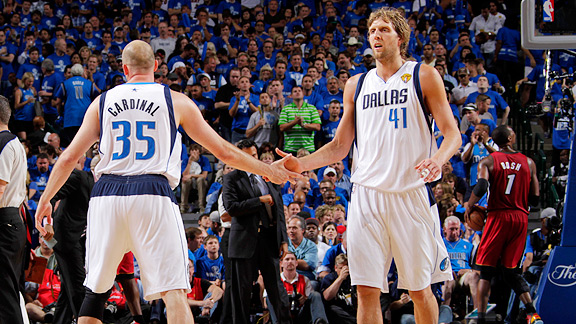 Glenn James/NBAE/Getty
Battling a sinus infection, Dirk Nowitzki needed all the help he could get. He got some from "the custodian."
In the ant farm that is bowels of an NBA arena players, league officials, team staffers, media types and VIP fans scurry about.
Standing tall and still, in the middle of all the hubbub after Game 4, were the Mavericks' Peja Stojakovic and the Heat's Zydrunas Ilgauskas, in street clothes, chatting.
Some loud and drunk guys in Mavericks jerseys spied Stojakovic. One of them screamed: "Pejaaaaaaa!" as he approached.
Peja didn't want the interruption, but turned to look anyway.
"GREAT GAME MAN!!" screamed the Mavs fan, patting Stojakovic on the back.
Stojakovic held a quizzical look.
He had played 2.5 seconds, contributing nothing more than the idea that he might hit a free throw or two.
Rick Carlisle had stapled Stojakovic to the bench not because he didn't need players -- he was desperate for them. Stojakovic rode pine in Game 4 because in the Finals' first three games his presence on the court had made it nearly impossible for Dallas to outplay Miami.
So on this night, Carlisle adopted a Peja-free approach to the Finals.
Enter Brian Cardinal, easily the best storyteller in this series, and maybe in the NBA. "One of my roles," he said at his team's shootaround in Miami, before Game 2, "is to keep things lively."
"It's The King vs. The Custodian!" he then declared, commentating on a series he was (barely) playing in. "It's an unbelievable player against ... me."
Calling himself the custodian to LeBron James' king was not a random choice of words from the player who grew up in Tolono, Illinois.
"Many moons ago," he explains of his teenage years, "back at the Tolono Park District, I was kind of the maintenance guy. I lined the baseball diamonds. I did a little jack-of-all-trades work. Did some cleaning of the toilets, in the bathrooms there at the park."
Cardinal played just seven minutes in Game 4, but helped. In this game, the infected Nowitzki sat for three stints, during which the Mavericks were outscored by a mere two points combined. All in all, when Cardinal was on the floor, the Heat were just one point better. Which is nothing to marvel at, but is far better than Stojakovic fared, and a vast improvement over how the team has handled life without Dirk in the past.
So, did the title stick? Do people still call Cardinal "the custodian?"
"That's a nickname from back in the day," he says. "Now I'm just happy if people call me Brian."