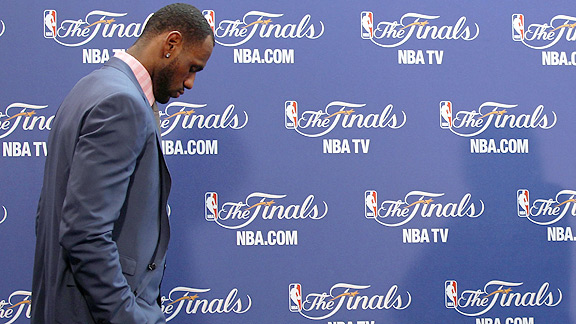 Mike Ehrmann/Getty Images Sport
"As a thinking person, he'd have to be blown away at how average he was."
On TrueHoop, the era of the "SuperFriends" in Miami began with a conversation with David Thorpe even before the Decision. At that time, he said all kinds of things that look smart now -- go back and read it. What I remember most of that conversation is that he insisted the Heat's mission was to surround LeBron James, Dwyane Wade and Chris Bosh with athletes and young players who'd improve with time. The Heat did nothing of the sort, and it hurt them.
Now that the Finals are over and the Mavericks have been crowned champions, it only seems appropriate to revisit Thorpe to praise the Mavericks and extract forward-looking lessons for the Heat. We spoke by phone shortly after the Mavericks hoisted the Larry O'Brien trophy.
Everything that the Heat have done over the last year ... was it all a mistake? Do Pat Riley, Micky Arison et al drive home tonight convinced they need to make huge changes?
I don't think this means the whole thing was a mistake.
But I don't expect Erik Spoelstra to keep his job.
I wouldn't fire him. But I suspect they'll think they can't afford to wait another year to figure out of he's the right guy for them.
If he is fired, he'll be employed again very quickly. I think he's a terrific young coach, and he'll get better and better.
If you're Pat Riley and his staff, though, I think you have to take a serious look at the roster. You say you keep the three big names, and Udonis Haslem and Mike Miller, and maybe Mario Chalmers (who is the worst good player I have ever seen). And then you have to get rid of everybody else. You just can't roll with the big three and a bunch of old dudes and expect to beat the best teams in the NBA.
Why is Dallas so good?
They're super pragmatic. Everyone knows their roles. They move the ball beautifully. They punish every little mistake you make.
There was one play where Udonis Haslem felt he had to switch. He didn't necessarily need to, but he did. It put everybody one step behind. Two quick passes later the Mavericks had a beautiful wide open look. That kind of stuff was happening all game long.
How rarely we ever said "ooh that's not a good shot" about any shot Dallas took. It was nothing but quality looks.
And on defense, they definitely did what they had to do.
Rick Carlisle hardly seemed to make a single mistake in the playoffs.
The X's and O's on this team are great.
The players make all these things happen, and they more than did their parts. It's a very eclectic mix of personnel, revolving around a very reluctant monster superstar.
If the Mavericks are this good, by the way, then that tells us good things about Portland, who took them to six games, and Oklahoma City who lost in five but really gave the Mavericks a series. Those teams are also pretty good.
Who's the favorite in the West going into next year?
I have no idea what Dallas will look like. Here's what's intriguing: They were by far the West's best in the playoffs, and they have plenty of young talent in the pipeline. Corey Brewer has a bright future. Dominique Jones is a great scorer, almost in the Jason Terry mold with tremendous confidence, almost cockiness. J.J. Barea's best basketball is ahead of him, if they can sign him. Rodrique Beaubois has a ton of potential. And on top of all that, the Mavericks have the draft rights to Nick Calathes, who has blossomed into a very strong player in Europe.
I'd say Oklahoma City and Dallas enter the season as the favorites.
What about in the East?
This series leaves some real aftershocks.
It's possible Miami recovers. But it's also possible this is the best they will ever play.
From the moment Wade hit that corner 3, and celebrated in front of the bench -- with the exception of one game -- they were destroyed.
The story is of LeBron James' failure. He was as bad as I could imagine he'd ever be. He was atrocious. Atrocious.
Earlier in the playoffs we talked about how he was, I thought then, being brilliant in conserving energy early in games to be fresh for crunch time. Now I realize he was just being lazy.
He competed pretty hard on defense throughout the playoffs, but not tonight. He was a dog on offense. He was not a dog on defense, except for late in the series when he got tired of chasing Jason Terry.
I have serious concerns. You can't be him, with his abilities, and have one less offensive rebound than J.J. Barea. I'm not one to use stats like that to crush a guy, but I spent this game repeatedly rewinding my DVR and watching in slow motion. I studied him. I mostly saw him standing and watching. I saw balls fall near him as he did nothing.
That's a severe gut check. That's a severe sign of a heart problem.
We came into these playoffs with all kinds of questions about Bosh's heart. I would not question his heart now. He was wrecked by this loss. I definitely question, however, where LeBron's head is. He didn't play like he cared. If I were his teammate, I'd have a serious problem with that.
Jeff Van Gundy suggested that it may already be time to consider trading one of the big three.
Anything is possible. The Magic were where the Heat are now two years ago, and if you'd told me that they'd make a huge trade for Gilbert Arenas I'd have told you that was insane.
But there's plenty to revisit.
I'd revisit the offense. I'd revisit the decision to fill the roster with old stiff dudes who wouldn't be able to play on 25 NBA teams, but almost won rings here. Joel was almost unplayable in this series. Bibby was a disastrous signing.
The Heat signed players based on their brand, which is a gigantic problem in the NBA. The supporting cast they assembled would have been great in the late 1990s, but it's 2011!
It would be a huge mistake to break up the big three, though. They are not only all young and good, but also underpaid. You can do a much, much better job on the supporting cast.
As we discussed at the beginning of the season, and as the Mavericks did, I think there's tremendous value in using the season to develop young players who can really help you by the end of the season. The Heat didn't do that with anyone, except maybe Mario Chalmers.
Should they have kept Michael Beasley?
That's not my first pick. I'd rather have Barea, or somebody with a lot more fight.
The Mavericks were all on the same page. JET proved to be an amusing distraction, but other than that they basically fall in line. That's a great thing.
If Erik Spoelstra is not the coach of the Heat, who will be?
My first thought was Phil Jackson. They like old players so much, maybe they'll like old coaches, too. Pat Riley, of course, is a possibility, too.
I hope Erik keeps his job.
Mike Brown would have been the guy, had the Lakers not tapped him, and I think LeBron would have been supportive of that.
What you hope happens is that the players rally to Spoelstra, and he had us within seconds of being up 3-0 in the Finals, and he's our guy.
Normally, in the NBA, that's not how it works, however.
Anything you'd like to add?
The Decision ... that was a monumental mistake by a group of young men. Not just LeBron James, but the people around him. It potentially could drag him down forever.
Now that he has faded so dreadfully, he's destined for a dreadful, awkward summer of anguish and second-guessing his play. If that doesn't happen, he's just unbelievably arrogant, or a psychopath.
He just played so far below his level.
Prior to Game 5 when he and Wade mocked Dirk ... that was symbolic of their mindset. The right idea was to really, profoundly respect Dallas.
Not doing that is a classic character flaw that goes back to not really seeing reality. This showed, ultimately, from a player who has a chance to be top ten all time, a major underperformance. It's not like Dirk in 2006. He didn't ask for any of that. LeBron, on the other hand, has to question a lot. Going to Miami was not the problem, but a TV show to announce his decision, Tweeting "now or never" ... he's due for some soul searching.
A lot of athletes don't survive these kinds of challenges wholly intact.
Tiger Woods' transgressions were far more grave, but he has been staggered by them. Tiger may never win another tournament.
LeBron James needs to admit that it's time to be much more humble.
And both James and Wade need to be much better shooters. Unless they're going to be surrounded with absolute lights-out shooters, they simply don't shoot well enough. They need to shoot 3-pointers incredibly well to achieve their full potential.
I say this as someone who loves to see them succeed. I don't like any players failing. I wish every game ended 149-150.
I only talk like this as someone who spent the night rewinding the DVR and seeing LeBron stand six feet away from the play, watching. Doing nothing.
As a thinking person, he'd have to be blown away at how average he was. Yes he had a triple-double in Game 5, but he could put up those numbers in his sleep.
If I were Pat Riley, I'd bring in a psychologist. And I'd say hey, man, you screwed up. But it's over.
Now it's time to forget this season and focus on the reality that you're a young man with a long future ahead of you, on and off the court. It's time to learn to be a loving person, to be a good teammate.
Don't sit and brood in your mansion all summer, because you'll end up a shell of yourself.