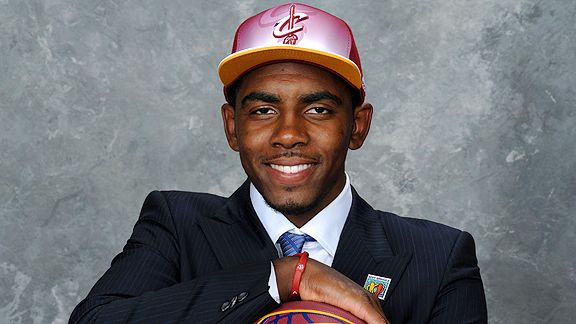 Jennifer Pottheiser/NBAE/Getty Images
Cavaliers fans admire Kyrie Irving, and Kyrie Irving admires LeBron James.
Hating LeBron James has become a passionate hobby for many NBA fans.
In Cleveland, it's religion.
And here comes Kyrie Irving's triple-threat to the status quo:
He is the new bedrock of the franchise.

He has long admired James.

He's not going to lie about that.
Irving admits to just about idolizing James and Chris Paul.
"When I was younger," Irving said shortly after being drafted Thursday night, "I used to watch countless hours of video of both of them working out. When I say, try to emulate their journey, just the way they transitioned themselves, LeBron coming from high school into the NBA and Chris Paul coming from college into the NBA, and the way they conducted themselves on and off the court, is truly as a professional should. A lot of community service, just taking care of the family, and that's kind of how I envision myself."
They're two of the most successful players in NBA history. It's not so odd that a player a half-decade younger would look up to them.
But that this one does and went to that city, where the owner, some players and a big chunk of fans are on the record as archly anti-James ... that creates an odd potential for friction.
Or an evolution of sorts.
This is the kind of thing that could, ordinarily, just be politely ignored by all involved. In this case, I'm not sure that's so. James hatred is one of the biggest stories in sports. And Irving is a talker, a deft communicator -- when the Cavaliers drafted him, they got both a player and a face of the franchise. They need him to talk, and he'll succeed at that.
But it's hard to imagine anyone as passionate about James and as vocal as Irving sitting this one out all year. The issue is going to come up all the time, and he's going to have a hard time saying things that won't fit the narrative in Cleveland.
Which could be great. As in any divorce, the issues can be real, but the rhetoric is almost always trumped up. Irving arrives a year after the fact, calm and sensible, with the message that James just might have a redeeming quality or two.
It's not good for the villain stereotype that drives TV ratings. But it is good for reconciliation and healing, and those things aren't bad.