Maryland is one of the schools that can expect some competition at the quarterback position this spring, but Jamarr Robinson enters as the frontrunner after taking over for injured starter Chris Turner a year ago. Robinson played in seven games and started two in 2009. He completed 46 of 85 pass attempts for 459 yards, two touchdowns and no interceptions. He also finished as the third-leading rusher on the team with 229 yards. If the Terps are going to improve from their 2-10 record a year ago, they'll need some consistency at the quarterback position. Here's Robinson's take on the situation: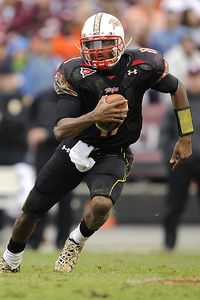 Ben Solomon/Icon SMI
Maryland quarterback Jamarr Robinson is ready to lead the Terrapins.Going into spring practices, how confident are you that you're the guy, or do you feel like this is a wide-open competition?
Jamarr Robinson: With the way we ended last season and me getting that game-time experience, I'm more confident than I would be without it. I know it's a competition. We talk about competing all the time. It's not going to be given to me. I'm going to have to keep working and earn it. That's where I am mentally.
How much did that experience help you? What did you learn from it last year?
JR: The real speed of the game. I go against it in practice all the time, but I never had a clue until I got in against North Carolina State how serious it was.
How has your mentality changed now going into the offseason conditioning and spring practice knowing that you do have a leg up on the competition?
JR: It just makes me more confident. I have to take on more of a leader role and vocally in trying to prepare them and be the best teacher and leader I can.
How much pressure if any are you feeling because you guys have to turn it around? How much of that falls on the quarterback's shoulders to help do that?
JR: I'm taking it all in stride. I know what we did last year, what we could've done better and how I could personally change some of those things. It's just work, we've got to work harder.
What is the attitude of the team right now in College Park, in terms of working and wanting to get better?
JR: Everybody is excited and going the extra mile and going extra hard. Nobody wants to win two games anymore.
Have you had to study more film and look at your playbook more or do you have a grasp of everything James Franklin would ask and need of you as a full-time starter?
JR: I feel like I have a pretty good grasp, but there's always room for improvement. There are some things I'm not as knowledgeable about. I still have to do a little more studying. A little more knowledge can't hurt anybody.
What are some specifics you'd like to improve upon this year?
JR: My management of the game, and the protecting of myself, learning to slide and not take so many hits or maybe throwing the ball away and just knowing the situations better.
What's your confidence level in the guys around you?
JR: I'm very confident. Everyone is experienced. I feel like the o-line got a lot of experience last year because they were young. A lot of them got a good game experience. And every is experienced at just about every position -- running back, receiver and tight end.
What do you feel is fair for Maryland fans to expect from you guys this year?
JR: Expect better than last year. I'm not going to give you the number you're looking for, but it will be better than last year.
What gives you the confidence to say that?
JR: Just knowing that that everyone is working and I'm going to do everything I can to progress from last year.