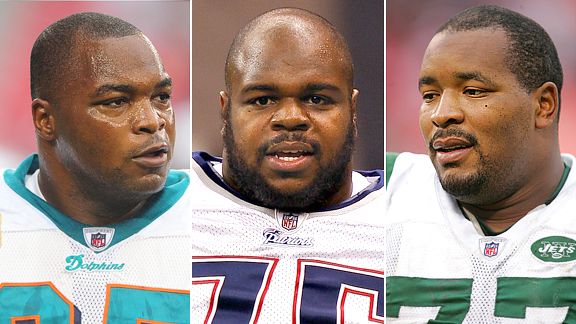 Getty Images
AFC East nose tackles Jason Ferguson, Vince Wilfork and Kris Jenkins are vital to their team's 3-4 defenses.INDIANAPOLIS -- Teams that intend to run a 3-4 defensive scheme have an elephantine problem when they're missing the keystone.
Without a nose, the face of the defense disappears.
"If you don't have a good nose guard, you don't have a 3-4 defense," two-time Pro Bowl center LeCharles Bentley said at the NFL scouting combine in Lucas Oil Stadium.
"You can build everything else around it. You can have a great pass-rusher. You can have a great safety like Troy Polamalu. But if you don't have a solid nose guard? You can't run a 3-4. That's the whole basis of the defense."
Nose guards, nose tackles, those mammoth ogres in the middle -- whatever you want to call them -- never have been a more valuable NFL commodity than they've been this offseason.
For proof, look no further than the AFC East, the only division where all four teams will operate out of a 3-4 design and have concerns at nose tackle.
The Buffalo Bills simply need one. They're switching from a 4-3. Miami Dolphins nose tackle Jason Ferguson is a free agent recovering from a torn quadriceps muscle. The New England Patriots placed the franchise tag on Vince Wilfork and are trying to negotiate a long-term deal. New York Jets stud Kris Jenkins is coming off a knee injury.
As more teams convert to the 3-4, the need for nose tackles increases. Fewer of them are available.
"There are only so many big guys walking on this earth," Dolphins general manager Jeff Ireland said. "It's a big priority in any defense. When you find them, you've got to keep them."
How rare are athletic humans who weigh 350 pounds? Rob Rang, the senior analyst for NFLDraftScout.com, considers this year's class of nose tackles to be "pretty strong compared to past years" with only three top prospects: Tennessee's Dan Williams, Alabama's Terrence Cody and North Carolina's Cam Thomas.
"There aren't a lot of guys with that kind of size and any speck of athletic ability," Rang said.
Bills head coach Chan Gailey said his criteria in identifying a nose tackle includes "huge, big, fast, nasty." But he might have to settle for whatever he can find.
"Everybody's looking for a certain type of guy," said Gailey, who doesn't seem to have a decent candidate on his roster but owns the ninth pick in April's draft. "There's not a lot of them, to be perfectly honest. You either have to take people that you have and adapt, or you don't have to play the same type of 3-4.
"While we're all looking for that prototypical nose guy, there's a lot of good football players out there that don't fit that prototype, but at the same time can be productive players for you on the field. If you can't get it, you adjust."
To look at their stats, nothing suggests a nose tackle's significance to a defense. They don't register many sacks. They're not among their team's tackle leaders or turnover creators.
Wilfork, for instance, is considered an elite nose tackle. Last season, he had no sacks or quarterback hits and was fifth in tackles for the Patriots. He forced one fumble and didn't recover any.
But what a quality nose tackle does is absorb linemen and disrupt lanes for a defense that's susceptible to the run merely by nature of its design. Before every snap, there are large bubbles over both guard positions to run through. Nose tackles plug those holes.
"A 3-4 defense allows you to create more mismatches," said Bentley, who is covering the combine for his Web site, O-lineWorld.com. "You can be as exotic as you want to be. Defensive coordinators can become mad scientists. Bill Belichick and Rex Ryan are prime examples of that. Those blitz packages they can throw at you are unbelievable.
"The nose guard is a one-man show. He makes you play honest football."
No wonder three teams used the franchise tag to keep a free-agent nose tackle from hitting the open market: Wilfork, Aubrayo Franklin of the San Francisco 49ers and Ryan Pickett of the Green Bay Packers.
Unless a long-term deal can be negotiated, the franchise tag guarantees a one-year deal for the average of the five highest-paid players at his position. This year's franchise figure for defensive tackles is a shade above $7 million.
"The tag's not outrageous, price-wise," 49ers general manager Scot McCloughan said. "It makes good business sense not only from the standpoint of financials, but also because of the importance of the position."
By using the franchise tag to keep nose tackles from hitting unrestricted free agency, front offices essentially are price-fixing. It's not collusion, per se, but general managers realize the price tag for nose tackles would skyrocket if they went to the auction block.
Teams know a good nose tackle is worth more than $7 million a year even though they don't sell tickets or jerseys.
"They don't want to pay those guys the salaries of the most important guy on the defense," Bentley said. "It's going to be very hard to justify and a very difficult pill to swallow when you're paying your nose guard $9 million a year. People think, 'You don't pay those guys. All they do is take up space.'
"But if you don't have them, you don't have a defense."