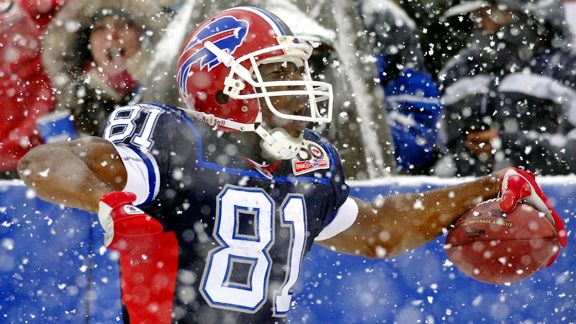 AP Photo/Don Heupel
He came, he played, it snowed and now Terrell Owens is leaving Buffalo after one year.The Buffalo Bills have higher standards than VH-1.
Despite abysmal ratings, the cable network renewed "The T.O. Show" for a second season in 2010.
The Bills weren't so inspired. Their reality show simply wasn't compelling enough to bring Owens back. A whirlwind affair is over after one year.
Saturday night the Bills publicly disassociated themselves with Owens, receiver Josh Reed and defensive end Ryan Denney. In a news release, Bills general manager Buddy Nix said the team would not offer them contracts and allow them to become unrestricted free agents Friday.
You won't find any outrage in Buffalo that Owens won't be wearing a Bills uniform this year. Bills fans didn't come to loathe him at all, but somehow a polarizing figure came to town and engendered shoulder shrugs and vague feelings of meh.
Before it reached that level of apathy, the one-year relationship was a marketing success.
Owens and the Bills used each other. They were a perfect fit, a team desperate to capture their disenfranchised fans' imaginations and a character in need of an image makeover.
Owens came to Buffalo because it was the only place that would take him, and he knew he needed to seize the opportunity to cleanse himself, to show the rest of the NFL he could be in a locker room without detonating its chemistry.
He's a future Hall of Famer who should've generated more attention than he did when the Dallas Cowboys cut him. Perhaps that was a wake-up call. He couldn't afford to depart Buffalo with another quarterback controversy similar to the ones he left behind in San Francisco, Philadelphia and Dallas.
His mission: Show up, play football, be a good soldier and hope the football community notices he served his time with good behavior.
The Bills, meanwhile, needed something -- anything -- to stimulate their followers. The fans were disgusted with how 2008 ended. They started the season 5-1, then collapsed, failing to reach the playoffs a ninth straight season. Head coach Dick Jauron not only was retained, but the club insulted anyone paying attention by refusing to acknowledge what was known, that they'd given him a contract extension before the implosion.
So intense was the furor in Buffalo that some wondered if Bills owner Ralph Wilson would get booed during his induction speech at the Pro Football Hall of Fame.
Owens was identified as the solution. He sold tickets. He sold jerseys. The mere fact the Bills would make such an organizationally deviant acquisition put fans in a euphoric state.
Owens arrived with the type of fanfare Buffalo will look back upon with at least a little embarrassment.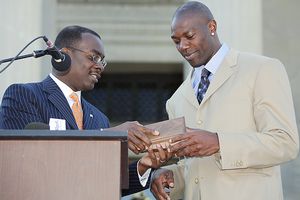 AP Photo/David Duprey
There was a lot of fanfare for Owens in Buffalo, including a key to the city presentation.He touched down at Buffalo Niagara International Airport to find cheerleaders, chanters and other assorted zealots certain he was the savior. One fan dressed up as a popcorn box, a reference to his showstopper promise to "Get your popcorn ready."
The moment was staged for his VH-1 show, but the feelings expressed were genuine. Bills fans were smitten, drunk in love with a personality who might make their team relevant again. The next day, Buffalo Mayor Byron Brown presented him with a key to the city, an honor Wilson has never received.
Pageantry pretty much was all Owens brought to Buffalo, and the front office acted as though that's what it was most interested in anyway.
Whatever daring the Bills showed in signing Owens was offset by their inept evaluation of personnel. They traded Pro Bowl left tackle Jason Peters, fired offensive coordinator Turk Schonert 10 days before the regular-season opener and released right tackle Langston Walker and running back Dominic Rhodes.
After the season began, they scrapped the no-huddle offense they'd spent the entire offseason installing, fired Jauron and revoked Trent Edwards' job as starting quarterback.
Not even counting the new Bills regime, Owens played under two head coaches and two offensive coordinators and with three starting quarterbacks -- in the span of nine months.
The Bills sold out every home game with his help. And while Owens showed flashes with little teammate support, he rarely made enough of an impact on the field.
He posted his lowest receptions-per-game average since his rookie campaign with San Francisco in 1996. He finished with 55 catches for 829 yards and five touchdowns.
The theory was that if Owens didn't have a big year, his presence would allow underrated receiver Lee Evans to excel on the other side of the field. Evans had 44 catches for 612 yards (both career-lows) and seven touchdowns. Evans' career average entering last season was 6.4 touchdowns.
In Week 3 against the New Orleans Saints, Owens' receptions streak ended at 185 games. It seemed like an appropriate time for Owens to lash out against the Bills, new offensive coordinator Alex Van Pelt or Edwards, who'd become known locally as Captain Checkdown.
But Owens admirably held himself together and set a media tone for the rest of the season. He was disappointingly uninteresting, but he kept his nose clean. He was adamant about remaining as bland and politically correct as possible. It was part of his cleansing, after all.
Owens' employment options will be limited. He'll turn 37 before the next season is over.
But the way he carried himself in Buffalo and the excuses he'll have at the ready -- thanks to Buffalo's dysfunction and hindrances outside his control such as a slew of injuries on the offensive line -- might give him more possibilities if he's willing to play for a discount.
From the Bills' standpoint, they extracted all they could from Owens' aura. Besides, they cleared the way for younger receivers.
James Hardy, a second-round draft choice in 2008, has only three receptions. He missed almost all of last season while coming back from a knee injury, but he's ready to go. The Bills think highly of Steve Johnson, a seventh-round pick who has been lost in the shuffle.
For Owens, it's time to move on.
The Bills got what they wanted. So did he.
The only ones left unfulfilled were the fans, their excitement turned to yawns.