Brad Butler has politely declined interview requests.
Until Butler decides to speak about his decision to retire, we'll be left to wonder how he came to the surprising conclusion he was done with the NFL at 26.
The NFL almost always decides its done with you first.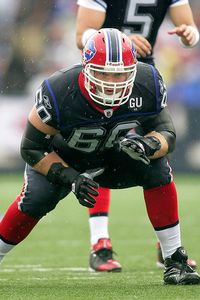 Luc Leclerc-US PRESSWIRE
It remains unclear why Bills starting offensive lineman Brad Butler decided to retire at age 26.Butler, a Buffalo Bills' starting offensive lineman the past three opening days, walked away two weeks ago. He eschewed all the spoils that go along with being a professional football player.
All we've heard from Butler was a statement the Bills distributed, but last week at the NFL scouting combine I had the chance to sit down in Lucas Oil Stadium with another offensive lineman who suffered a knee injury when he was 26 and could've returned, but came to terms with the fact he just didn't want to play anymore.
"You've got to follow your heart," two-time Pro Bowl center LeCharles Bentley said.
Bentley posted four great seasons with the New Orleans Saints and signed a handsome deal with his hometown Cleveland Browns for 2006. On the first play of 11-on-11 drills on the first day of training camp, Bentley blew out his knee and never played again.
"All of a sudden, football lost its importance to me," Bentley said. "I wasn't distraught. I was more relieved than anything. I wanted to leave the game being able to stand on my own two feet, and I was able to do that.
"It's a difficult transition for those that don't prepare for it. That's true for most athletes. You never see your mortality. You feel that you're immortal and it's going to last forever. A lot of guys fail to understand that there is life after football. Those wheels will fall off at some point."
Bentley had offers to return and admittedly overpriced himself with the Detroit Lions. But he eventually figured he didn't want to return at any price. Bentley has pursued a broadcast career in Cleveland and covered the combine for his Web site, O-lineWorld.com.
"There's no groupies in blogging," Bentley said with a laugh. "There's no love in that."
Tell me about it.
Butler's career options are more substantial. He majored in government studies at Virginia and spent time on Capitol Hill during the 2008 offseason as an intern for Kemp Partners in Washington D.C. Kemp Partners was founded by former Congressman and legendary Bills quarterback Jack Kemp.
Butler also has participated in the NFL's business management and entrepreneurial programs at the Harvard Business, Stanford Business and Wharton Schools.
"For him to make the kind of decision he made, he's probably pretty far along in his decision-making process," Bentley said. "A lot of the milestones that players have to go through, he's probably already gone through them. I would have a hard time believing he's uncomfortable with that decision. There's something else out there for him. You don't make that type of decision without something profound pulling you in that direction."
Bentley recalled how difficult it was to retire when so many people around him wanted him to stay in the game. The fame, the glory, the money are alluring not only to the player, but also those who benefit from being close to him.
Butler also had to come to grips with the idea of leaving his teammates in a lurch. The Bills already were hurting along the offensive line before he told the team he was through with football.
"I lost some people because my decision wasn't a popular decision," Bentley said. "My ability as an athlete afforded some people around me luxuries that they wouldn't have had without me. Those people are no longer around.
"You get the velvet-rope treatment your entire life. Guys don't want to let that go. There's a psyche to growing up being The Man their entire life. Once you take off that helmet, those shoes, that jersey, you're who you are as a man. That's a bitter reality a lot of players aren't ready for."