There's no questioning the Miami Dolphins have added some nastiness to their offensive line with Wednesday's signing of guard Richie Incognito.
They've also injected a healthy dose of confusion into the locker room.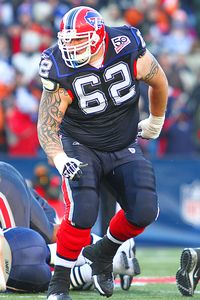 Jerome Davis/Icon SMI
Certain Dolphins players are confused why the team brought in a player with penalty issues like guard Richie Incognito.Three Dolphins players I've spoken with since the team signed Incognito to a one-year contract expressed intrigue over the move. In general, they like his ability and versatility. But the players claim Incognito's arrival undercuts what football operations boss Bill Parcells and head coach Tony Sparano have preached about character since they took over the team.
"I think he'll make our line better," one Dolphins player said. "But I don't get it. What he represents goes against everything they've been telling us."
Not acting like a buffoon long has been a hallmark of a Parcells organization. Sparano doesn't put up with on-the-field shenanigans either. Players who can't control themselves are asked to turn in their playbooks.
Yet the Dolphins are introducing a player onto their roster whose career is infamously based on personal fouls, blowups and fines.
Incognito committed 11 personal fouls in less than four seasons with the St. Louis Rams. They waived him in December after a game in which he committed two personal fouls and got into a sideline confrontation with head coach Steve Spagnuolo.
The NFL fined Incognito $50,000 for his actions in that game. League disciplinarian Ray Anderson sent a letter to Incognito to inform him the next transgression could lead to a suspension.
Remember how Buffalo Bills linebacker Kawika Mitchell reacted via Twitter when they claimed Incognito off waivers in December?
"BIGGEST DISAPPOINTMENT THIS YR. THE GUYS A BUM. DIRTY AND ALWAYS WILL BE. REALLY WISH I WAS PLAYIN RITE NOW. SERIOUSLY... I KNO WE'RE N NEED OF OLINE BUT THIS GUY ..."
The reaction of Dolphins players I spoke with wasn't nearly that strong, but it was in the zip code.
The Dolphins have prided themselves on being a clean team. The Dolphins committed 68 accepted penalties for 640 yards last year. Only three teams had fewer accepted penalties and were assessed fewer penalty yards.
Incognito was whistled for 10 accepted penalties for 115 yards. His accumulated transgressions would be 18 percent of the Dolphins' entire team.
The Dolphins need help on their interior line. They've been on the lookout for depth at guard for two years.
Left guard Justin Smiley is a clear-cut starter when healthy, but he has missed 13 games over the past three seasons with leg and shoulder injuries. Right guard Donald Thomas has immense potential but lost his starting job to Nate Garner with the season on the line in Week 14, days before the Dolphins put in the waiver claim for Incognito but lost him to the Bills.
Incognito didn't ingratiate himself to the Bills in his short time with them. Their new front office declined to tender a qualifying offer, forfeiting their restricted free agency rights to him.
The Dolphins must believe they can keep Incognito in check.
Personnel men and coaches routinely are convinced, even though others failed previously, that they can fix a problem player. Parcells and Sparano have a better shot than most. Parcells has a track record, and Sparano's roots are as an O-line coach.
Incognito has been apologetic about his past misdeeds and has professed a desire to keep his emotions under control.
In the locker room, however, players are skeptical about the decision and wonder about the mixed message.